National University is proud to partner with San Diego Mesa College to develop our teacher pathway.
This collaborative partnership has outlined the degree road maps and academic pathways that will prepare a student to complete a transferable associate degree and be on track to fulfill their bachelor's and teaching credential at National University!
Contact your academic counselor for additional detailed information.
Contact Information
National University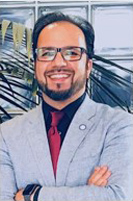 Monir Masoud
Community College Pathways Account Manager
(619) 457-1200
mmasoud@nu.edu
To schedule a 1:1 appointment please click here
Related Downloads
BA in Early Childhood Education with an Inspired Teaching & Learning Preliminary Multiple Subject Teaching Credential (CA)
BA in Early Childhood Education
BA in Social Science with Inspired Teaching & Learning Preliminary Single Subject Teaching Credential (CA)
BA in Interdisciplinary Studies with Inspired Teaching & Learning Preliminary Multiple Subject Teaching Credential (CA)
BA in English with Single Subject Matter Preparation and Inspired Teaching & Learning Preliminary Single Subject Teaching Credential (CA)