President's Diversity,
Equity, and Inclusion Council
Committed to Diversity and Access Across the University
Diversity at National University encompasses the whole of the human experience and includes such human qualities as race, gender, ethnicity, physical ability, nationality, age, religion, sexual orientation, economic status, education, experiences, and Veteran status. These and other socially and historically important attributes reflect the complexity of our increasingly diverse student body and communities.
In recognition that our society and our institution have become more diverse, National University has re-invigorated the President's Diversity, Equity, and Inclusion Council (DEIC). The DEIC functions as an advisory council and recommending body to the Office of the President, and council members serve as liaisons to divisions, offices, and units across the intuition. Council members are responsible for assessing, developing, overseeing, and monitoring University-wide efforts to achieve NU's commitment to diversity and access as core institutional and educational values.
The DEIC is allied with the Office of Social Justice, Equity, Diversity, and Inclusion (S-JEDI). The Office of S-JEDI is a premier feature of the National University System, established to shape its culture and uphold its core values. The Office of S-JEDI oversees a System-wide effort to serve the underrepresented and underserved by achieving excellence in all aspects of the student, faculty, and workforce experience. Learn more about the Office of S-JEDI.

–
View Gallery
Role and Structure of the DEIC
The DEIC meets regularly to assess the systems, culture, and climate of the University through an equity lens and develops recommendations that will help foster a more wholly inclusive and equitable culture. Vice Provost for Academic Services Dr. Joseph Hoey is the chair of the DEIC, which consists of faculty, staff, and student volunteers. The council members represent many of the diverse offices, departments, and representative bodies of NU such as:
Student Representatives
Equity & Inclusion Office
Human Resources
Student Accessibility Services
National University Language Institute
Title IX Office
International Programs Office
Advisor of Pride@NU
Finance
Registrar Office
Facilities/Security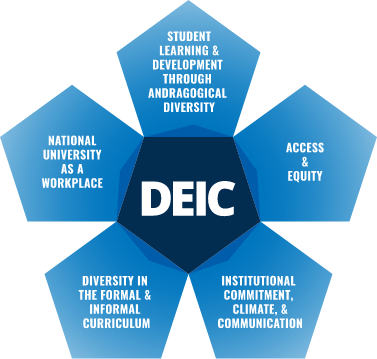 DEIC Subcommittees
The DEIC is divided into five targeted subcommittees that assess the University and give recommendations for creating a more equitable learning and work environment. Learn more.
Community and Events
Join the DEIC for upcoming virtual and in-person events designed to educate, engage, and celebrate the National University community.