15% Tuition Reduction Scholarship for SMUD
National University is proud to partner with SMUD to bring a 15% tuition reduction scholarship to employees looking to expand their knowledge and skills for professional and personal growth. The SMUD Tuition Reduction Scholarship is a great benefit for working adults who want to reach specific educational goals but find it challenging to fit classes into their busy lives. The tuition reduction scholarship can be applied to associate, bachelor's, and master's degree programs.
Eligibility

To apply for your Tuition Reduction Scholarship, fill out this form and email it directly to your enrollment advisor! Join the over 230,000 alumni and be sure to mention your scholarship code, SMU!
Integrating Person-Centered Care Principles into Academia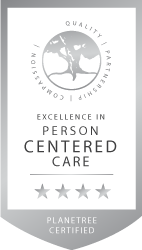 National University's Department of Health and Human Services achieved Planetree Silver Recognition for Significant Advancement in Person-Centered Care in October 2017. National University is proud to be the first and only academic institution in the world to achieve a Planetree International recognition.
To attain this honor, National University integrated person-centered principles into the curriculum of each of its health care programs of study. In preparing the next generation of health care leaders, National University transformed the academic culture of its health science programs into a student-centric model, using person-centeredness as the conceptual framework to support all learning activities. Integrating these principles means students are able to gain knowledge and application of the principles throughout your coursework, preparing them to support a culture of person-centered care.
As a student, you will learn to:
Effectively interact with diverse populations
Function in inter-professional settings as team members including faculty, staff, students, patients, and community members
Collaborate to effect change
Serve on committees, build professional leadership skills, and the importance of letting your voice be heard
Make the connection between environment and the way it makes people feel
Be supportive and engaging of patients and colleagues
Recognize and address personal barriers to successful professional development and adoption of healthy behaviors
Why Choose National University?
Adult Focused for 50 Years: National University has been dedicated to providing accessible, achievable higher education to hard-working adults since 1971.
Flexible 4-Week Courses: Start sooner and finish faster with four-week courses, monthly start dates, and year-round enrollment.
190+ Degree Programs: Choose from career-focused associate, bachelor's, master's, and doctoral programs designed to help you pursue your purpose and make an impact in your community.
Online and On-site: Study options designed to fit into your busy schedule.
Regionally Accredited: WASC Senior College and University Commission (WSCUC) accreditation means your education meets high standards and is transferable.
Veteran-Founded Nonprofit: National University is proud to be San Diego's largest private nonprofit university.
Planetree Certified building person-centered care principles into academic degree programs.
Get Course Credit for Work Experience
National University is dedicated to supporting adult learners from all walks of life. Recognizing that all students come to us with different experiences and knowledge, NU is proud to offer prior learning credit for applicable, measurable non-traditional learning such as military training and experience, non-collegiate training programs, advanced high school courses, career experience, and self-development.
About National University
Founded in 1971, National University is among the largest private nonprofit universities in California. With more than 230,000 alumni, National University is dedicated to making lifelong learning opportunities accessible, challenging, and relevant to a diverse population of students. Three schools — the College of Letters and Sciences, Sanford College of Education, and the College of Law and Public Service — offer more than 190+ graduate and undergraduate degrees and 23 teacher credentials. Programs are offered at locations throughout California and are also available online. National University is headquartered in La Jolla, California.
For More Information
Please fill out the form to the right, call 855.773.9444, or email [email protected] to be contacted by an admissions advisor who can help you with this scholarship, education counseling, transferring credits, financial aid opportunities, and the admissions process.
National University, a California-based institution, makes continual efforts to comply with state authorization regulations governing out-of-state educational activities and to obtain required approvals. Since these regulations vary by state and change over time, all National University programs are not available to students in every state.
*Pre-licensure nursing programs are not eligible for this program. Other offer restrictions may apply. For questions, please contact National University.
National University is proud to provide educational partnership opportunities to organizations across the country. If you have any questions about this opportunity, please call 855.773.9444.
Related Links