Catholic Diocese of Oakland
The Catholic Diocese of Oakland Tuition Reduction Scholarship is a great benefit for working adults who want to reach specific educational goals, but find it challenging to fit classes into their busy life. National University is offering all Catholic Diocese of Oakland employees a 15 percent Tuition Reduction Scholarship and a waiver of the application fee toward earning an associate's, bachelor's, or master's degree or certification.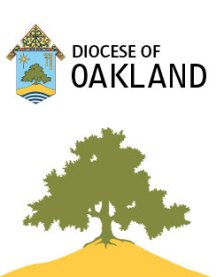 Partner of the Catholic Diocese of Oakland
National University is proud to provide educational partnership opportunities to organizations across the country.
Ideal for working professionals
National University is a great choice for working professionals because it offers:
A flexible one-course-per-month format that provides concentrated learning so you can focus on one subject at a time and complete a full course in a single month.
Year-round enrollment so you can start your education whenever your personal and work schedules allow.
On-site or online options that give you the choice of taking classes at one of the school's 28 campuses or online.
Regionally accredited* by the Accrediting Commission for Senior Colleges and Universities, which means your classes and instructors meet high standards and your education is respected and transferable.
A nonprofit, private university environment that is focused on helping you to succeed in reaching your educational goals and achieving career success.
Please fill out the form to be contacted by an admissions advisor who can help you with this scholarship, education counseling, transferring credits, financial aid opportunities and the admissions process.
NU Programs
NU offers over 190+ on-site and online programs through a unique four-week class format to help you develop the momentum you need to reach your career goals.
This scholarship does not apply to:
Pre-licensure Nursing Programs
Radiation Therapy Programs
All Doctoral Programs
For questions, please contact National University.
Offer restrictions may apply. For questions, please contact National University.
* Western Association of Schools and Colleges (WASC)
Related Links