Los Angeles Sheriff's
Department University Partnership
National University Proudly Partners with LASDU
National University, a Veteran-founded nonprofit, has partnered with the Los Angeles County Sheriff's Department University since 2002. Our goal is to provide an affordable, accessible education to public safety professionals, like you, who protect and serve our communities every day. This is available for current, retired, sworn, and professional staff, including your spouse and dependents. You are automatically qualified to take advantage of these great benefits.
Public Safety Promise
To show our appreciation for what you do, NU is offering you, your spouse, and dependents the Public Safety Promise 25% tuition scholarship. This scholarship can be applied to over 190+ flexible degree programs. Through this partnership you can earn an associate, bachelor's, or master's degree.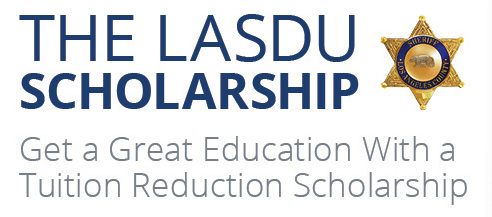 Partner of the Los Angeles County Sheriff's Department
National University is proud to provide educational partnership opportunities to organizations across the country.
Schedule a one-on-one meeting with an Account Specialist to discuss degree programs and scholarship options!
The Cohort Scholarship Option
When 15 or more students take the same degree program, as a group, this scholarship can result in up to a 40% reduction in tuition. Programs offered as a cohort include:
Bachelor of Science in Criminal Justice
Master of Public Administration
Further Reduce Cost and Time to Graduation with Credit for Prior Training
National University also gives credit for many prior career training programs. These include POST Police Academy, California Probation, and many more. This may reduce the number of classes required to achieve your degree. Here are some examples:
California POST Police Academy Training Course Credits:
Adult Corrections Officer Course (BSCC):
Why Choose National University?
Adult Focused for 50 Years: National University has been dedicated to providing accessible, achievable higher education to hard-working adults since 1971.
Flexible 4-Week Courses: Start sooner and finish faster with four-week courses, monthly start dates, and year-round enrollment.
190+ Degree Programs: Choose from career-focused associate, bachelor's, master's, and doctoral programs designed to help you pursue your purpose and make an impact in your community.
Online and On-site: Study options designed to fit into your busy schedule.
Regionally Accredited: WASC Senior College and University Commission (WSCUC) accreditation means your education meets high standards and is transferable.
Veteran-Founded Nonprofit: National University is proud to be San Diego's largest private nonprofit university.
About National University
National University is a San Diego-based nonprofit founded in 1971 by retired U.S. Navy Capt. David Chigos. As the largest private nonprofit university in San Diego, our mission is to provide accessible, achievable higher education to adult learners. A pioneer in the digital space, we've offered online classes for more than 20 years. Today, we offer over 190+ on-site and online programs through our unique four-week class format. Our undergraduate and graduate programs include health care, business, education, engineering, law and criminal justice, and homeland security. Classes are available in a variety of formats to fit your unique schedule.