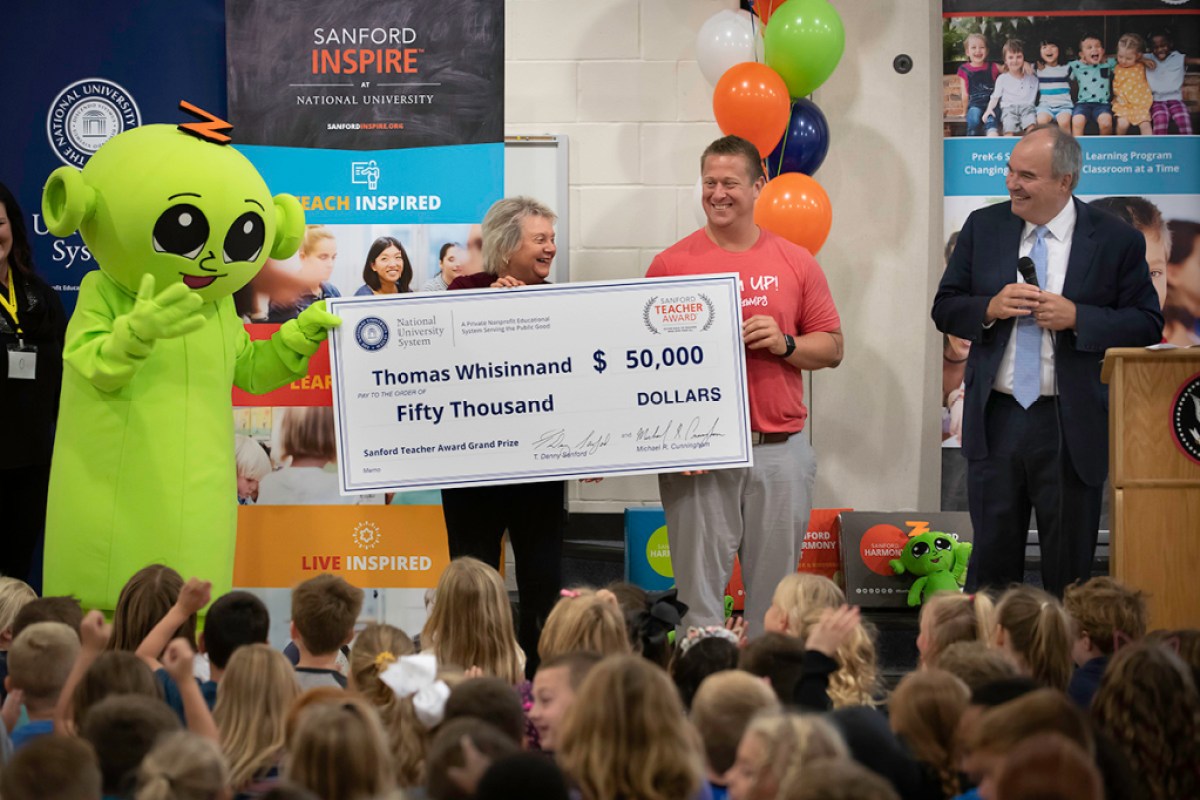 Whisinnand was selected from more than 50 finalists recognized by the National University System-Sanford Programs. The 2020 Awards cycle for nominations is now open for Pre-K-12 teachers nationwide.
September 4, 2019 – Omaha, Nebraska – In recognition of inspirational teachers who motivate students to achieve their highest potential, Thomas Whisinnand, a fourth-grade teacher at Ronald W. Reagan Elementary School in Nebraska's Millard Public School District, has been named the national winner of the National University System Sanford Teacher Award. Today's announcement of the 2019 grand prize winner concludes the first annual half-million dollar award campaign to honor the nation's top inspiring teachers, which included 51 finalists representing each state and the District of Columbia. Today also marks the official launch of the 2020 Sanford Teacher Award, open to all Pre-K-12 teachers nationwide.
Each of the 51 finalists previously received a $10,000 Sanford Teacher Award for demonstrating their commitment to creating inspirational and harmonious classrooms that support student development and achievement. The state winners, as well as five Inaugural Sanford Teacher Award recipients who were identified earlier in the 2019 campaign, teach in a diverse range of schools, including those in some of the nation's most rural areas to those in some of the nation's largest cities, and each of them qualified for the national title that comes with a grand prize total of $50,000.
Whisinnand, a native of Norfolk, VA, who has taught for 10 years, was recognized for exemplifying five characteristics of inspiring teaching, which include: enthusiasm for teaching; empathy and warmth towards all students; fostering positive relationships with all students; creating a safe and inclusive learning environment; and recognizing student strengths.
"There is no higher calling than being a teacher, and as the teacher workforce is under heavy demands, it is important to provide ongoing support that keeps teachers inspired and students engaged," said Dr. Michael R. Cunningham, Chancellor of the National University System, a network of nonprofit education institutions and initiatives — including the Sanford Programs — that serve lifelong learners from Pre-K to graduate level. "We congratulate Thomas Whisinnand and all recipients of the Sanford Teacher Award for their commitment to creating meaningful learning experiences for their students."
Thousands of teachers were nominated by students, parents, and their peers in the inaugural year of the award campaign. Recipients of the award are selected by a committee of educators based on an application process that includes nominations and information provided by each teacher to assess how closely they represent the characteristics of inspiring teaching.
Whisinnand was chosen for his dedication to building healthy relationships and supportive learning environments that motivate students to achieve success beyond the classroom. The panel recognized Whisinnand as a leader in expanding social emotional learning in Nebraska schools, and cited his ability to engage students through real-world experiences. For example, last year, Whisinnand inspired his fourth-grade class to research and propose legislation to name a new state symbol.
The award criteria reflect the mission of education-focused programs. These programs are being expanded nationally through the leadership of the private, nonprofit, San Diego-based National University System. The Sanford Programs — which are available at no cost to educators, schools, districts and colleges of education — include Sanford Inspire and Sanford Harmony. The programs, which are reaching students in all 50 states and 20 countries, are aligned to help schools and organizations establish a culture based on student engagement and inclusiveness. Some of the districts using these programs face language barriers among students, and others have a high number of transfer students due to a large military population. By equipping students with the core skills of these programs, schools are preparing students of all backgrounds to better function in an increasingly dynamic and global society. More specifically, the Pre-K-12 Sanford Inspire program helps prepare and retain teacher candidates and in-service educators by offering a research-based toolkit of effective teaching practices and on-demand modules that support both students and educators in achieving their fullest potential. Sanford Harmony, which has been recognized by the Collaborative for Academic, Social and Emotional Learning (CASEL), is a Pre-K-6 social emotional learning program that helps boys and girls at the earliest ages develop skills that emphasize collaboration and communication to cultivate strong peer and gender relationships, reduce conflict, and foster positive school climates that encourage academic excellence.
"The tireless work of talented and inspiring teachers fosters a student-centered, caring classroom environment where children find learning fun, challenging, and engaging," said Dr. David Andrews, president of National University, a San Diego-based nonprofit university that is part of the National University System. "We are pleased to have this opportunity to celebrate the hard work and dedication of Thomas Whisinnand and of all inspirational teachers."
The finalists' nominations form will be reviewed by a selection committee based at National University in La Jolla, California.
The deadline to submit nominations for the 2020 Sanford Teacher Award is Friday, November 20, 2019.
###
About the National University System
The National University System is a network of accredited nonprofit education institutions serving a diverse population of students including Pre-K-12 students and working professionals. The System includes National University, Northcentral University, City University of Seattle, and John F. Kennedy University. Established in 2001 to meet the emerging challenges and demands of education in the 21st Century. The anchor institution, National University, was founded in 1971 and is among the largest private, nonprofit institutions of higher education in California with more than 230,000 alumni, and is among the Top Ten largest schools of education in the country, the Sanford College of Education.