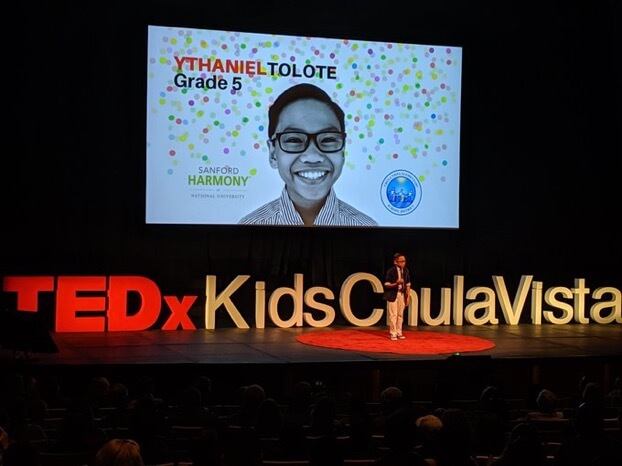 Each year, the Chula Vista Elementary School District (CVESD) hosts a district-wide speech competition aimed at fine-tuning their students' public speaking skills and giving them the opportunity to share their personal life experiences in a public forum—and for the past two years, that public forum has been the TEDxKidsChulaVista stage.
This year, more than 12,000 students entered speeches surrounding the theme "Harmony," which was derived from National University System's Sanford Harmony program. Nine finalists representing grades 4-11 were chosen to present their speeches on the TEDxKidsChulaVista stage Saturday, May 25 at Southwestern College.
Each student shared how they feel harmony can be achieved by making small alterations to our outlook on life, use of technology, and most importantly how we treat one another. For example, a sixth grader from Hedenkamp Elementary School shared a speech entitled "Battling YOU," which focused on internal conflict resolution, which aligns with the Sanford Harmony theme of problem solving. She stated:
"Conflict makes us human, but it doesn't have to be negative. Besides, life is not as enjoyable when you are in conflict with yourself. By recognizing our self-worth and reaching out for help with our internal conflicts, harmony can be achieved."
The Sanford Harmony program has five main principles: Diversity and Inclusion; Empathy and Critical Thinking; Communication; Problem Solving; and Peer Relationships. Each is used in the classroom to instill a sense of greater interconnectedness, which results in stronger peer relationships thereby creating enhanced comfort and confidence levels.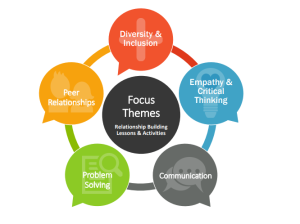 The Sanford Harmony program is used by PreK-6 teachers CVESD-wide and has been proven to provide students with the tools necessary to thrive in the school setting and become well-rounded adults. We applaud and thank the CVESD for continuing to place emphasis on the importance of social emotional learning and for using our curriculum in their classrooms.
If you are a teacher or administrator interested in incorporating Sanford Harmony into your curriculum, please contact us at [email protected] or click here for more information.