Award of $250,000 aimed at encouraging undergraduate students to pursue STEM fields through participation in research projects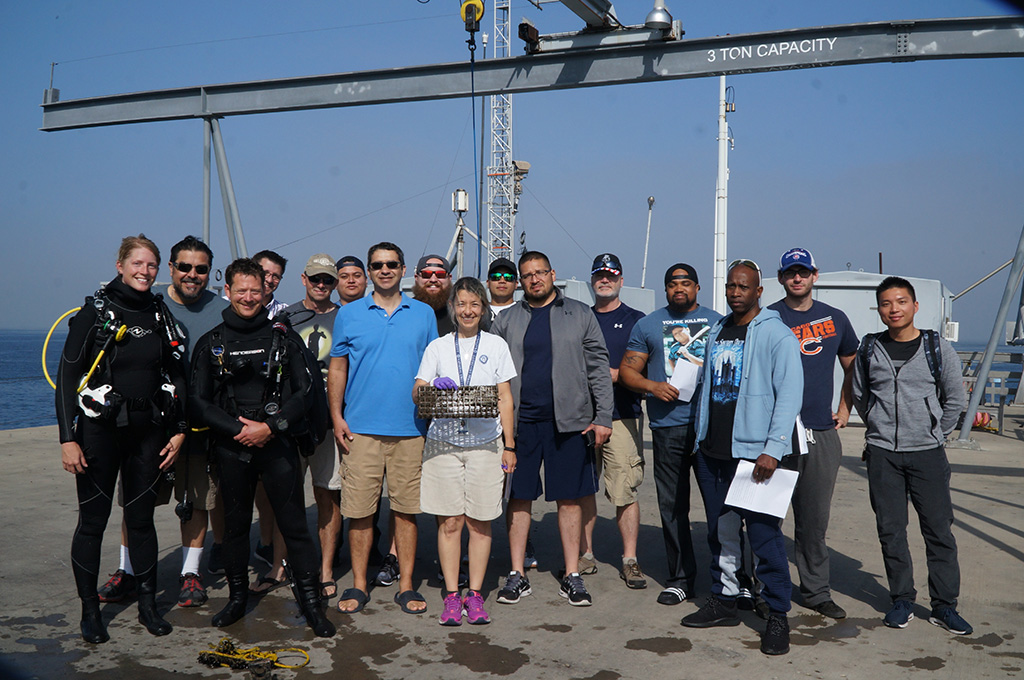 San Diego, CA – A team of researchers led by two National University professors has secured a National Science Foundation grant to boost involvement of undergraduate students investigating the environmental impacts of plastic waste flowing into the oceans. Theirs was among a select group of projects awarded a total of approximately $45 million to bolster STEM education among Hispanic Serving Institutions (HSIs) such as National University by involving students in cutting-edge research.
"Through this grant, we have a unique opportunity to give back to the communities we serve and inspire more members of our diverse and dedicated student population toward careers in science, technology, engineering and math, subjects that are critical to our nation's future," said National University President Dr. David Andrews.
The project is being led by Dr. Ana Maria Barral and Dr. Rachel Simmons, who both teach in the Department of Mathematics and Natural Sciences of National University's College of Letters and Sciences. The project also includes Dr. Jeff Bowman, an Assistant Professor at the Scripps Institute of Oceanography. The trio secured a three-year grant of nearly $250,000 to fund a research project titled "HSIs New to NSF: Using Ocean Plastic Research to Increase Student Engagement and Persistence in Biology."
One recent report estimates the amount of plastic waste floating in the world's oceans is approaching 150 million tons, with projections calling for a doubling of that amount over the next two decades. The National University-led project will focus on microorganisms that attach themselves to and colonize floating plastic material near the coast.
The project will incorporate course-based undergraduate research – sometimes known by its acronym of CURE – in biology classes, whether those classes are for biology or non-biology majors. Dr. Barral says that linking topics being studied in biology courses to current research in a local environment can increase the interest of any student to pursue a career in science.
"I am very humbled and excited by this opportunity," Dr. Barral said. "Through this grant, more students will have the opportunity to experience scientific research first hand and learn skills that can be extremely valuable in their future careers."
What's more, the grant's requirements include disseminating the CURE approach, and several community colleges and K-12 institutions in the region have already shown interest in launching pilot programs.
The National University project was initially supported through a pair of internal National University research grants, and it has captured two National University Presidential Awards.
"The work resulting in this recognition and grant from the National Science Foundation stands as a testament to the commitment of our faculty, whose service goes far beyond the classroom," said Dr. Gangaram Singh, Executive Vice President and Provost of National University.
Dr. Barral, who teaches at National University's Costa Mesa campus, began her career as a research scientist. Originally from Cuba, she completed her Ph.D. in Sweden and came to San Diego to complete her postdoctoral studies at the prestigious La Jolla Institute for Allergy and Immunology. After a brief stint at a biotech firm she realized her real passion was in education, and she has been with National University since 2005. Dr. Barral teaches majors and non-majors general biology courses, as well as her favorite course, microbiology. Her interest in attracting students to STEM disciplines using authentic research led her to become a member of nationwide initiatives such as the Genomics Education Partnership and Tiny Earth.
Dr. Simmons earned her Ph.D. in genetics at UC Davis and a Bachelor of Science and Master of Science in biology, with a specialization in ecology, behavior and evolution, at UC San Diego. "Engaging students in this research project enables us to highlight additional educational pathways for National University graduates to make a positive impact in the STEM workforce and society," said Dr. Simmons, who has taught introductory biology, genetics, molecular biology and bioinformatics at National University.
Other National University collaborators in the grant-funded project include Dr. Michael Maxwell and Dr. Marie Boman-Davies, program directors of the Bachelor of Science program in biology and in Public Health, respectively. Besides Dr. Bowman, the grant includes Dr. Emelia DeForce, visiting scientist at the Scripps Institute of Oceanography whose postdoctoral project was a predecessor for the science behind the National University endeavor.
As a Hispanic Serving Institution and as a member of the Hispanic Association of Colleges and Universities (HACU), National University supports educational and career opportunities for a diverse population of students. Last October, the University was selected to host over 600 middle and high school students at HACU's annual Youth Leadership Development Forum, an interactive day of exploration and discovery to introduce young students from underrepresented communities to STEM career paths.
About National University
Founded in 1971, National University is among the largest, private, nonprofit universities in California. With more than 185,000 alumni, National University is the flagship institution of the National University System. National University is dedicated to making lifelong learning opportunities accessible, challenging, and relevant to a diverse population of students. Four schools and two colleges – the College of Letters and Sciences; the Sanford College of Education; the School of Business and Management; the School of Engineering and Computing; the School of Health and Human Services; and the School of Professional Studies – offer more than 75 graduate and undergraduate degrees and 23 teacher credentials. Programs are offered at locations throughout California and across the nation, and are also available online. National University is headquartered in La Jolla, California. http://www.nu.edu