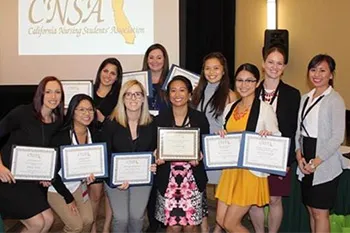 National University nursing students and faculty received a wide array of recognitions and accolades at the annual convention of the California Nursing Student Association this fall in Visalia. The awards reflect the dedication to excellence and community service that is a hallmark of the Bachelor of Science in Nursing program, which is part of the School of Health and Human Services. The recognitions included :
Outstanding Breakthrough to Nursing Recruitment Project
Outstanding Community Service Project
CNSA Chapter Recognition Award
Sparkplug Award – for greatest membership increase
Faculty of the Year Award – presented to Nicole Sevilla-Zeigen
Additionally, scholarship awards were presented to two National University nursing students: Ashley Weber, the outgoing National University CNSA chapter president, and Jessica Gonzalez. Two other National University students who serve on the CNSA state board, Keena Mapanao and Jamie Kuhn, received honorable mention. The National University Chapter also won the CNSA costume and dance contest for the second year in a row.
As the outgoing "Breakthrough to Nursing" Director, Ms. Mapanao was recognized for helping nursing students, mentoring prospective nurses, and providing outreach to high school students through the CNSA's Future Nurses High School Club project.
Ms. Kuhn was recognized for her contributions to "Stand Down for Veterans," an event sponsored by Veterans Village of San Diego to serve homeless Veterans. Ms. Kuhn recruited nursing students to help administer aid and deliver much-needed goods.
Ms. Gonzalez was nominated for her scholarship by National University faculty for exhibiting exceptional caring and compassionate behavior during nursing clinicals; and Ms. Weber received her scholarship for dedication to CNSA and nursing leadership.
National University dominated the awards so strongly that other attendees and organization leadership took notice, prompting it to be compared to an "Oscar-style sweep" for the University's nursing students and faculty. Ms. Mapanao credited Ms. Weber for her leadership in creating a very strong chapter of student nurses representing National University: "Ashley has motivated student nurses across the state every step of the way…She's a great leader and is going to be an outstanding nurse."
About National University
Founded in 1971, National University is one of the largest private, nonprofit universities in California. With more than 230,000 alumni, National University is the flagship institution of the National University System. National University is dedicated to making lifelong learning opportunities accessible, challenging, and relevant to a diverse population of students. Four schools and two colleges – the College of Letters and Sciences; the Sanford College of Education; the School of Business and Management; the School of Engineering and Computing; the School of Health and Human Services; and the School of Professional Studies – offer more than 100 graduate and undergraduate degrees and 23 teacher credentials. Programs are offered at locations throughout California and across the nation, and are also available online. National University is headquartered in La Jolla, California. http://www.nu.edu/