San Diego, Calif. – The annual Comic-Con International event comes to San Diego on Wednesday, July 20. The four-day convention attracts more than 130,000 visitors, filling the San Diego Convention Center to capacity and generating what Forbes.com has estimated as close to $200 million for the local economy.
Legions of fans will flood downtown in their favorite sci-fi or super-hero costumes, and the entire city will become an animated party. But did you know that the very first order of business at Comic-Con will be an interactive workshop for educators?
The workshop, which is open to teachers of all subjects, will be held at the San Diego Central Library. A group of academics will demonstrate ways to integrate comic books into K-12 classrooms. This premier session of the convention will include interactive activities, approaches for aligning comic books within curriculum, and resources for teachers to use in the classroom.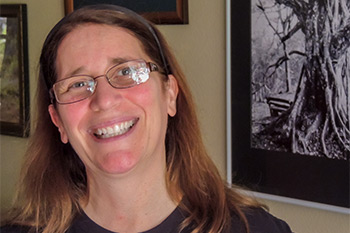 The ongoing link between comic books and education, and the growing support for this partnership as a powerful tool to promote reading among young people, has a direct link to National University. Dr. Robyn Hill, an associate professor in the Sanford College of Education, is a leading advocate of developing children's reading skills through the utilization of comic books.
Professor Hill has long seen the frame-by-frame world of comic books and graphic novels as an ideal instrument for motivating visually-oriented learners and enhancing childhood literacy. For several years now, comic book publishers have been listening to educators, such as Hill, and working to form partnerships that help to legitimize their products. Consequently, the concept of comic books as a gateway to reading and literature is gaining increased visibility and popularity.
This partnership may seem like a no brainer, but it may be worth noting that in the 1950s, Congress almost banned comic books, when the U.S. Senate Subcommittee Investigation on Juvenile Delinquency held public hearings to explore the medium's subversive qualities and its allegedly deleterious effects on youth.
At their worst, comic books were once described as pathways to crime and deviant behavior. At best, they have been consistently dismissed as low-brow entertainment. That is why the pioneering work of Dr. Hill has been so critical to dispelling old stigmas and elevating the perception of a media that has exploded on the pop-culture scene in recent years.
Dr. Hill has been recognized by Comic-Con, which served as a forum for promoting her resource book, The Secret Origin of Good Readers, which has was most recently updated in 2012. Now observing its 15th year, the annual Comic-Con panel of the same name continues to bring together educators, comics industry executives, creators, and retailers to present old favorites like Superman, Batman, and Wonder Woman, as well as new comic book characters and titles, in an entirely different light. Over the past decade, Hill's publications and research have helped hundreds of teachers to identify numerous "kid-friendly" comic book titles, select age-appropriate story lines, and adapt them for classroom activities across all grade levels and content areas.
Though Dr. Hill is no longer actively involved with Comic-Con, her foundational work helped to give a misunderstood medium renewed legitimacy in the field of education, redefining it as a rich source of fun and interesting reading material for thousands of children—both in and out of the classroom.
How fitting then, that a pop-culture phenomenon that will fill San Diego's hotels, restaurants, and streets with comic-book and science-fiction enthusiasts is also helping to broaden the definition of literacy across the nation.