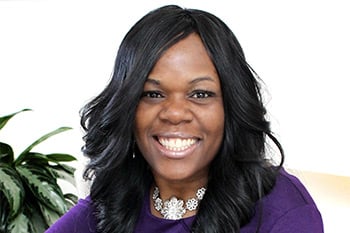 Monica Wilson, Ph.D., an assistant professor of psychology with the National University College of Letters and Sciences has been presented with an award of recognition by the California State Assembly in honor of her work as an advocate for mental health services, which includes extensive involvement in the San Bernardino area.
As part of the College's department of psychology, Professor Wilson is regional lead faculty for the Master of Arts in Counseling Psychology (MAC) program in San Bernardino. She also currently chairs the Behavioral Health Commission for San Bernardino County as a representative for District 4, which includes the cities of Ontario, Chino, Chino Hills, Montclair and Upland.
"Professor Wilson has been a steady and significant voice advocating for mental health treatment for all Californians for a significant period of time," said colleague J. Roland Fleck, Ed.D. chair of the department of psychology. "Additionally, she has set up one of the most innovative MAC programs that our department has in terms of exposing our students to a multitude of external resources in the mental health arena within the Inland Empire."
As a behavioral health commissioner, Professor Wilson is responsible for assuring that San Bernardino County provides programs, services and access to quality care for those who suffer from mental illness or substance abuse disorders. By law, she is required to provide reports and updates to the Board of Supervisors on program outcomes, while also monitoring Proposition 63 (Mental Health Services Act) funds allotted by the State Legislature to makes sure they are being appropriately spent.
"I am honored to be acknowledged by the Assembly for my passion and commitment to public service, and for serving as a voice for those who are impacted by and depend upon our public health system," said Professor Wilson.
National University offers accredited psychology degrees and programs in the areas of psychology, organizational behavior, counseling psychology and human behavior that can be taken online and/or at its many community-based campuses, and many of its faculty are working professionals, such as Professor Wilson, who are actively engage in their fields. Professor Wilson is also a past chair of the California Mental Health Planning Council, a position which has allowed her to advocate for mental health services at the state level and make policy recommendations to the Governor, the Senate and the Assembly.
About National University
Founded in 1971, National University is one of the largest private, nonprofit universities in California. With more than 185,000 alumni, National University is the flagship institution of the National University System. National University is dedicated to making lifelong learning opportunities accessible, challenging, and relevant to a diverse population of students. Four schools and two colleges – the College of Letters and Sciences; the Sanford College of Education; the School of Business and Management; the School of Engineering and Computing; the School of Health and Human Services; and the School of Professional Studies – offer more than 100 graduate and undergraduate degrees and 23 teacher credentials. Programs are offered at locations throughout California and across the nation, and are also available online. National University is headquartered in La Jolla, California. http://www.nu.edu/