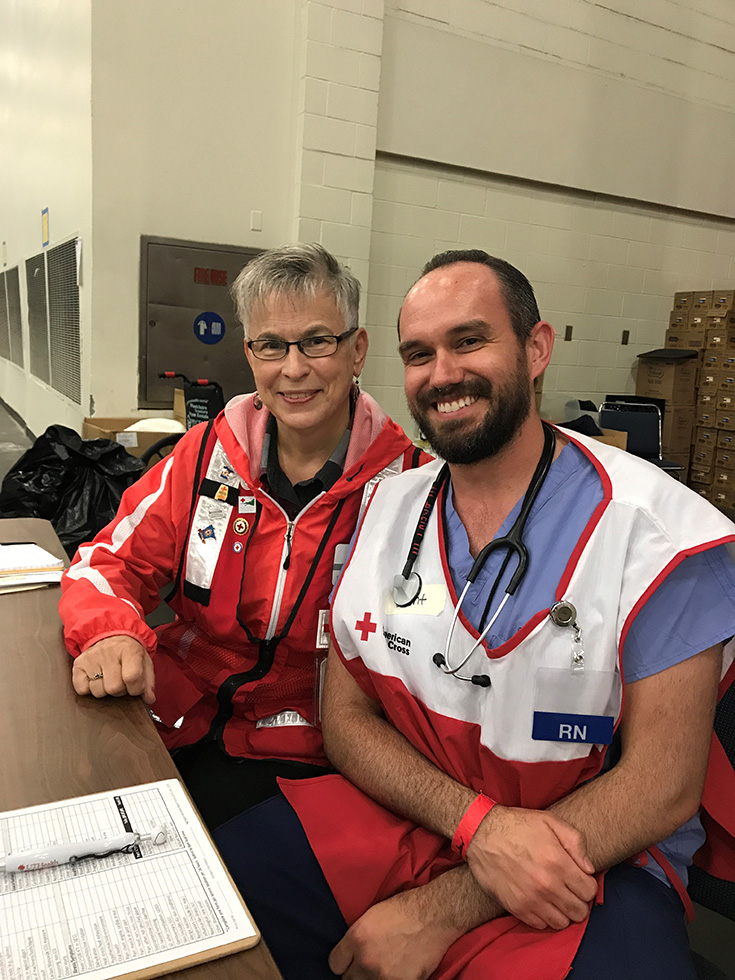 When National University alumnus Brent Reel saw the magnitude of Hurricane Harvey—the wettest tropical cyclone in U.S. history, dumping more than 40 inches of rain on eastern Texas—he knew he had to help. Reel (BSN, 2016), a senior clinical nurse consultant for Cardinal Health, used his own vacation time and frequent flyer miles to get to Houston where he volunteered four days as a disaster relief nurse.
"Disaster relief nursing is a priceless experience, definitely demanding, but also hugely rewarding," said Reel, who assisted with wound management, community health needs and helping to monitor chronic illnesses at a temporary shelter in downtown Houston. "It's about figuring out how to work with what you have while trying to help people get their lives back on track and move on."
This was the second time that Reel has volunteered as a disaster relief nurse, after responding to a similar plea for disaster relief nurses the year before in the Caribbean. From that experience, and 2017's Hurricane Harvey, Reel shares some tips on how to prepare for emergency relief work of this nature:
Scroll social media sites to find opportunities to help: Reel said that he found out about the opportunity to assist while browsing through a social network for healthcare providers on LinkedIn in the immediate aftermath. That's how he came across a post from Houston's George R. Brown Convention Center, pleading for volunteer nurses.
Obtaining out-of-state temporary licensure: Reel wanted to get to Houston right away, but he had to wait for a temporary Texas licensure, which meant he arrived five days after the storm first hit. FEMA and the Red Cross had really stepped up to address the most pressing needs of Harvey's victims and the Convention Center crowd had gone down to 3,000 people, but he still found many needs to address.
Find ways to align your expertise with immediate needs: Reel, whose specialty is wound management, saw a lot of lower extremity cuts and lacerations during his volunteer experience: "Picture people wading to safety through murky waters. Many scraped a leg against a tree limb or stepped on the jagged edge of submersed debris. There is a high risk of infection with injuries like that. We cleaned their wounds and stitched them up as best we could, then checked back with them multiple times a day to make sure there was no negative progression."
Be prepared to help manage chronic illnesses: "We treated patients with diabetes and emphysema…Some had communicable diseases, which required diagnosis to isolate and make sure others weren't infected. There were a couple suspected tuberculosis cases and we also worried about a Hepatitis A, which could have spread quickly in the cramped quarters we were in."
Don't take outbursts personally: Many victims were worried about their homes and families and were dealing with emotions of trauma, living in the temporarily cramped quarters. Most were grateful for the volunteers, but sometimes outbursts occurred. "We worked past that though, and realized where these people were coming from."
Expect to work long hours: The four days that Reel spent in Houston passed quickly. Eight-hour shifts became 12-hour-shifts, and toward the end his stay he figured he averaged about 16 hours per day on the floor.
Tap into your educational background for answers: Reel studied to be a nurse at National University's School of Health and Human Services, and that included taking courses in public health and community nursing. He said the courses proved to helpful as he put into practice community-focused approaches to healthcare.
Be ready to lend an ear: Some patients who just needed some aspirin ended up talking to Reel and his colleagues for 30 minutes or more – just because they needed someone to talk to. Many of the patients he helped were homeless, low income, elderly, or without friends or family to rely upon.
The experience was challenging and personally satisfying for Reel, who saw how healing can take many forms. "We had a lot of children present, and many healthcare providers played with them when possible. It was fun being able to take them out of that grim situation for a moment and just be a friend," he said. "Volunteering was about much more than medical care and providing food and shelter. Being there actually made me a better human being."
About National University
Founded in 1971, National University is among the largest, private, nonprofit universities in California. With more than 200,000 alumni, National University is the flagship institution of the National University System. National University is dedicated to making lifelong learning opportunities accessible, challenging, and relevant to a diverse population of students. Four schools and two colleges – the College of Letters and Sciences; the Sanford College of Education; the School of Business and Management; the School of Engineering and Computing; the School of Health and Human Services; and the School of Professional Studies – offer more than 75 graduate and undergraduate degrees and 23 teacher credentials. Programs are offered at locations throughout California and across the nation, and are also available online. National University is headquartered in La Jolla, California. http://www.nu.edu/