Calif. —Jeff Rivero, an alumnus of National University's Sanford College of Education, recently traveled to the White House to accept the Presidential Innovation Award for Environmental Educators. Each year the Environmental Protection Agency (EPA) presents this national award to teachers who integrate innovative environmental curriculum into their classrooms.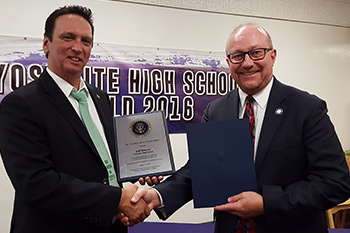 Jeff Rivero, who teaches U.S. history and current events at Yosemite High School in Merced County, has combined environmental education with his curriculum to teach students about policies, behaviors, and decisions involving both economics and natural resources. Rivero's teaching goes beyond the classroom—he also leads an after-school program called the Dragon Academy. Traveling to locations, such as Yosemite National Park and Monterey Bay's Aquarium, participants in this program have the opportunity to learn about composting, recycling, and gardening, in addition to lessons on ocean life and social justice. These students also gain hands-on experience volunteering with community service projects, including a partnership with GRID Alternatives to install low-to no-cost solar electricity systems.
In addition to Rivero's recognition on the national stage August 16, fellow alumni of National University, which is among the largest private, nonprofit universities in California, have recently been honored at the county and state levels as Teacher of the Year. Over the years, at least 130 graduates and credential completers from the Sanford College of Education have been recognized as county and state Teacher of the Year within California.
The Sanford College of Education, which is accredited by the National Council for Accreditation of Teacher Education (NCATE), is among the top ten largest schools of education in the country, and recommends more teachers for credentials than any other university in the state of California.
The awards from the EPA's Office of Education are granted to teachers and students as part of a government initiative to bring more attention and resources to the fields of science, engineering, technology, and math (STEM). Rivero's award is accompanied by $2,500 to further professional training, and Yosemite High School will receive an additional $2,500 to support its environmental education program.
To see the full article, click here