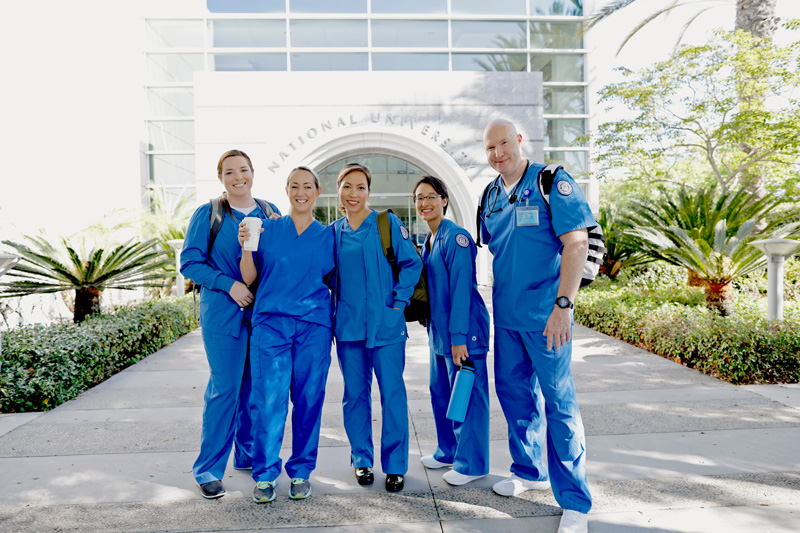 An academic paper co-authored by Drs. Gloria McNeal, Tyler Smith, and Paul Tontz of National University has been published in this month's issue of the esteemed peer-reviewed Journal of Nursing Education. The paper explores outcomes of the University's Vets2BSN project, an initiative that expedites time to completion for Veterans who have acquired skills during their service that can be directly applied toward a Bachelor of Science in Nursing.
The project, which has been offered at National University over the past five years, incorporates competency-based approaches, such as using exams to assess prior learning experience and program sequence – allowing for an accelerated path to degree completion. This is a critical benefit for military servicemen and women who have acquired significant nursing-related experience in the field.
About a quarter of all National University students are either veterans or active duty members of the military, and the University is committed to helping them transition to civilian careers when they are ready to do so. Through this project, which was managed successfully in collaboration with University administration, staff, and faculty, National University is able to provide a foundation for reintegration of military health professionals possessing skills allowing for educational credit and acceleration of studies toward earning the BSN.
The Vets2BSN project was created in response to the call to prepare active duty and Veteran corpsmen and medics to earn the BSN credential. It was launched in July 2014 thanks to a $1.4 million grant secured by Dean McNeal from the U.S. Department of Health and Human Services.
National University is actively exploring a range of strategies to assess individual learning styles and prior learning experiences to streamline academic pathways, including through its Precision Education initiative, and also in collaboration with the National University System's Workforce Education Solutions initiative.
Since its inception, the Vets2BSN project has helped nearly 100 military nursing students enroll and graduate with their BSN. To learn more about the project, please view the press release announcing the grant-funded initiative here.