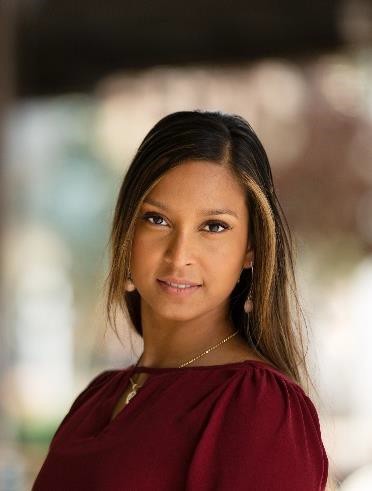 Military Outreach Representative, El Paso – Fort Bliss
Nathalia Rodrigues is a Military Outreach Representative for National University, serving servicemembers, Veterans, and their families in Fort Bliss, TX, New Mexico, and Hawaii. In her role, she assists the military community in accessing resources that will help them achieve their higher education and professional pursuits. In addition, Nathalia is an advocate for higher education, the military community, and accessible health care, and frequently partners with local businesses to ensure the military community has access to opportunities that will enhance their quality of life.
Prior to joining National University, Nathalia worked for Blugold Beginnings of the University of Wisconsin — Eau Claire. Nathalia worked with low-income, single-family, and first-generation 5-12 graders to learn about the opportunities that attaining a higher education present. Nathalia also worked for Campbell University as a Biology Teacher/Lab Assistant and was a Medical Assistant for Carolina Diabetes and Management.
Nathalia is also currently a Healthcare Specialist in the Texas Army National Guard and volunteers with the local hospitals alongside the Red Cross to fulfill her passion for accessible health care. Her goal is to help her communities succeed through education and build long-lasting careers.
Nathalia manages outreach in El Paso, Texas. She also conducts outreach in following states: New Mexico and Hawaii.