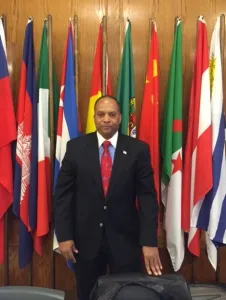 Director, Military & VA Relations, Territory I
A native of Brooklyn, New York, Eduardo E. Leardo is a Director, Military & VA Relations, at National University, serving servicemembers, Veterans, and their families in the Northeast and overseas. He has nine years of experience in DoD Voluntary Education Programs and Department of Veterans Affairs education, and is the past President of the New York State Advisory Council on Military Education.
Prior to joining National University in 2010, Eduardo served as the Combat Operational Stress Control Training Coordinator at Headquarters, United States Marine Corps, Quantico, Virginia. Prior to that assignment, Eduardo retired from the U.S. Marine Corps after 31 years, during which he held numerous leadership, management, and supervisory positions. He is a combat Veteran and recipient of the Purple Heart.
Eduardo is completing a Master of Arts in Gerontology to provide strengths-based services to and advocate for today's aging Veterans. He holds a Master of Science in Education from St. Joseph's College, Bachelor of Arts in History from Thomas Edison State College, and a Bachelor of Arts in Liberal Studies from Park University. Eduardo fosters patriotism and is a strong supporter of military and Veterans' education and service benefits.
Eduardo manages outreach in the following states: North Carolina, Virginia, Maryland, Delaware, New Jersey, New York, Connecticut, Rhode Island, Massachusetts, New Hampshire, Vermont, Maine, Pennsylvania, Indiana, Ohio, Michigan, Kentucky, and West Virginia.