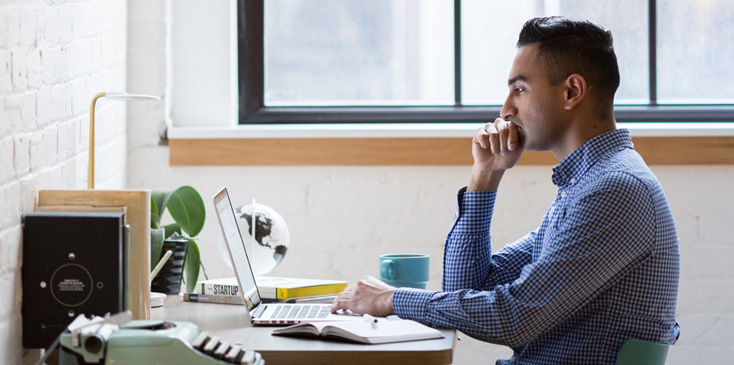 There aren't many fields of study that are as diverse as business administration. Professionals with knowledge gained and skills developed in this area will find a wealth of job opportunities. Companies and organizations of all kinds and all sizes rely on people with comprehensive business know-how to keep things running smoothly at every level, from finance and management to production and logistics.
What is Business Administration?
First things first, let's define the area of study itself. So, just what is business administration exactly? With a field so broad, it's hard to define concisely. But if we're looking for a pure definition, the ever-reliable Merriam-Webster dictionary defines it as: "a program of studies in a college or university providing a general knowledge of business principles and practices." Fun fact: the term "business administration" was first used in 1904, according to Merriam-Webster! So it seems since the time it was coined, "business administration" was also directly related to education.
What about "business" itself? Pretty straightforward, but let's take a look anyway. The same dictionary defines this word in many ways, and the most applicable to a degree program would perhaps be these three:
A commercial or mercantile activity engaged in as a mean of livelihood.
A commercial or sometimes industrial enterprise.
Dealings or transactions especially of an economic nature.
These definitions do sound simple, but it is interesting to realize that, for a field with such diverse career opportunities, things really boil down to a few main principles — and that's the heart of what you'll learn when studying business administration.
What is a Business Administration Degree?
Now that we know what business administration is, it's pretty clear what it means to study this subject. At its core, business administration degree programs focus on many aspects of managing a business — and its people and processes.
A business administration degree can be earned at a few different levels, each advancing and growing in scope of skills, knowledge, and concepts as they progress. An associate degree in business administration will typically take about two years to earn, and it will prepare students for entry-level positions in business, such as in customer service, sales, administrative support, and retail management.
A traditional undergraduate degree in business, such as National University's Bachelor of Business Administration (BBA), prepares students for a wide variety of positions and industries, and we'll discuss these in more detail later in this article. Those with a BBA or related degree may also wish to progress to a master's of business administration. The MBA, as it's more commonly known, is often considered the top credential in the business field. Finally, if research or business education is something you'd aspire to, there also are doctorate programs in business administration-related areas.
Can I Get a Business Administration Degree Online?
In today's connected world, earning a business administration degree online is not only possible but for many working adults, it's also becoming a norm. Taking classes in this format allows people to balance their work and family life with their education; while there is still plenty to learn and plenty of work to do, the flexibility in pursuing a degree online allows students to work on their own time.
At National University, for example, you can earn a bachelor of business administration degree online, taking one course at a time, every four weeks. Not only is the online format convenient, but having only one class at any given time also allows for more concentrated focus. And that's also something a student with a busy life outside of school will certainly find appealing.
If you also enjoy learning in the classroom environment, you should know that many schools will allow students to alternate between online and on-campus classes. This enables you to take an online course when it fits your current situation the best, while also leaving you the option for face-to-face interaction on campus when your schedule is more open.
One more enticing aspect of online courses is that, when attending an accredited university like National, you can expect to receive the same quality instruction and meaningful interaction as on-campus students.
What Will I Learn in a Business Administration Degree Program?
Because this type of degree can lead to such a wide range of opportunities, it's important that you develop a broad understanding of the field. After completion, you should leave a solid business administration program, online or on campus, with a well-rounded education, encompassing both soft skills (like leadership and communication) and hard skills (technical know-how).
Most BBA programs have a set of required core courses that will cover topics including:
Marketing.
Statistics.
Accounting.
Economics.
Finance.
Management.
Digging deeper into a BBA program like National's, you'll find coursework — either standalone courses or content naturally embedded into other classes — focusing on ethics, global business, corporate social responsibility, and leadership.
Another way to learn first-hand about running a business (or an aspect of a business) is to get practical experience. Many BBA programs require an internship and a capstone project — which brings together everything you've learned. Many classes also explore case studies and other real-world scenarios to help you gain both a big-picture and down-to-the-last detail look at business and what you can expect in the workplace.
What Else Can I Learn in a Business Administration Program?
Many business administration programs offer students the opportunity to choose an area of specialty. This would mean that in addition to core courses, like the ones discussed in the previous section, you'd also take a set of classes in a specific sub-area of business. For example, National University's BBA offers concentrations in accountancy, business law, entrepreneurship, finance, human resources management, marketing, project management, and alternative dispute resolution.
Adding a concentration like this can give you an edge when heading out into the job market. It also serves as a way to really help you become knowledgeable in a specific area; also, in a way, it's helping you narrow down what you'd like to do in your day-to-day work or what type of company you'd like to work for.
For example, project management is a rapidly growing field within business. Project manager positions of all levels are quite common in technology companies, and they also play important roles in consumer goods and manufacturing. Aside from concentrating in this area in a degree program, you can go on to earn professional certifications, which further demonstrate your expertise and, in turn, boost your credentials and earning potential.
Marketing is another concentration area that lends itself to defined roles within an organization. This focus area will include courses that allow you to flex your creative muscles, such as advertising and public relations. But since efforts in this area are often rooted in market research, consumer behavior, trends, and sales, coursework here will also include exploring tools and methods to aid in decision-making and analysis. Finally, in a global economy in the internet age, marketing concentrations are also likely to include topics such as e-commerce, digital marketing, and international markets.
Finally, let's look at one more popular concentration area of business: entrepreneurship. Many people may wish to study business administration not because they want to enter the corporate world, but rather because they either want to start their own business or contribute in a greater capacity to a family-owned business. Entrepreneurship is an exciting area full of innovation and courses specific to this concentration cover topics such as business concepts, legal structures, succession planning, finance, and marketing.
Adding a concentration to your BBA is a way to learn more about a specific area that interests you, but perhaps, more importantly, allows you to stand out.
What is the Demand for Business Professionals?
The U.S. Department of Labor's Bureau of Labor Statistics (BLS) projects that business and financial occupations will grow by 10% in the next decade, which is faster than the average for all occupations.
According to BLS, a few factors are responsible for this increased demand including globalization, emerging markets, more complex tax and regulatory environments, globalization, and the growing use of big data and other marketing intelligence. Based on these evolving aspects of business, it's likely accounting, auditing, and market analysts positions will be some of the fastest-growing segments within the overall business and financial field. In fact, the BLS estimates the need for market research analysts will grow by 23% in the next decade, making it one of the fastest-growing occupations in any field.
Companies and organizations of all kinds are in need of employees with skills learned in a business administration degree program, but a few industries, in particular, employ a higher level of people in business and finance.  These BLS-defined categories include management of companies and enterprises; federal government executive branch; accounting, tax preparation, bookkeeping, and payroll services; management of scientific and technical consulting services;  and credit intermediation and related activities.
This growing demand illustrates why so many are seeking to earn on-site or online degrees with a specific focus on business administration.
What is a Business Administration Degree Student Qualified to Do After Graduation?
When many people first think of getting a business administration degree, accounting- and finance-related positions may immediately come to mind. Of course, those are exactly the areas of business many BBA students are looking to enter. However, the field has certainly expanded and diversified over the decades. And with it, business administration education has also evolved.
A business administration degree is an extremely versatile academic credential. Simply put, no matter what the industry or size of a company, there's bound to be positions related to the concepts, skills, and knowledge gained in a business administration program. As noted in the previous section, students are often able to further customize their learning experience by choosing to focus on a certain area of business; this extra specialty can give people an edge.
You can expect to find positions for BBA graduates available in many areas of a company or even a nonprofit organization — and in industries beyond banking, insurance, and finance firms:
Accounting.
Finance.
Operations.
Logistics.
Marketing.
Human resources.
Information systems.
Research and development.
Sales.
Customer relations.
Member services.
Fundraising/development.
Business Administration Degree Career Options
In the previous section, we highlighted a few departments or areas of a company in which a BBA graduate would be qualified to work. Now let's explore a few specific types of positions and dive into a few in more detail. First, here are some general business administration job types/titles:
Accountant.
Auditor.
Budget analyst.
Compensation/benefits specialist.
Financial analyst.
Personal finance advisor.
Market research analyst.
Loan officer.
Logistician.
Training and development specialist.
Purchasing manager.
Sales manager.
Marketing manager.
Let's take a look into a few of these — the ones most in demand — in more depth. Financial analysts help businesses make investment and other bottom-line decisions; the need for professionals with these skills, according to the BLS, is expected to grow 11%, which is faster than the average occupation. To enter this field, in addition to a BBA degree, candidates are expected to have good communication, analytics, decision-making, and computer skills.
Loan officer is another occupation the BLS projects to grow at a faster than average rate, also 11%, through the next decade. The expected rise in this area is due to economic growth with more people looking to finance personal and professional expenditures. Aside from gaining business knowledge and experience in a degree program, good interpersonal skills will also come in handy in this field.
Personal finance advisors will see a much faster than average growth rate: 15% over the next decade. One reason for this increase is that the population reaching retirement is rising. Related to that, an increase in life expectancy will also boost the need for personal financial planning.
Training and development specialists can be found in nearly every industry, which is likely why the BLS also predicts this occupation to grow by 11% in the next decade. BBA candidates who are drawn to organizational development or human resources may find this aspect of business rewarding.
What is a Business Degree Administration Degree Graduate's Earning Potential?
Starting salaries in any position will depend on many factors: education, length or type of previous experience, geography, and industry. The BLS, however, does present research of national averages for many positions that fall under its business and finance umbrella.
Here's a look at the national and California (National University's home state) averages for a few of the previously discussed positions:
Auditor
National: $69,350
California: $83,540
Budget analyst
National: $75,240
California: $87,400
Financial analyst
National:$84,300
California: $109,580
Human resources specialist
National: $60,350
California: $74,910
Market research analyst
National: $62,230
California: $80,020
Personal financial advisor
National: $90,460
California: $141,100
Training and development specialist
National: $60,360
California: $73,070
As in almost every other field, earning potential increases with more experience, good performance, and additional education or certifications. Let's take a look at one of those educational opportunities that will allow you to rise within the business sector.
Continuing Your Education: Business Administration Degrees at the Graduate Level
Many people who earn a bachelor's degree in business administration or a related business field continue on to earn a master's of business administration (MBA). They may transition directly into an MBA program, or choose to further their education after working for a while. Either way, earning this professional degree is a way to move up within the field, and it's often required for the highest-level positions in organizations.
Many MBA programs, such as National's, also offer an online degree option. This gives those already working in the field the flexibility and convenience they may need to further their education. In addition to the traditional MBA, many schools will also offer specializations such as marketing, supply chain management, or accounting. Earning a master's of business administration degree online (or on campus) is one way to grow and advance in the field.
What is a Business Administration Degree Program's Faculty Like?
Earlier in this article, we discussed how versatile a degree in business administration is. This also means that a program's faculty is likely to bring academic and professional experiences from a variety of fields and positions to the classroom. At National University, you'll take courses from a range of business leaders with decades of experience in their given profession. Among the faculty members, you might find accountants, economists, healthcare administrators, and others. And you'll find professors and practitioners seasoned in fields including — but not limited to — healthcare, law, consumer behavior, logistics, marketing, banking, international trade, organizational leadership, information technology, agriculture, and broadcast media.
What started as a simple answer to "what is a business administration degree?" at the start of this article turned into a deeper dive into business administration opportunities, which truly demonstrates the versatility of this area of study. It's no wonder a BBA or an MBA can lead to so many career possibilities.
If you're looking to start or grow your career in the business field, National University can help. Visit our Bachelor of Business Administration program page to learn more or contact us for information.