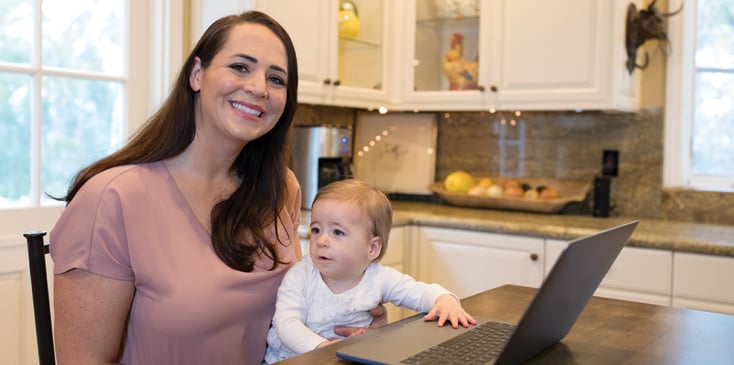 In 2014, Cassie Olinski found herself in a difficult position. She was facing an unexpected divorce, and as a soon-to-be-single mother to an 8-year-old son with special needs, she knew it would be difficult for her to make ends meet with no degree and limited job options.
After some hunting, she managed to find a job assisting teachers at a local elementary school as a paraeducator and discovered she had a true passion for the work. "I really liked working with kids," Cassie remembers. "It made me realize how much I wanted to become a special needs educator for kindergarten students."
It's not uncommon for moms to consider pursuing a degree, especially when it opens so many doors. And Cassie's situation is not unique. Whether it's a result of divorce, other changes in their life circumstances, or personal choice, many women find themselves in a position of being the sole or primary provider for their families. From 2000 to 2012, the number of single mothers enrolled in a bachelor's degree program skyrocketed from less than a million to more than two million, according to the Institute for Women's Policy Research. Further, the Bureau of Labor Statistics reported there were 70,000 more single mothers in the workforce in 2017 than there were in 2016.
For many mothers on their own, getting an education can be the single most important factor determining the future stability and security of their families. But for a working or single mom wanting to go back to school full-time or part-time, the mere idea can seem like an overwhelming hurdle to jump over. Still, the benefits of pursuing further education are compelling.
Why Is Returning to School So Important for Moms?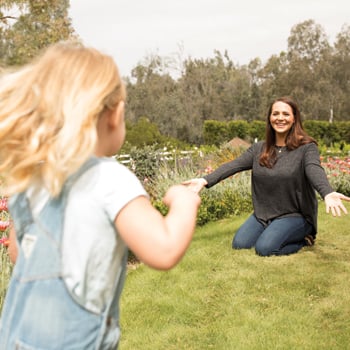 The most significant reason many mothers decide to obtain a degree is that it can significantly increase their earning potential. In fact, according to the U.S. Department of Education, college graduates with a bachelor's degree typically earn 66 percent more than workers who only have a high school diploma. The Georgetown University Center on Education and the Workforce found that, over the course of a lifetime, the average worker with a bachelor's degree will earn approximately $1 million more than a worker without a postsecondary education!
Opportunities like this weren't lost on Cassie, whose paraprofessional position didn't give her as much professional or financial freedom as she was seeking. "I discovered I enjoyed working as an instructional assistant, but in order to become a teacher in my own right," Cassie says, "my only option was to pursue a bachelor's degree and teaching certification."
By 2020, the Georgetown center estimates that two-thirds of job openings will require candidates to have postsecondary education or training. Even some entry-level jobs are beginning to require advanced degrees. There's no question that for a single mom, having a degree can open the door to more professional options, and can put her in a better position when negotiating salary and pay.
But Cassie wasn't just seeking specific skills or knowledge to give her a boost in today's job market, but to also acquire the underlying skills that are honed in the process of getting an education. By necessity, a mom earning a degree must have excellent time management skills, dependability, dedication, organizational skills, and the ability to see a long-term commitment through to completion — all skills highly valued in the workplace. And all are skills that can provide an important competitive edge once on the job.
In Cassie's case, education was going to be a requirement. To get the job she truly wanted — teaching in a kindergarten special education classroom — she knew she'd have to earn her degree and certification to land it. But she wondered how to manage work and motherhood while being a student.
Adult College Students, Particularly Single Moms, Have Unique Needs
Despite the many benefits of a degree, Cassie, like many women, discovered that the prospect of returning to school as an adult presented a unique set of difficulties and challenges.
Many four-year colleges serve students ages 18-22 who can dedicate a full-time schedule to their education. These young students have the flexibility to attend classes on-site at a brick-and-mortar institution, and most don't have to juggle a multitude of responsibilities outside of school.
On the other hand, many busy moms like Cassie find themselves wanting to further their education, but they're unable to fit their lives into a traditional college schedule. And commuting to a college for typical classroom instruction may be out of the question. As Cassie remembers, "I had no option of sitting in a classroom every day while working and caring for my son."
And, as Cassie acknowledges, there are emotional challenges to face, as well. "Single parents especially tend to feel like they shouldn't be focusing on themselves because it takes time away from their kids," Cassie says. "I felt that way, too, at first." When faced with the complexities and anxieties of returning to college, Cassie wondered whether her efforts would even pay off. "In the beginning, I was a little overwhelmed," Cassie admits. She was concerned that school would disrupt her family's life, lower the amount of energy she could bring to her job, and make work-life balance even more elusive.
Financial realities also pose a major challenge, especially for single mothers. Cassie knew that she couldn't leave her paraprofessional job since it was her only source of income. In addition, she couldn't afford the high cost of childcare. "I quickly realized that attending classes online was the best option for me since I was working during the week and caring for my special-needs son full-time," Cassie says. "I needed more flexibility than traditional programs could offer me."
For Cassie, the answer became clear: find a school that understood the unique needs of adult learners and provided a flexible learning environment and financial aid options. So that's exactly what she did.
If You're Wondering How to Go Back to School as a Single Mom, Try a Non-Traditional Approach
How did Cassie accomplish her career goals with all that she had to juggle? She looked for a university with a fresh approach to education — and she found National University.
Founded in 1971, National University designed its programming to be flexible enough to fit busy adult lives. As the largest nonprofit university in San Diego, with locations across California, National began offering online degrees as early as 1996, and many of its programs are now available online to students all over the world.
National caters specifically to diverse adult learners, including moms going back to school and active-duty servicemembers. National University serves over 30,000 students every year and currently has over 220,000 alumni worldwide, including students from across the globe.
Rolling Admissions Increase Student Flexibility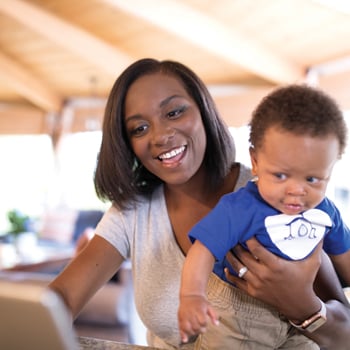 Once Cassie made her decision to enroll at National University, she didn't want to wait for the start of a new semester to begin her studies — she was ready to get going immediately. Because National University offers year-round admission, with applications accepted and reviewed on a rolling basis, Cassie could start her degree program at the beginning of any month. There was no need for her to wait until the summer ended or for the following semester to begin.
When Cassie joined the National University student body, she felt at ease knowing so many of her classmates were also busy parents or adults with full-time jobs. She found it created a much more comfortable environment, and it gave her the opportunity to settle in quickly and focus on learning straight away.
Just as important, Cassie found that National's monthly-start, the four-week class format was a perfect fit for her life, offering her the ability to finish her degree quickly. She was able to complete entire classes in a single month, and she could adjust her course load to take as many or few courses as she wanted, depending on her schedule each month. This cut down on stressful multitasking, relieving Cassie of the burden of keeping up with a variety of classes, schedules, and assignment deadlines over the course of an entire semester.
Online Degrees Can Make Education Accessible
The online education option at National proved to be a game-changer for Cassie. Once she began her online early childhood education program, she was able to complete her studies at home. By deciding to take courses online, she could make it all work without sacrificing her job, family time, or financial future. "Once I realized I could fit everything into my schedule," she recalls, "I found a rhythm."
Even though she took her courses online, Cassie felt like an important member of the class. "I really found my place at National," she remembers. "I was invested in the work, and I couldn't wait for each new class to begin. In addition, I felt really connected with my instructors, and it was easy to forget we weren't in a classroom setting, from how much my teachers, classmates and I stayed in constant communication. I've taken online courses before, but this was different. The level of camaraderie was amazing."
For this single mom, the National experience went above and beyond. Cassie adds, "I am so thankful that for the few classes I had on-site — my instructors allowed me to bring my son with me." She never had to face the additional stress or cost of finding a babysitter or another childcare option.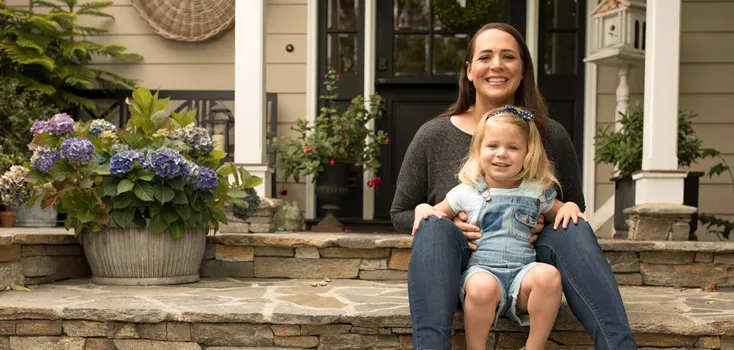 Grants for Moms Going Back to School Make Education Affordable
Education is valuable, and National University believes it should never be out of reach. This is why a variety of financial aid options are available to help students reach their educational goals, including the Presidential Tuition Scholarship and other scholarships for single moms going back to school.
Cassie knew that National's nonprofit university status meant that their financial model was based around serving their students, not their bottom line. She found that the teachers and staff at National University were dedicated to ensuring student success, including offering grants for single moms going back to school based on merit, need, and experience.
For moms, going back to school can mean moving forward
Cassie began her full-time online degree in early childhood education in 2014 while working and taking care of her child. National University helped Cassie achieve her educational and professional goals without burning out, emptying her wallet, or sacrificing important bonding time with her son. "I finished my bachelor's degree in only two years — it was so fast!"
After graduating in 2016, Cassie felt so empowered by her options with National that she went straight into her master of arts in education, graduating in the spring of 2018. "I knew that I wanted to advance in the field of special education," Cassie says, "so I committed to going straight through with my education. Because of National's month-long courses, I earned two degrees and my credential in the time it takes most traditional college students to earn just their bachelor's."
Upon graduating, Cassie could only rave about her time as a student. "I have had the best experience with National University, and I am so thankful to have had this option to obtain my degrees!"
Where is Cassie now? She's pursuing her dreams! "Today I'm a kindergarten teacher for special needs children, and it makes me feel so good to see all the progress each one of my students has made this year," says Cassie. "I absolutely love what I do, and my heart is in it. There's no way I'd be here without my degrees from National."
Returning to School Is a Smart Choice
Earning a degree is currently the biggest driving factor of socioeconomic mobility in the United States, and it gives moms going back to school significant opportunities to increase their income, fulfill their personal goals, and provide for their loved ones. Even if you are currently balancing your work and home life, you can increase your income and your career satisfaction by earning your degree. That was the case for Cassie. "Now that I have my degrees, I'm doing something I truly love," says Cassie.
Cassie began her higher education journey wondering how to go back to school as a single mom and worrying that she couldn't manage it. Two degrees later, she's grateful for the experience and the support that National gave her. "I appreciate National so much for allowing me to pursue my dream career," she says, "and for giving me the opportunity to do it in a way that fits my lifestyle."
It's clear that when a single mom makes a commitment to further education as Cassie did, she can increase her earning potential, benefiting herself and her children. But just as important is the sense of personal well-being and satisfaction that comes with achieving educational goals. "It was hard," says Cassie, "but school went by quicker than I imagined, and now I'm done. I'm so proud of what I've accomplished! I absolutely love what I do now, and there's no way I could have this job without having earned my degrees!"
Cassie offers these words of advice to other single moms considering returning to school: "Get to know your instructors and be proactive about letting them know the details of your situation as I did. They want to help you succeed, and open communication is important." She adds, "It might feel selfish to focus on yourself, but by earning your degree, you can provide a better life for your kids and find a job you love. Especially if you attend National, school goes by quickly, and then you'll have plenty of time to celebrate — just like my son and I are planning on doing this summer!"
If You're Wondering How to Go Back to School as a Single Mom, Flexibility Is Key
Perhaps you don't have a degree or a job at the moment, and you are considering joining the growing number of stay-at-home moms going back to school. You know that you need a degree to be competitive when you re-enter the workforce, but you're not sure if you can juggle the expense — not to mention the time between caring for your children, managing your household, and working.
Maybe, like Cassie, you're already earning a paycheck through your job, so you have some measure of financial security. But while you may have a comfortable living wage, you'd like to pursue a career that is more personally fulfilling.
Whatever reason is driving you to pursue your education, be confident that it's a good reason! Going to school as a single mom will be challenging, there's no doubt, but moms like Cassie are proof that there is much to be gained from going back to school and earning your degree, despite those challenges. By earning a degree as a single mom, you can cultivate the skills, confidence, and credentials you need to pursue a career you love, and you'll be in a position to provide for your family and maintain financial independence. Choosing a nontraditional university that understands adult learners and offers flexible schedules, online courses, rolling enrollment, and plenty of financial aid options can make it all much easier.
You can learn more about National University's degree and program offerings on our website.