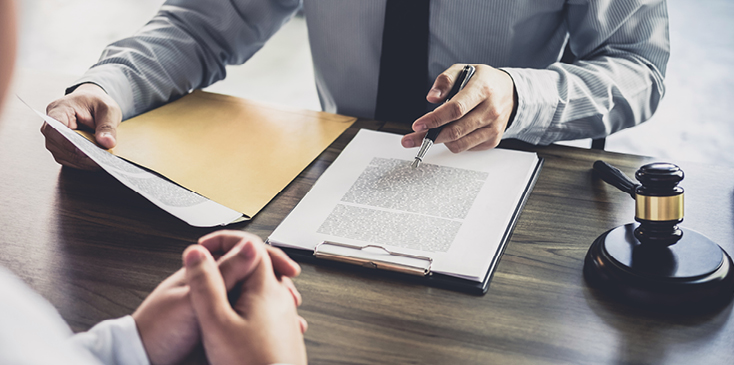 The criminal justice system has many branches, all of which work together to ensure that the process of justice is served from beginning through end. One aspect of criminal justice focuses on a specific point in the process: parole or probation. This is a period of court-ordered supervision of an offender after they are released from detention following time served or when they are given a suspended sentence or community service in lieu of serving prison time.  That supervision is carried out by criminal justice professionals known as probation and parole officers. If you're interested in pursuing a career in this area of criminal justice and have ever wondered how to become a probation officer, in this blog post, we'll talk about the educational background, professional experience, and personal qualities you'll need to enter this important and challenging career in criminal justice administration.
Probation Officer Career Overview: Duties & Responsibilities
After someone is released from serving time, everyday life can be an adjustment — and not just for the individual, but also their family, close friends, and even the community. Sometimes offenders might not be sentenced to prison, but instead are required to go through rehabilitation or perform some type of supervised community service.
That's where parole and probation studies come in; these positions are similar to one another in that the goal is to positively change someone's behavior, reset them on a more productive path, and prevent them from offending again. Parole officers specialize in helping people re-enter society after being released from prison, whereas probation officers focus on clients who have been placed on probation for a period of time.
Also referred to as community supervision officers, probation officers do more than check in on their clients to ensure they're staying out of trouble. They often design individual rehabilitation plans, provide job training resources, and offer substance abuse counseling. (Parole officers work in the same way, except they're working with clients who are transitioning from prison.)
As part of their day-to-day work, probation and parole officers typically make home and workplace visits, and sometimes they need to appear in court.
Probation Officer Career Overview: Demand & Salary
According to the U.S. Department of Labor's Bureau of Labor Statistics (BLS), the national average annual wage for probation officers working for local governments is $58,040. If you're looking to train to be a probation officer and work in the Golden State, you're likely to earn more. The BLS also breaks its down data by state: California offers the highest annual salary in the nation at $89,240.
The BLS estimates the demand for probation officers will grow by 6% through 2016. California employs more probation and correctional officers than any other state in the country, and the top three metropolitan areas are Los Angeles-Long Beach-Anaheim; Sacramento-Roseville-Arden-Arcade; and Riverside-San Bernardino-Ontario.
With higher demand and potential for a higher salary, California is a good place to launch a criminal justice administration career.
Probation Officer Requirements and Helpful Characteristics
As you find answers to your "how to become a probation officer" question, you'll find that specific job qualifications and descriptions vary based on position type and location. However, in general, probation officer requirements typically have a few things in common. In addition to educational background and work experience, a few personal factors come into play as well:
You should have a bachelor's degree in criminal justice, social work, or a related field.
You will have to pass a competency exam.
You must hold a valid driver's license.
While there is no formal age requirement, typically officers are at least 21 years old.
You must pass a criminal background check.
You must pass a pre-employment drug test.
In addition to coursework in a bachelor's degree program, as you train to be a probation officer you might also consider an internship. For example, as a student at National University, you could take part in practical learning experiences at a courthouse, correctional facility, law enforcement agency, social service organization, or related location.
Probation officers may also have opportunities for advancement, such as moving into supervisory roles. Often, these positions are earned by time on the job, merit, continued education, and other factors.
How to Become a Probation Officer in California
As it is the case for many occupations, state or local authorities might have specific probation officers requirements. For example, an agency might focus training around current and relevant issues in their particular area. Certification exams may also vary from region to region and agency to agency. The overarching occupation may be referred to as "probation officer" but your actual job title and classification could vary based on your role or location.
At the state level, the California Department of Corrections requires its Parole Agent I to have a bachelor's degree and at least a year of caseload experience in criminal justice or social work (or a certain amount of graduate study in lieu of experience). Its parole officers also must complete a program at a state correctional training academy. This includes training in laws of arrest, search and seizure, firearms, and chemical agents.
The San Diego County Probation Department offers a variety of positions, including the entry-level Deputy Correctional Deputy and Correctional Deputy Probation Officer I. San Diego's career website states that it looks for honest and trustworthy candidates who have not been charged with a felony. (Some misdemeanors may also disqualify someone.) Candidates must undergo a thorough background check and complete a medical exam that shows they are physically, emotionally, and mentally able to exercise the power of a peace officer.
The County of Los Angeles Probation Department offers positions such as Group Supervisor, Detention Services Officer, and Deputy Probation Officer. To work in LA county, you'd apply for a specific position; if your application is accepted, you then will take an exam. If you pass, you'll be placed on what called the "eligible list" for up to a year. Hiring managers will contact you if you fit their needs.
Now that you know a little more about how to become a probation officer, you might want to explore online degree programs in criminal justice administration or other related fields. A good place to start is with the National University's criminal justice degrees program page,  where you can also request additional information.