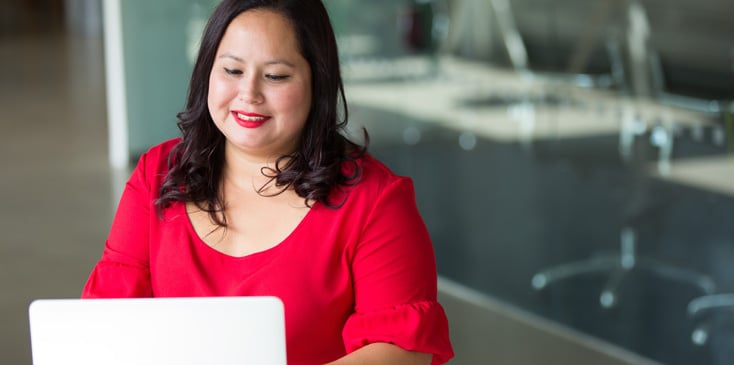 Think about all the companies and brands you love. You likely know about them because of some form of marketing. And, if you're loyal to certain brands or stores, they likely know something about you, too. Marketing is a diverse and growing field in itself, and many people interested in pursuing a master of business administration (MBA) intend to focus on this area of specialty.
Marketing consists of many moving parts, from product development and pricing structure to creating campaigns and interacting with customers. An MBA program offering a specialization in marketing — sometimes referred to unofficially as a marketing MBA, online or in the classroom — prepares business leaders for success in roles related to promoting products, understanding customers, and measuring success.
Master of Business Administration: An Overview of the Degree
Earning a marketing MBA online will usually entail being part of a larger master of business administration program. For example, National University's MBA program offers several specialties including marketing, as well as accountancy, project management, and human resources.
No matter what your concentration or specialty will be, you'll develop the same foundation of business principles. Ramon Corona, marketing and strategy professor in the MBA program at National, explains, "The MBA core courses include subjects and content areas involving how to run a business in general, such as accounting, finance, and leadership."
Corona continues that regardless of what specialization an MBA student is aiming for, they should be aware of how to read financial statements and balance sheets, among other necessary business practices.
With that said, typical courses in an on-site or online MBA program will cover a wide variety of topics. For example, courses you'd find at National University cover everything from financial aspects of marketing to the more creative elements of the field.
Advantages of a Master of Business Administration Focusing on Marketing
Studying business at the graduate level is certainly a path toward career advancement, whether that entails getting more responsibility, climbing to higher positions, or increasing your salary. A way to make your MBA stand out even more — and more applicable to certain management-level positions — is to add an area of focus such as marketing.
"This concentration is the complete package for an MBA student who would like to learn about running the marketing aspects of a company," says Corona. "Marketing is becoming so much more important in business."
Corona suggests the growth of "big data" and an increased emphasis on consumer behavior contributes to the expansion and evolution of this field, as well as to the growing number of MBA students attracted to a marketing concentration. One area of evolution, explains Corona, is the focus on the consumer.
"In the past, it was about manufacturing and pitching products to consumers," he says. "Today, we're asking customers what they want and then we are making decisions based on that. It's the reverse process!"
What this means is there is greater interest, at the corporate level, in consumer behavior and, in general, building lasting relationships with customers. Practices like micro-segmentation allow product developers and marketers to pinpoint what specific populations are looking for and, in turn, provide better service.
According to Corona, marketing is one of the most rapidly growing and constantly evolving areas of business mostly because of globalization and advancements in technology. Basic accounting and finance principles, on the other hand, haven't changed much throughout the past century, he notes.
"That's the beauty of marketing. It changes every day. It's exciting," he says. "It's about 'What's Apple doing now?' or 'What is Tesla going to next with the car?' or 'What type of software will Microsoft develop next?'"
Corona adds that the growth of big data, in particular, has also led to many schools developing new on-campus and online degree programs. For instance, a bachelor's in business or data analytics is the perfect foundation for an MBA focused on marketing.
Advantages of Earning Your Marketing MBA Online
Whether you're earning an online degree or working toward the MBA at a campus location, you should experience the same quality of education and instruction and interaction with classmates. The benefits of a marketing MBA online are rooted in the delivery format. The option of online degrees often appeals to students who might have thought earning a degree while balancing work and family responsibilities would not be possible.
There are three main advantages to earning a marketing MBA online:
Flexibility: creating your own schedule.
Availability: 24/7 access to courses and resources.
Mobility: studying wherever you
On the flexibility side, this means you don't have to be at a specific place at a specific time to access your classes. Although many adult-friendly graduate programs, like the ones at National, offer flexible on-campus classes too (such as during the evening and on weekends), an online MBA has even more leeway when it comes to schedule. You'll be able to read, study, complete assignments, and participate in discussions whenever it's most convenient for you. Maybe that's before everyone else in the house wakes up, or maybe it's just after everyone else goes to bed. Maybe it's doing a little at a time throughout the week, such as on lunch breaks or during train commutes.
When it comes to availability — which is closely related to flexibility — your online MBA course materials are usually accessible at any time of the day. But it's not just your class readings and assignments: you'll also have access to other resources around the clock. For example, at National University, online students can conduct library research and find information right from the school's website. Aside from 24/7 access to the learning environment, most online degree programs allow you access to the same student services. For example, you might want to take advantage of the writing center or career services offerings.
Finally, with respect to mobility, when you're an online student, you can learn from virtually anywhere with an internet connection. This is especially important to a military-friendly school like National University, as it allows servicemembers to work toward their online MBA while still enlisted, no matter where they may be stationed.
Aside from flexibility, availability, and mobility, the learning platform of an online program could also be an advantage. Corona explains students in any of National 's online degree programs use a robust learning platform.
"We have a solid infrastructure," he says of the online learning environment. "It's very agile for the students, and we're supported by a good department of technology."
Corona says that even on-campus courses use the online system for communication and information sharing.
What You'll Learn in a Marketing MBA Online
As Corona mentioned, any MBA program will teach the basics of business. It's the concentration areas, like marketing, which offer students a chance to hone their skills and knowledge in one particular area.
"It's the whole spectrum of business strategy in terms of marketing," he says of this specialty.
Individual classes and course titles vary from school to school, but the topics are likely similar. On the standard MBA side, you'll take courses in areas such as leadership, organizational management, statistics for business, accounting, business strategy, global business, and economics. And, in fact, a general marketing class is required in most MBA programs. But, as someone interested in specializing in marketing, you'll take a deeper dive in that sub-area of business through more focused courses.
At National University, if you want to concentrate in marketing, in place of choosing elective courses (such as ethics and strategic decision-making), you'll earn credits in marketing-specific areas, leaving you more knowledgeable about pricing, branding, and other ways in which marketing can relate to other areas of business. A few examples of these required concentration-area classes could include market research, global marketing, and consumer behavior.
One of those offerings Corona finds fascinating and more relevant than ever is consumer behavior. "They'll learn about the perceptions and characteristics and psychology of consumers," he says, adding students will learn how to collect and manage "big data." They'll become seasoned in collection methods like surveys and focus groups.
Another course Corona feels is especially interesting and valuable for today's master of business administration students, especially those pursuing a marketing concentration, is global marketing. He says it's not just about working with or for companies with a global footprint or bringing in products from another county, but it's also about selling to international markets.
"The global marketing course provides an understanding of other cultures, which is important for this international arena we're in," he says. "You could be selling a product to Argentina or Singapore or Australia. How do you learn about consumer behavior in different cultures? What are their characteristics and preferences? How can you change the product and services to better fit that culture?"
Real-world Marketing Experience in an Online Degree Program
Just because you might not be taking classes in person doesn't mean an online MBA is without real-world experience. Corona says one of his favorite classes to teach at National University is a marketing simulation course.
"Students get to compete in a game," he explains of the simulation activity. In this exercise, which lasts over a few weeks, each team of students, usually made up of four to five people, are given data and ongoing financial and market information that can help them make various decisions with their mock companies. "They'll be able to look at impulse buyers or more mature buyers. Or they can consider various levels of retail, such as premium stores, wholesale outlets, or supermarkets."
Over time, as financial, sales, and other reports roll in, the groups can adjust pricing, start or end marketing campaigns, invest more, change resource allocations, and so on. The final results will show how the overall company performed.
"Students really feel like they're running a company and making business decisions," he says. "It's a lot of fun, and they learn a lot in the process."
Marketing MBA online programs may provide other types of interactive learning experiences such as internships or a final capstone project. Corona recalls a student who, for her project, created a website dedicated to female entrepreneurs. This online outlet provided a resource directory and other information about what they might need to lead a business or get into business themselves.
"These are the kind of things our students do," says Corona, of an assignment with a very real and practical result.
Marketing MBA Career Opportunities: What You Can Do After the Online MBA and What You Can Expect to Make
The demand for MBA graduates is rising around the United States. A 2018 survey conducted by the Graduate Management Admission Council (GMAC) showed that 78 percent of surveyed companies planned to hire MBA graduates in the coming year. Not only that, but the GMAC study also revealed these hiring businesses planned to increase starting salaries in 2019.
As with a traditional master of business administration, those with an MBA focusing on marketing can find work in a variety of industries and companies. Nearly every business will need to promote itself in some way, whether it's business to consumers (B2C) or business to business (B2B). And any business creating goods or providing services needs to understand its customer base intimately. GMAC's survey listed these industries as being especially friendly to recent MBA graduates:
energy.
Health care.
Technology
Manufacturing.
Consumer goods.
Consumer Goods.
Nonprofit.
Government
When you look at that list, you can probably imagine the types of research, analysis, and marketing campaigns you could be part of: consumer education, public awareness, product development, branding, and many more.
When it comes to more specific position types and job titles, an MBA offers wide variety of opportunities from department manager to CEO. Here are some roles that may be of particular interest for those looking to earn a marketing MBA online. We've also included a brief overview, average national salary, the average salary in California, and a few of the highest paying sectors for each role, all data obtained from the U.S. Department of Labor Bureau of Labor Statistics (BLS):
Market Research Analyst
A market research analyst helps companies understand the current market conditions and, more specifically, what their target customers are looking to buy and how much they're willing to pay for it. One other appealing fact about marketing research analysts is that it's one of the absolute fastest growing career fields today; the BLS expects the need for these professionals to rise 23 percent in the next decade, which is considerably faster than the average occupation's projected growth.
National average: $63,230.
California average: $122,960.
Industry with highest average salary for this type of position: publishing (non-internet).
Marketing Managers
The BLS data in this occupation is also combined with two related areas: promotions managers and advertising managers. Marketing managers usually are responsible for creating, managing, and measuring campaigns; these duties might also include supervising marketing staff members and collaborating with other directors, such as in design, sales, or product development. The need for marketing managers is also estimated to grow faster than the average career, by about 10 percent, through the next decade.
National average: $129,380.
California average: $164,410.
Industry with highest average salary for this type of position: advertising, public relations and related services ($123,640).
Sales Managers
Some people attracted to marketing have an interest in the sales side: promoting products and services directly to customers, whether that's selling to individual consumers or, in the business-to-business world, to purchasing managers and other decision makers. Successful sales managers not only can sell themselves and their products and services, but they also train and motivate their sales staff to reach goals.
National average: $121,060.
California average: $131,100.
Industry with highest average salary for this type of position: finance and insurance ($152,590).
Corona sees many of his students go on to work for medium to large marketing agencies in major cities, and not all of these companies serve for-profit clients. One example he recalls is an international student (from Brazil) who, after graduation, started working for a firm that specialized in public and community education.
"Her company put together different programs to influence and educate society about different factors, such as reducing smoking or helping with drug and alcohol addiction," he says, adding that these programs were marketed and sold to different government agencies.
He adds that many of his students also end up working in product development and research, which is rewarding because they can see things through from conception to creation.
Who You'll Learn From: Faculty Members on an Online MBA Program
A master of business administration program is likely to have a varied faculty. Corona says the growing number of full-time faculty members teaching marketing-related courses at his school, as well as the breadth of what they cover, is a reflection of how the field has evolved and how many new opportunities it presents. He adds that practitioners in the field also serve on the faculty.
"We have an excellent group of adjunct faculty members. They bring practical experience to the classroom," he says, adding how it's important to go beyond textbooks, especially in the marketing realm. "It's not just about theory, but it's about having a truly meaningful learning experience."
***
Corona reiterates that the field of marketing "is thrilling" and that attending an MBA program offering a concentration in the area is beneficial.
"Studying marketing, nowadays, involves a really holistic approach to business," he says, adding an educational path like this is an excellent choice for "students who want an MBA but feel marketing is important to them."
To sum things up, a marketing MBA online, officially, is typically a master of business administration with an extra emphasis on topics like consumer behavior, public relations, data analysis, and international markets.
Does a master of business administration with a focus on marketing sound like a fit for your professional goals? You can learn more about National University's MBA degree on our program page.