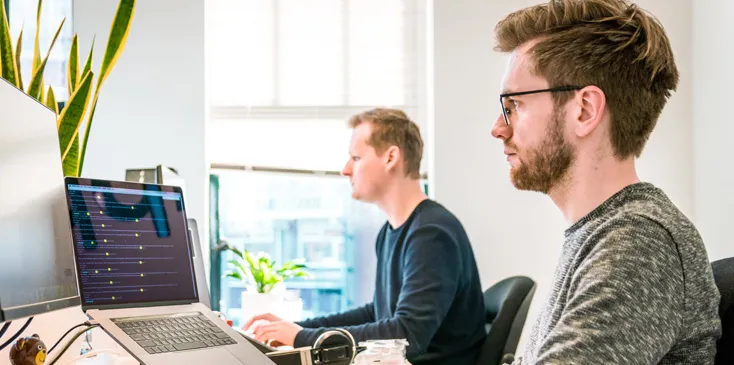 Protecting data. Organizing information. Keeping employees connected. Today's workplace relies on technology more than ever before. This also means we rely heavily on the professionals who keep our systems safe and operational.
The U.S. Department of Labor's Bureau of Labor Statistics (BLS) projects that, as a whole, the need for computer and information technology (IT) occupations will grow by 13 percent in the next decade. This is faster than the average growth rate of all occupations. When you look closer at the data for individual occupations within this field, you'll see that some positions are in especially high demand. The increasing need for experienced information technology professionals is also contributing to a growing interest in computer networks and cybersecurity bachelor's degree and similar programs.
A Rapidly Growing Field: An Introduction to Computer Networks and Cybersecurity
With an increased focus on information systems, cloud-based software, data analytics, and other technology-based needs, more and more positions are popping up in companies of all sizes. With such a hot job market, it's no wonder this demand has sparked a greater interest in computer networks and cybersecurity bachelor's degree programs everywhere — and especially in online cybersecurity degree options. In fact, because this field is expanding so much, advanced degrees in computer networks, cybersecurity, and information technology are also on the rise; studying at the master's level can lead to leadership and executive positions in IT and cybersecurity.
Degree programs, names of majors, and areas of specialization vary from school to school, but at the core, all should provide a foundation in computer systems and perhaps a solid introduction to computer networks and cybersecurity. National University offers several campus-based and online degree options that will lead to IT careers, including its bachelor of science in cybersecurity. Students learn information technology management concepts and fundamental security process before diving into more specific and specialized classes. Also at National, cybersecurity majors have the option to concentrate further in either computer network defense or digital forensics.
Other programs may offer a similar or related education to what you'd find in a typical information systems and cybersecurity bachelor of science degree or a  computer networks and cybersecurity bachelor's degree, including majors in computer science or information technology management.
What Can You Do With an Information Systems and Cybersecurity Bachelor of Science Degree?
It's no doubt there's a strong demand for people with a computer science background. The information technology field has become diverse in the scope of duties and types of positions it offers. Here is a look at just some career options for a graduate with an information systems and cybersecurity bachelor of science degree (or one in a closely related program):
Computer and Information Systems Managers
Managing an organization's computer and information systems is an important role. The national average annual salary for this type of position, sometimes called an IT manager or IT project manager, is $139,220, a clear indicator that this is a well-paying field. And with an estimated demand of 12 percent through 2026, it's also a fast-growing field.
Computer Network Architects
This role entails designing and building communication networks within a company or beyond. This type of work also pays well: the average national salary is $104,650.
Information Security Analysts
These professionals help plan and manage a company's network and system. This area of IT is booming, with the BLS reporting an estimated growth of 28 percent over the next decade, which is much faster than the average occupation. The national average annual salary is $95,510.
Network and Computer Systems Administrators
Managing an organization's systems and making sure everything is connected and operational is a pivotal role. System administrators, according to the BLS, earn an average national salary of $81,100.
Other positions perfect for an IT degree include database administrator, computer systems analyst, software developer, and security tester or consultant.
What About an Online Cybersecurity Degree?
It's likely due to the nature of the area of study, but many people drawn to IT are also attracted to the idea of an online degree where they can complete school work from somewhere they feel most comfortable: at their keyboard. An online cybersecurity degree is an ideal option for students with full-time jobs or other obligations that may make attending classes in person a challenge. National University offers its information systems and cybersecurity bachelor of science degrees, among other IT-related programs, online.
If you're ready to join the rapidly growing and ever-evolving world of information systems and cybersecurity, explore our program page for details on how to get started.