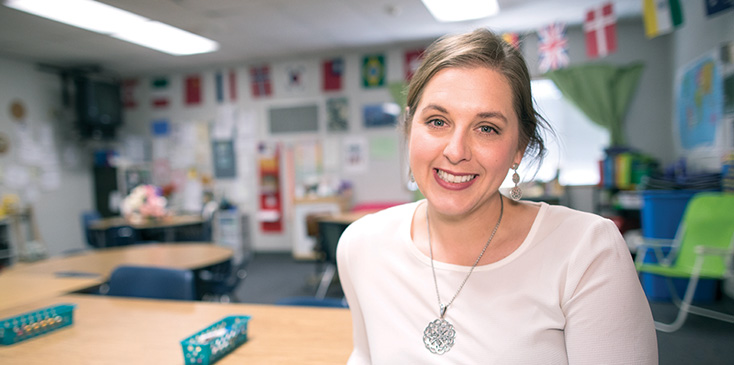 If you are a firm believer in the value of a strong educational foundation and have a passion to teach young learners, pursuing early childhood education credentials will enable you to find the best child-focused career path for working in a classroom, an early learning center, or within an institutional setting.
What is the Early Childhood Credential?
The early childhood education online certificate at National University focuses on four courses that meet the guidelines and competencies established by the National Association for the Education of Young Children (NAEYC) Standards for Initial and Advanced Early Childhood Professional Preparation Programs.
As the world's largest organization representing early childhood education professionals, the NAEYC sets the professional bar for high-quality programs for young children. If you are interested in the early childhood education career path, you should look for a program that follows the NAEYC guidelines, as employers with this accreditation will want to know you have the skills that align with their standards. National University's early childhood education courses online are taught with a strong focus on these competencies.
The four classes in the California early childhood online certificate at National University give you 18 quarter units and focus on these NAEYC standards: growing as a professional, promoting child development and learning, teaching and learning, and building family and community relationships.
Career Paths with an Early Childhood Education Credential
With certification in early childhood education, your career options can extend beyond a classroom. Potential employers include state and federal agencies, hospitals, counseling and rehabilitation facilities, parks and recreation agencies, community service agencies, childcare centers, and even health service agencies.
According to the Bureau of Labor Statistics Occupational Outlook Handbook (BLS OOH), job growth for preschool teachers is expected to grow 10% between 2016 and 2026. The median pay for these positions is about $29,000 per year nationally and $36,760 in California.
For other options for using early childhood credentials, the BLS reports the median annual salary for child welfare and childcare workers at $22,000 per year nationally and $27,670 in California. The BLS puts the annual median pay for kindergarten and elementary school teachers at about $57,000 nationally; the median salary of kindergarten and elementary school teachers in California ranges from $66,000 to almost $78,000 annually. According to the BLS, median salaries for preschool and childcare center directors average about $47,000 per year nationally, $57,330 in California. Many of these positions do require educational credentials and licensure beyond a certificate in early childhood education.
Other job titles for individuals with credentials in early childhood education include early intervention specialist, teaching assistant, mental health worker, social worker, personal care aid, or youth group worker, to name a few. There is always a need for highly-qualified early childhood teachers in child care centers, preschools, and elementary schools, and attaining a CA early childhood online credential can open doors for you to a variety of opportunities within your community.
Successful completion of the early childhood education online graduate certificate helps you meet the requirements of the State of California Child Development Permit Matrix to teach in a preschool setting; it does not confer a teaching license or credential. You can use the early childhood certificate to get you started on a teaching career and use it as a stepping stone for pursuing further educational credentials as you discover new opportunities where you can work with children.
If you live outside of California or are in the service, the Department of Education in the state you expect to be employed is your best resource for confirming the requirements and specific credentials, permits, and licenses needed for employment. You should research this information carefully before enrolling in any educational program.
The National Option
For adults whose lives are already busy with obligations, finding time to dedicate to pursuing more education can be a challenge. Early childhood education courses online that have rolling enrollment and flexible start dates can help you achieve your goal without severely impacting your ability to manage other responsibilities. And finding the right certification can be as easy as looking at National University's online options.
The flexibility and format of the program at National University means that you can live anywhere and enroll in the online certificate. National University keeps its online class sizes small, at 20 or fewer students, allowing for a virtual classroom experience with plenty of time for instructor feedback and interaction with fellow online students. With classes beginning monthly, there is a great chance that when you want a course you can find one that fits your schedule.
If you are interested in embarking on a career in education that helps children gain the strong learning foundation they need, start your journey by visiting our website to find out more about the Bachelor of Arts Degree in Early Childhood Education (BAECE).