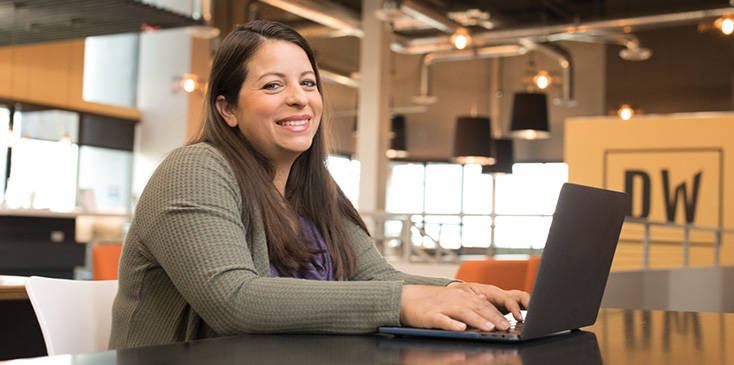 If you're looking to take a big step forward in a wide variety of jobs in the business world, you don't necessarily need to earn a four-year degree. An Associate of Arts (AA) in Business Administration can help you advance your career in less time and with less cost. The degree can also set you up for success if you want to continue with your education.
An associate degree is essentially a two-year degree, a more "condensed" version of a typical bachelor's degree. An AA can be an alternative to a bachelor's degree and a door-opener for entry-level positions; it can also be a springboard to further education. For those already working, an AA can represent an affordable and immediate credential to boost your career and your income potential, even if you are planning on continuing your education while you work. It can also help you pivot to new career opportunities.
National University's Associate of Arts with a Concentration in Business Administration is a program that's designed to provide a concentrated base of introductory business-related disciplines combined with interdisciplinary arts and sciences courses that build the critical soft skills that employers are looking for — skills like problem-solving and critical thinking. While an associate degree does not lock you into a specific career path, students completing the associate degree and business administration concentration are prepared for entry-level positions in business and/or articulation into a bachelor's degree program in business or other related disciplines.
Because this program is part of the many online degrees offered by National University, you'll be able to complete it on your own time and, as long as you have an internet connection, from whatever location is convenient for you.
What You Can Expect to Learn in the Program
The AA in business administration concentration is part of the Associate of Arts degree program at National. The AA degree requires a total of 90 quarter units, and you can choose from among classes in communications, social and behavioral sciences, arts and humanities, physical and biological sciences, self-development, mathematical and quantitative studies, and information literacy. These interdisciplinary classes focus on the development of in-demand "soft skills," including written and oral communications, developing research projects and presentations, and working successfully on a team.
The concentration in business administration includes eight required courses, covering a progressive, wide variety of essential topics including business fundamentals, office administration, payroll and accounting, project management and human resources.
In Intro to Quantitative Methods, for example (MNS 205), you'll dig into algebra techniques in the business setting. Principles of Microeconomics (ECO 203) explores the effects of individual decisions, such as market structures and consumer theory, while Principles of Macroeconomics (ECO 204) examines large-scale economic factors, such as aggregate supply and demand and monetary and banking systems.
Financial Accounting Fundamentals (ACC 201) provides a survey of basic accounting theory and application of accounting principles while Managerial Accounting Fundamentals (ACC 202) will give you an overview of the use of those accounting principles to aid management in decision-making. The final two courses include Business Finance (FIN 310), which covers the basic principles and concepts used in the financial management of a business enterprise, and Legal Aspects of Business I (LAW 304), which explores contracts, sales and other legal business concepts.
How Earning an AA in Business Administration Can Boost Your Job Prospects
Earning an associate degree can increase your earnings potential by 17 percent over a high school diploma, according to 2017 data from the Bureau of Labor Statistics. That's not a bad boost in general, but it looks even better when you consider that according to a PayScale.com salary survey, the average salary for workers with an AA in Business Administration is $51,000. Research studies have shown that workers with an associate degree earn nearly one third more than those with just a high school diploma.
Individual experiences may differ, of course, based on your location, degree field, and occupation. But as the Bureau of Labor Statistics notes, "the more you learn, the more you earn."
Career options for those who earn an AA in Business Administration include a variety of jobs in the business world, such as account manager, executive assistant, business office manager, payroll and benefits manager, and some financial services jobs. Jobs like these often require a two-year degree for an entry-level position and many employers, in general, prefer to hire workers with at least an associate degree.
If you're ready to take a leap forward and boost your career with an AA business degree, you can request more information on the Associate of Arts with a Concentration in Business Administration program page.