Beyond acing your classes as a business student, there's another surefire way to prepare yourself for a successful career during your college years. You can gain the insights, knowledge, and hard-won wisdom of today's business thought leaders by poring over books every business student should read.
As a busy college student, adding to your to-do list is likely the last thing on your mind. But supplementing your studies by reading business books will reap big benefits. For starters, you'll enhance your business vocabulary, which will make your resume and cover letter stand out from a large crowd of applicants. You'll also become well-versed in common business concepts and philosophies while broadening your perspective and challenging your beliefs. You'll be introduced to insights that could be worth millions in your future.
Must-read books for business students
As you can guess from the packed shelves in your favorite bookstore's business section, there's no shortage of good business books to read. But which ones should you read first? Here are our top picks to get you started.
The Making of a Manager by Julie Zhuo
Being suddenly thrust into a management role comes with a steep learning curve. In this book, author Julie Zhou, who took on the role at a successful Silicon Valley startup before she felt quite ready, shows you the ropes. Today, she's one of Silicon Valley's top product design executives and writes about technology, design, and leadership on her popular blog, The Year of the Looking Glass, and in publications like the New York Times and Fast Company.
In The Making of a Manager, she shares her analysis of how organizations work while providing engaging real-life examples of how these theories actually play out in real life. Like a mentor who provides much-needed tips over a cup of coffee, she shares her own awkward, funny, and sometimes embarrassing moments of being a first-time manager. Full of practical wisdom, this book is just what you need to hit the ground running as a new manager or excel as a seasoned one.
Speak by Tunde Oyeneyin
An energetic and inspiring Peloton instructor, Nike athlete, and public speaker, Tunde Oyeneyin has broadened her audience with her debut memoir subtitled "Find Your Voice, Trust Your Gut, and Get from Where You Are to Where You Want to Be." The title "SPEAK" also serves as an acronym for Surrender, Power, Empathy, Authenticity, and Knowledge, key terms that label chapters in her book that detail her experiences, with important life lessons learned from them, highlighted in bold.
In this book, you'll catch a fascinating glimpse of a woman of Nigerian descent who struggled with body image and self-esteem, yet overcame them along her career path. A LitHub reviewer writes, "The powerful words she's embedded into this book will inspire movement in your life like no other."
How to Change by Katy Milkman
Named one of the top eight books of 2021 for healthy living by the New York Times, this book is written by a Wharton professor and Choiceology podcast host who's devoted her career to the study of behavior change. In the book subtitled "The Science of Getting from Where You Are to Where You Want to Be," you'll discover strategic methods for identifying and overcoming common barriers to change such as impulsivity, procrastination, and forgetfulness.
Through case studies and engaging real-life stories, you'll learn why timing can be everything when it comes to making a change, how to turn temptation and inertia into assets, and how the simple act of giving advice (even about something you're struggling with) can help you achieve more. NPR's Life Kit describes Katy Milkman's book as "packed with research-backed paths to personal growth."
Drop the Ball by Tiffany Dufu
Many women grew up believing to have it all you must do it all, and this book finally sets the record straight. The inspiring memoir and insightful guide was written by a woman named to Fast Company's League of Extraordinary Women.
In her book, Dufu reveals how she struggled to accomplish everything she thought she needed in order to succeed after having her first child. Her frustration led to the realization the solution was letting go. She recounts how she learned to reevaluate expectations, shrink her to-do list, and expect less from herself and more from others — freeing up the space she needed to flourish at work and foster deeper, more meaningful relationships at home.
Self Made: Becoming Empowered, Self-Reliant, & Rich in Every Way by Nely Galán
An entrepreneur, TV producer, and real estate mogul, Nely Galán's mission is to help women become self-made. In her book, you'll find the straight-talking mentor you've always wanted. She shares candid, no-nonsense lessons she's learned on her path to becoming self-made ("There is no Prince Charming;" "Think like an immigrant;" "In your pain is your brand;" "Don't buy shoes, buy buildings!"). The book features inspiring stories of women who launched and grew businesses, exercises to help you find your goals and strengths, tips and tricks for making and saving money, and even how-tos for finding "hidden money" to help you launch your self-made dreams.
You Owe You: Ignite Your Power, Your Purpose, and Your Why by Eric Thomas
Imagine getting career advice from a motivational guru, educator, and problem-solver to many of the nation's top athletes and business leaders. You'll find it in this book, written by someone who discovered secrets for success after being a teenager who was lost, homeless, failing in school, and struggling with the challenges of being a young Black man in America.
After breaking free from thinking of himself as a victim and understanding his strengths, Eric Thomas rewrote his life's script. In the pages of this book, he reveals how you can, too. Critical first steps include deeply understanding yourself and the world around you, finding your why, accepting that you may have to give up something good for something great, and constantly stretching yourself toward your potential.
Find Your Why by Simon Sinek, David Mead, and Peter Docker
You may have heard advice such as, "Do what you love," "Find your bliss," "Be passionate." Author Simon Sinek has heard them, too, and found them to be accurate, but unactionable. Instead, he has introduced the concept, of "find your why."
In a personal development sense, "why" stands for a sense of purpose. The book shares insights on how to find more inspiration at work and inspire those around you. It features detailed exercises, illustrations, and action steps to help you address important concerns such as: "What if my 'why' sounds just like my competitor's?" "Can I have more than one 'why'?" "If my work doesn't match my 'why,' what should I do?"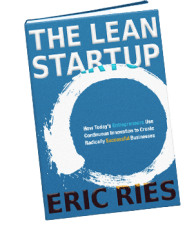 The Lean Startup by Eric Ries
In The Lean Startup, investor Eric Ries discusses scientific, systematic lean manufacturing strategies so startups, entrepreneurs, and business managers can make fast decisions in a constantly changing world. The author uses real-life examples to illustrate the concepts he talks about — although mostly from his own entrepreneurial experiences at IMVU, the social media gaming company he co-founded.
Instead of elaborate business plans, The Lean Startup recommends the build-measure-learn feedback loop for businesses to continuously test their vision, change direction before it's too late, and thrive in an age when innovation and agility are extremely vital to success.
Crossing The Chasm by Geoffrey Moore
The "chasm" is that huge gap between early adopters and the majority. In Crossing the Chasm, which was first published in 1991, author Geoffrey Moore offers time-tested and proven strategies to successfully bring high-tech products into the mainstream market.
According to Moore, customer positioning is key to crossing the chasm, and the positioning methodologies discussed in the book include targeting a niche or "beachhead," dominating your niche and fine-tuning your messaging.
Zero to One by Peter Thiel
"Every moment in business happens only once," so starts this groundbreaking and thought-provoking book. Zero to One is a collection of notes taken by Blake Masters, then a student in a Stanford University class taught by billionaire and venture capitalist Peter Thiel.
The book then goes on to discuss how to take a startup from zero to one, based on the lessons Thiel learned as PayPal and Palantir co-founder, as well as investing in hundreds of startups that include Facebook and SpaceX.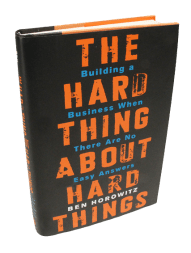 The Hard Thing About Hard Things by Ben Horowitz
In The Hard Thing About Hard Things, venture capitalist Ben Horowitz of Andreessen Horowitz talks about the realities of running a business — it's hard. No matter how carefully crafted and elaborate your plans are, things won't always go your way.
When just about any business book teaches how to do things right, Horowitz focuses on the ugly truths about entrepreneurship, the screwups that occurred while he was leading corporations, and how his team turned things around (or screwed things up even more).
Make reading business books a regular habit
Reading is one of the habits successful people have in common. And the great thing about business books is they give you first-hand experience of how someone else overcame the same challenges you face. Through books, you can learn tips and tricks, see new ways of living or thinking, and gain motivation when you need it most.
Looking for a business degree that you can fit into your busy schedule? Check out National University's online business programs. You may also call us at 888-628-8965 to discuss your options or fill out the form below to request information.