The Associate Degree in Biology can help forge a powerful career path for those who are drawn to the study of living organisms, offering preparation for an array of professional opportunities. The field of biology is about the exploration and discovery of the natural world around us. There is a wide range of sub-fields that exist within the broader umbrella of biology — from botany and ecology to physiology and zoology — as well as an established framework for basic understanding within the field.
But more than anything, biology is the search for new questions, and new answers, as they relate to life in all of its forms.
Who Is Best Suited for a Career in Biology?
As with any career field, those who are best positioned to succeed in biology share a number of personal characteristics that make them an excellent fit for the profession. Some of these include:
Natural curiosity
Problem solver
Interested in science
Enjoys active learning
Appreciates nature
Thrives in laboratory settings

Additionally, succeeding in any of the various branches of biology is aided by skills and personality traits specific to those endeavors. For instance, anyone pursuing a career in botany obviously should enjoy working with plants, and it takes a keen interest in working with animals to succeed as a zoologist.
Where Can the Associate Degree in Biology Take You? What Can You Do with An Associate in Biology?
An associate degree in biology offers a versatile credential that can lead you in any number of directions within the field. Some of those paths represent professions that are expected to undergo significant growth over the next several years.
For instance, one common career path is a laboratory technologist/technician. According to the U.S. Department of Labor, the need for medical and clinical laboratory technologists and technicians is projected to grow seven percent between 2021 and 2031 — a rate much faster than the average for all other occupations.
Another popular option for those with a biology degree is as a veterinary technician, where even greater job growth is projected. The Department of Labor expects the need for veterinary technicians to increase by 20 percent between 2021 and 2031.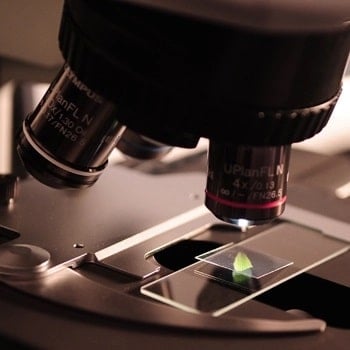 Other career paths for those with an associate's in biology degree include:
Medical Assistant
Pharmaceutical and Medical Sales
Agricultural and Food Science Technician
Biological Technician
Forest and Conservation Technician
Research Assistant
Plant Science Technician
For many others, the biology associate's degree provides an ideal stepping stone to further study in areas like nursing, health sciences, public health, and of course, biology. By using the program as a stepping stone to a bachelor's degree, or even ultimately a graduate-level degree, you'll position yourself for a broader range of career opportunities.

The National University Associate Degree in Biology Program
If a career in biology is the right fit for you, your first step is finding an academic program that will offer the best possible preparation. At National University, our Associate of Science in Human Biology program offers a learning experience with the kind of depth and breadth that can be applied across a broad spectrum of professional pursuits within the discipline.
A recognized leader in providing convenient, flexible, high-quality programs for working adults, National University has had a distinctive presence on California's landscape of higher education since 1971.
As a student in the program, you'll enjoy hands-on laboratory experiences, as well as opportunities to participate in individual research projects. Coursework covers the following areas:
Psychology
Sociology
Communication
Anatomy
Chemistry
Physiology
Microbiology
Many graduates of the program move on to bachelor's degree programs in biology, public health, nursing, clinical laboratory sciences, and radiation therapy.
"The A.S. in Human Biology offers a solid foundation of basic science courses that help open many doors," says Dr. Ana Maria Barral, an assistant professor in the program. "Balancing online courses with hands-on laboratory experiences, all delivered with NU's accelerated schedule, the program can provide a stepping stone to other programs at both NU and outside NU."
You can request more program information for an associate degree in biology on our website or email Dr. Barral with any questions.