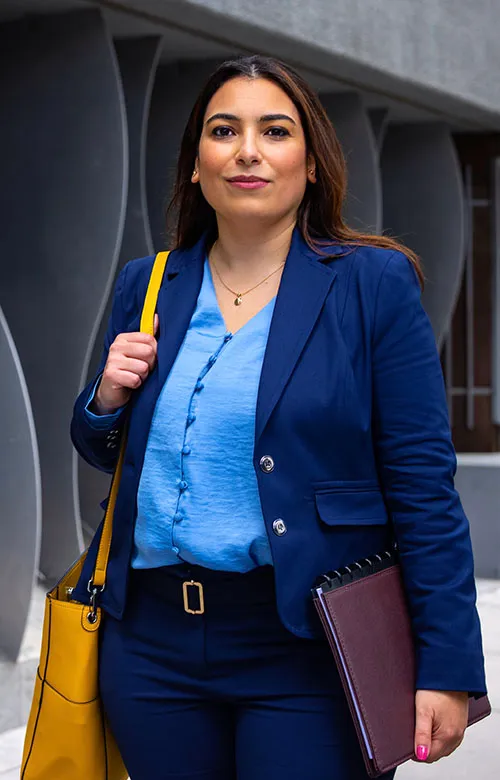 College of Professional Studies
The diverse programs offered by the College of Professional Studies are designed to prepare you for a rewarding career in a wide variety of fields, including accounting, engineering, criminal justice, and health care. Bachelor's and master's programs include criminal justice administration, MBA, homeland security and emergency management, and public administration, as well as creative fields such as digital cinema, film and digital design, and professional screenwriting.
Throughout your program, you'll learn from experienced faculty using innovative teaching tools and applications and gain the knowledge and skills needed to advance in your field.
Dean, Dr. Eric Roe
[email protected]
As of January 1, 2021, John F. Kennedy University (JFKU) graduate psychology programs, along with their faculty and curricula, will be integrated as degree offerings at the new JFK School of Psychology at National University. National University is proud to carry on the legacy of JFKU.
The JFK School of Psychology at National University offers a range of degree programs in clinical psychology, counseling psychology, sport psychology, holistic counseling psychology, and consciousness and transformative studies. All of the psychology programs in the school provide the foundational concepts and guiding principles of psychology, preparing students to seek licensure or certification as applied mental health professionals.
All of our programs are designed to give you the tools to fulfill your passion and become a leading advocate for social change within the community. Each program offers access to dedicated faculty with real-world experience who are committed to mentoring you through rigorous and challenging courses, and helping you achieve your educational goals.
Dr. Alvin McLean, Jr., PhD — Dean
Related Links
Become proficient in a second language and discover the multitude of personal and professional opportunities available to you. Collaborate with a diverse group of students and conduct community outreach across cultures.
The National University Language Institute offers English Language Learning programs for students at all levels who wish to enhance their professional and workplace skills or develop academically by pursuing a degree at an English-speaking college or university. Explore the possibilities through any of the English Language courses offered.
To learn more about the Language Institute, review the Frequently Asked Questions.
English Language & Pathway Programs Administrator
Starley Dullien, Ph.D., DSC
(858) 541-7965 | [email protected]
Accumulate credits toward a college degree or meet continuing education requirements with Workforce Education Solutions Training & Development. Hone skills that increase your value and help you remain professionally relevant in an increasingly competitive workplace.
Workforce Education Solutions Training & Development at National University offers a range of personal, professional, and academic learning opportunities by proving innovative and relevant programs in an evolving global environment. Whether you're looking to develop personally or professionally, Workforce Education Solutions Training & Development can help propel you to meet your goals.
Contact Information
Experience the personal and intellectual growth possible with a degree from National University's College of Letters and Sciences. Here you can explore a wide and diverse range of studies designed to cultivate critical communication and analytical skills that can be used to develop exciting career paths in several unique and creative industries.
The College of Letters and Sciences offers a wide range of associate, bachelor's, and master's degrees in social sciences, mathematics and natural sciences, psychology, arts, and humanities. Explore your creative expression, conduct exciting research projects, or delve into global cultures and languages. Here, you'll "learn how to learn" and continue developing proficiencies, even after your degree is complete.
Associate Dean Dr. Nicole Polen-Petit
[email protected]
Help fill the need for educators nationwide by earning a degree that prepares you for a rewarding and inspiring career. An education degree opens doors for new and established teachers, as well as administrative professionals. Learn effective communication skills, broad contexts for child-development, and different approaches to learning and teaching styles.
The Sanford College of Education at National University offers over 50 on-site and online programs in the areas of teacher education, special education, educational administration and school counseling and psychology. The college has earned accreditation from the National Council for Accreditation of Teacher Education (NCATE), recognizing its rigorous, evidence-based standards for teacher education programs.
On May 15-16, National University will host an accreditation visit by the Association for Advancing Quality in Educator Preparation (AAQEP). In preparation for the visit, the AAQEP Quality Review Team is soliciting public comment about the quality of educator preparation provided by [National University. All comments must be submitted by April 16, 2022 through the AAQEP website: Submit Comment.

Dean, Dr. Robert Lee
[email protected]