Master of Arts in Social Emotional Learning
Master of Arts in Social Emotional Learning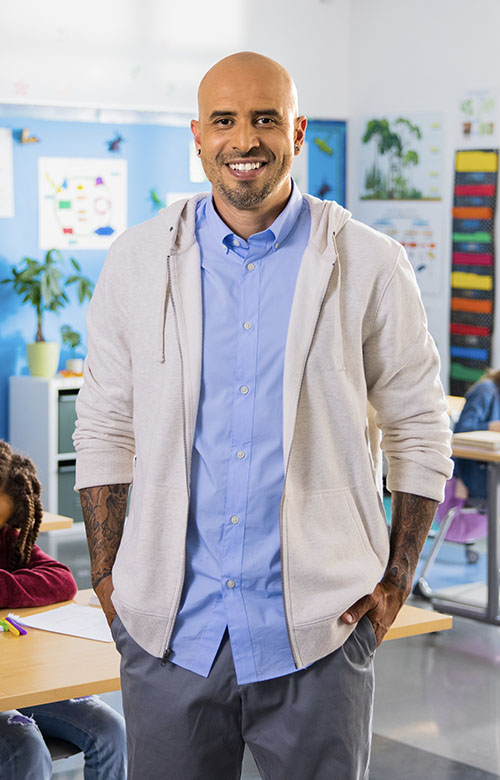 Lead Transformational Change in Your School Community
If you're looking to expand your knowledge of social and emotional learning to empower educational communities, the Master of Arts in Social Emotional Learning (SEL) is the program for you. The MA in SEL is designed to help you make transformational change in your school community as you promote the intersectionality of SEL both in and outside of the classroom.
National University's MA in SEL is the only dedicated SEL master's program in the country — giving you an edge in the job market. The intensive coursework in this program immerses you in every aspect of SEL, enabling you to become an expert in the field. The fast-paced program is designed for highly motivated students and can be completed in as few as 10 months.
This program will equip you with research-based knowledge and skills in self-care, cognition, trauma, and the ability to create healthy environments and relationships that are culturally responsive, equitable, and supportive for the whole child. This deep dive into personal identity, culture, leadership, community, and programs provides an SEL foundation where positive school climates thrive.
Focused on your success, the program is transformative, bringing highly personal, individualized attention from instructors in small classes. Faculty in the MA in SEL program are among leaders in the industry, offering valuable expertise in the processes and principles associated with SEL. The four-week class schedules are designed to allow you to start sooner, finish faster, and focus on one class at a time, one month at a time.
Our admissions team reviews applications year-round.
The MA in SEL can be completed in as few as 10 months (10 classes).
Premier SEL Master's Program
NU offers the only dedicated SEL master's program in the country.
Explore National University's scholarship opportunities — eligibility requirements apply.
Watch this video to hear Dr. Lori Piowlski from the Sanford College of Education discuss the MA in Social Emotional Learning (SEL) program and what to expect.
Program Learning Outcomes
As a graduate of National University's MA in Social Emotional Learning program, students will be able to:
Create an action research project based on SEL research, theory, and practice that will create inclusive environments for the whole child
Evaluate the impact of SEL competencies on student success metrics at the various developmental levels
Distinguish the intersectionality between SEL, equity, cognition, and cultural responsiveness in educational communities
Examine SEL communities, frameworks, programs, and policies
Develop social and emotional leadership skills to support teachers, administrators, and families in transforming school culture
Take the first step in leading transformational change in your school community by starting your application online today.
While the field of SEL is new, there is a growing job market across industries and a wide breadth of career outcomes, especially in the education sector.NU's SEL graduate students range from traditional educators looking to strengthen their educational experience to professionals looking to switch careers. Our students come from a variety of backgrounds: teachers, school counselors, school leaders, daycare owners, criminal justice professionals, and military members.
SEL is traditionally associated with K-12 education. However, many different organizations are looking to incorporate SEL roles into their workforces, so you have flexibility to go beyond a traditional educator role if you choose. These are some of the industries that are rapidly expanding with a need for SEL:
Health care
Early childhood education
Higher education
Business administration
Human resources
Learn more about the benefits of SEL or about becoming a social emotional learning specialist.
To receive a Master of Arts in Social Emotional Learning, students must complete 45 quarter units of graduate work. A total of 4.5 quarter units of graduate credit may be granted for equivalent graduate work completed at another institution, as it applies to this degree, and if the units were not used in earning another advanced degree, and provided the coursework was completed within the past seven years.Reach out today to speak to an admissions counselor directly or download the
Course Catalog
for additional course requirements and elective options.
Requirements for the Major
10 courses; 45 quarter units
| Course | Description | Prerequisite |
| --- | --- | --- |
| SEL 600 | SEL Education Communities | N/A |
| SEL 605 | Identity and Culture | SEL 600 |
| SEL 610 | Cognition and Emotion | SEL 605 |
| SEL 615 | SEL Action Research Metdods | SEL 610 |
| SEL 620 | SEL Frameworks | SEL 615 |
| SEL 625 | Trauma in Education | SEL 620 |
| SEL 630 | SEL Strategies | SEL 625 |
| SEL 635 | Leadership and SEL in Context | SEL 630 |
| SEL 640 | SEL and Assessment | SEL 635 |
| SEL 680 | SEL Capstone | SEL 600, SEL 605, SEL 610, SEL 615, SEL 620, SEL 625, SEL 630, SEL 635, & SEL 640 |

Sarah Wood
MA in SEL Student
"As a student in this program, I feel like I've gained some really solid footing in certain areas like assessments, frameworks, leadership skills, and understanding the 'why' behind things. Having this master's will give me the expertise to make my decisions even more powerful."
Contact Us
Take the first step by starting your application online today. To speak to an enrollment advisor about this program, please email [email protected].
Why Choose National University?
We're proud to be a veteran-founded, San Diego-based nonprofit. Since 1971, our mission has been to provide accessible, achievable higher education to adult learners. Today, we educate students from across the U.S. and around the globe, with over 180,000 alumni worldwide.
Program Disclosure
Successful completion and attainment of National University degrees do not lead to automatic or immediate licensure, employment, or certification in any state/country. The University cannot guarantee that that any professional organization or business will accept a graduate's application to sit for any certification, licensure, or related exam for the purpose of professional certification.
Program availability varies by state. Many disciplines, professions, and jobs require disclosure of an individual's criminal history, and a variety of states require background checks to apply to, or be eligible for, certain certificates, registrations, and licenses. Existence of a criminal history may also subject an individual to denial of an initial application for a certificate, registration, or license and/or result in the revocation or suspension of an existing certificate, registration, or license. Requirements can vary by state, occupation, and/or licensing authority.
NU graduates will be subject to additional requirements on a program, certification/licensure, employment, and state-by-state basis that can include one or more of the following items: internships, practicum experience, additional coursework, exams, tests, drug testing, earning an additional degree, and/or other training/education requirements.
All prospective students are advised to review employment, certification and/or licensure requirements in their state, and to contact the certification/licensing body of the state and/or country where they intend to obtain certification/licensure to verify that these courses/program qualify in that state/country, prior to enrolling. Prospective students are also advised to regularly review the state's/country's policies and procedures relating to certification/licensure as those policies are subject to change.