Master of Science in Homeland Security and Emergency Management

Master of Science in Homeland Security and Emergency Management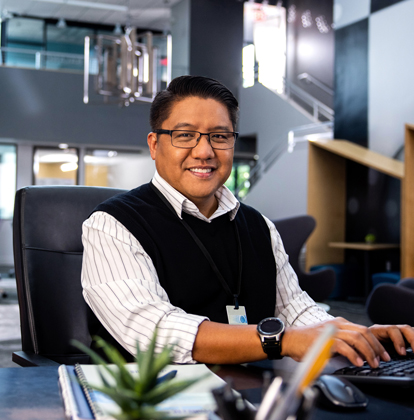 Step up to a career upholding the freedoms and security we hold dear
What happens after a natural disaster or catastrophic event, such as an earthquake or a mass shooting? How do you implement the search and rescue? How do you facilitate the recovery? How do you communicate updates to the media and the public? How do you build a recovery plan? National University's Master of Science in Homeland Security and Emergency Management (MSHSEM) program gives you the training to answer these questions.
The terrorist events of 9/11 highlighted the national and international need for individuals with expertise in homeland security, and naturally occurring events such as Hurricane Katrina, the Southern California wildfires, Joplin tornados, and Japanese tsunami are further evidence of the ongoing requirement for specialized knowledge in emergency management. NU's Master's in Homeland Security represents an interdisciplinary area of research and application that brings together the fields of homeland security, terrorism, and emergency management as they relate to man-made and natural disasters.
Professionals with the right leadership skills and training are needed in all corners of the nation and all over the globe to protect against terrorism and threats coming from both domestic and international sources. Our online homeland security degree is designed to prepare you for leadership roles protecting against threats facing our country and around the globe.
Learn how NU's Master's in Homeland Security takes an '"all-hazards approach" regarding natural and man-made emergencies to help keep our communities and country safe.
Program Learning Outcomes
As a graduate of National University's Master of Homeland Security program, you'll develop the following skills:
Integrate tools, resources, and organizational systems for the successful implementation of homeland security and emergency management issues
Formulate global mindset to terrorism, homeland security, and emergency management issues
Assess the impact of security issues for the operation of the public and private sectors with respect to manmade and natural disasters
Integrate resources, organizational systems, and decision-making processes for the successful implementation of homeland security and emergency management plans
Assess the impact of communications and the media on terrorism, homeland security and emergency management messaging
Critique legal and ethical issues in homeland security and emergency management
Introducing the Opportunity Scholarship
In honor of our students, and in celebration of our 50th anniversary, National University is investing $30 million in new student scholarships. To learn more about the Opportunity Scholarship, how you can apply, and how much you can save, inquire today.
Contact Us
Take the first step by starting your application online today.
To speak to an enrollment advisor about this program, please email [email protected].
Why Choose National University?
We're a veteran-founded, San Diego-based nonprofit. Since 1971, our mission has been to provide accessible, achievable higher education to adult learners. Today, we educate students from across the U.S. and around the globe, with over 185,000 alumni worldwide.
FAQs
Program Disclosure
Successful completion and attainment of National University degrees do not lead to automatic or immediate licensure, employment, or certification in any state/country. The University cannot guarantee that any professional organization or business will accept a graduate's application to sit for any certification, licensure, or related exam for the purpose of professional certification.
Program availability varies by state. Many disciplines, professions, and jobs require disclosure of an individual's criminal history, and a variety of states require background checks to apply to, or be eligible for, certain certificates, registrations, and licenses. Existence of a criminal history may also subject an individual to denial of an initial application for a certificate, registration, or license and/or result in the revocation or suspension of an existing certificate, registration, or license. Requirements can vary by state, occupation, and/or licensing authority.
NU graduates will be subject to additional requirements in a program, certification/licensure, employment, and state-by-state basis that can include one or more of the following items: internships, practicum experience, additional coursework, exams, tests, drug testing, earning an additional degree, and/or other training/education requirements.
All prospective students are advised to review employment, certification, and/or licensure requirements in their state, and to contact the certification/licensing body of the state and/or country where they intend to obtain certification/licensure to verify that these courses/programs qualify in that state/country, prior to enrolling. Prospective students are also advised to regularly review the state's/country's policies and procedures relating to certification/licensure, as those policies are subject to change.
*Positions may require additional experience, training, and other factors beyond successfully completing this degree program. Depending on where you reside, many positions may also require state licensure, and it is the responsibility of the student to ensure that all licensure requirements are met. We encourage you to also review program-specific requirements. Any data provided on this page is for informational purposes only and does not guarantee that completion of any degree program will achieve the underlying occupation or commensurate salary.