Community College
Employee Scholarships
25% and 15% Tuition Scholarships for First-Time Enrollment
National University is committed to providing affordable, accessible education to the workforce of community colleges nationwide. As a community college employee, you are eligible for a 25% tuition scholarship toward bachelor's and master's programs or a 15% scholarship toward doctoral programs to help you achieve your career goals*. Additionally, spouses and dependents of community college employees receive a 10% tuition scholarship toward bachelor's and master's programs and 15% toward doctoral programs.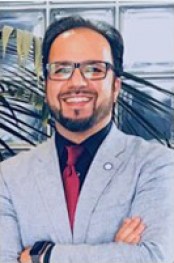 Need to meet at a time that is convenient for you? Just click the schedule button to schedule a time with Monir Masoud to learn more.
Monir Masoud
Manager of Community College Pathways
(619) 457-1200
[email protected]
Proof of Scholarship Eligibility Options
Send an email sent to your advisor from your work email address
Provide a copy of a paycheck stub from the last 90 days
Provide a email or letter from your supervisor or HR representative
Provide a copy of your employee badge
Provide a screenshot of your employee portal
Complete Your Dissertation and Earn Your Degree.
At NU, an "all but dissertation" (ABD) status doesn't prevent you from moving forward in your studies. We understand the challenges you've faced and have a program to help you break free from ABD. Our Dissertation Completion Pathway (DCP) is an innovative way to get back into class, complete your dissertation, and graduate with the degree you've been working toward.
Why Choose National University?
Adult Focused for 50 Years: National University has been dedicated to providing accessible, achievable higher education to hard-working adults since 1971.
Flexible 4- and 8-Week Courses: Start sooner and finish faster with four-week courses, monthly start dates, and year-round enrollment.
190+ Degree Programs: Choose from career-focused associate, bachelor's, master's, and doctoral programs designed to help you pursue your purpose and make an impact in your community.
Online and On-site: Study options designed to fit into your busy schedule.
Regionally Accredited: WASC Senior College and University Commission (WSCUC) accreditation means your education meets high standards and is transferable.
Veteran-Founded Nonprofit: National University is proud to be San Diego's largest private nonprofit university.
About National University
National University, a Veteran-founded nonprofit, has been dedicated to meeting the needs of hard-working adults by providing accessible, affordable, achievable higher education opportunities since 1971. As San Diego's largest private nonprofit university, NU offers over 190+ programs and four- and eight-week courses to help students reach their goals while balancing busy lives. Classes are offered online or on-site at locations across California and on select military bases nationwide. Since its founding, the NU community has grown to over 45,000 students and 230,000 alumni around the globe.
*Pre-licensure nursing programs, JFK School of Law programs, and certificates are not eligible for this program. Other offer restrictions may apply. For questions, contact National University.
---
National University Accreditations
NU is a WSCUC accredited institution. WASC Senior College and University Commission (WSCUC), 985 Atlantic Avenue, Suite 100, Alameda, CA 94501, 510.748.9001, www.wascsenior.org. WSCUC is recognized by the U.S. Department of Education and the Council on Higher Education Accreditation (CHEA).