Iraq War Veteran/ Dancing with the Stars champion/actor to speak during Sept. 17 ceremony at Petco Park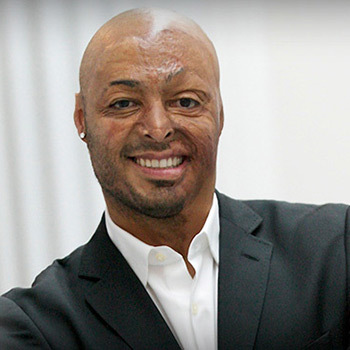 LA JOLLA, CALIF. (September 15, 2021) — The remarkable J.R. Martinez – U.S. Army Veteran, actor, motivational speaker, New York Times best-selling author, and Dancing with the Stars Season 13 winner – will deliver the keynote address at the Sept. 17 Southern California Commencement of Veteran-founded nonprofit National University, which is also celebrating its 50th Anniversary this year. Martinez, who travels the world delivering a message of resilience and optimism, will address approximately 12,000 attendees, including graduates, their families and guests at Petco Park.
"J.R. Martinez is an exemplary role model who embodies the attributes of empowerment, dedication and compassion that serve as benchmarks for all of our graduates," said National University Interim President Randy C. Frisch. "Like Mr. Martinez, National University graduates, which include career professionals, working parents and members of our military community, have persevered through a variety of challenges to achieve their degrees. Our graduates, many of whom are first-generation college students, are dedicated to serving their community through career paths in healthcare, education, cybersecurity and more."
National University, San Diego's largest private, nonprofit university, is dedicated to making lifelong learning opportunities accessible, challenging and relevant to a diverse population of students, 25 percent of whom are either active duty military or Veterans.
In 2003, at the age of 19, Martinez sustained severe burns to more than 34 percent of his body when his Humvee hit an IED while he was serving in Iraq as part of the 502nd Infantry Regiment of the Army's 101st Airborne Division. Since his recovery, he has traveled around the country speaking about his experiences to corporations, Veterans groups, schools and other organizations.
Martinez also has pursued an extraordinary career as an actor, author and dancer. In 2008, Martinez was cast in ABC's daytime drama All My Children as Brot Monroe. His character also served with the Army in Iraq and was injured in combat. Other TV credits include Army Wives and the syndicated show SAF3, in which he portrays a Los Angeles County firefighter/paramedic and Veteran.
In 2011 Martinez and partner Karina Smirnoff won Season 13 of Dancing with the Stars. He credited her with pushing him to excel as they practiced routine after routine. The following year, Martinez published an autobiography, Full of Heart: My Story of Survival, Strength, and Spirit.
Martinez, who has undergone nearly three dozen skin graft and plastic surgeries, started supporting other burn survivors while he was still undergoing a lengthy initial treatment for his injuries. Since then, he has volunteered time to do public service announcements and as a speaker at events on behalf of burn survivors. He also is active with "Operation Finally Home," an organization that builds housing for American Veterans and their families so they may live mortgage free.
Also, in appreciation of outstanding achievement as a dedicated public servant and community member who exemplifies working collaboratively to affect positive change in society, National University System Chancellor Dr. Michael R. Cunningham, National University Interim President Randy C. Frisch, and former San Diego Police Chief Shelley Zimmerman will confer an honorary doctoral degree on San Diego County Public Defender Randy Mize. Mize, who joined the office shortly after graduating from Thomas Jefferson School of Law in 1987, was appointed Public Defender in 2017. He oversees 450 attorneys and staff members who serve the community through fair and equal representation of underserved individuals accused of crimes throughout the county.
National University's Southern California Commencement is set to begin at 2 p.m. on Friday, Sept. 17. The event also will be livestreamed on Facebook at this link: https://vimeo.com/event/1267855/835407b5b8
About National University
About National University: National University (NU), a Veteran-founded nonprofit celebrating its 50th Anniversary this year, has been dedicated to meeting the needs of hard-working adults by providing accessible, affordable, achievable higher education opportunities since 1971. As San Diego's largest private nonprofit university, NU offers over 75 online and on-campus programs and flexible four-week courses designed to help students reach their goals while balancing busy lives. Since its founding, the NU community has grown to over 30,000 students and 185,000 alumni around the globe, many of whom serve in helping industries such as business, education, health care, cybersecurity, and law and criminal justice. Learn more at NU.edu.