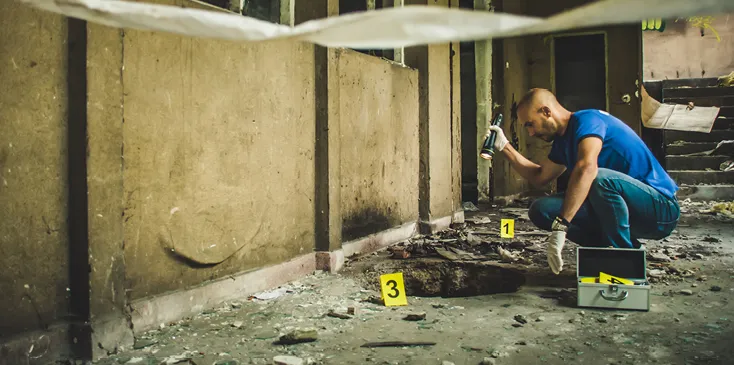 It's no surprise that crime scene investigation is a growing and competitive field. That's partly because movies and TV shows have built a considerable mystique around the profession, but also because increasingly, people pursue careers because they want to make a difference in their communities. The importance of crime scene investigation can't be understated. It's a field that underpins our justice system because professional and accurate investigation is necessary for identifying and prosecuting people who do harm.
Crime Scene Investigation Training: A Case Study of a Successful Forensic Science Career
Vivian Stafford is an adjunct professor at National University specializing in the tools and tactics of crime investigation. She has worked in the crime investigation profession at the federal level for 29 years and is an expert in many of the techniques crime investigators use.
Stafford's credentials include both on-the-job and academic training. With a two-year degree in evidence technology, she was able to work for the federal Drug Enforcement Administration (DEA) as a fingerprint specialist for 13 years before getting a job at the Naval Criminal Investigative Service (NCIS).
While at NCIS, she completed a bachelor's degree in criminal justice from National University. At the same time she was working and gaining wide-ranging expertise in other aspects of crime scene investigation such as forensic photography, footwear impression analysis (examining crime scene footwear to compare against the shoes of suspects), serial number restoration (using techniques to identify weapons on which serial numbers have been obliterated), forensic knots and ligatures (analysis of ropes or other materials used to tie or kill victims), bloodstain pattern analysis, death investigation, and shooting incident reconstruction.
When the NCIS offered her a promotion — contingent on her earning a master's degree in forensic science — to the position of forensic consultant, Stafford enrolled in National's master's degree in forensic science to meet the requirement. As it would turn out, her master's also allowed her to later get her position teaching at National. "It really did open doors for me, and I didn't realize at first how important it would be to have that master's degree," Stafford recalls.
As a forensic consultant, Stafford drew on her discipline-spanning knowledge and she served as an essential resource to the Navy's crime scene investigation teams from several regions. "The forensic consultant is the go-to person when it comes to any forensic question," she explains. "The CSI team would call me and say, 'Look we have a scene and we're on our way to it.' I'd touch base with them again in an hour or two. They were also required to call me when they were closing up the scene and I might say, 'Don't forget to look for prescription medicines' and that sort of thing. Sometimes they would send me pictures of what was going on. For example, if a bone was found they might send me a picture of the bone and I could tell them what bone it was."
Criminal investigation teams exist at the city, county, state, and federal level. The number and types of specialists these CSI teams employ depend on the size and scope of their jurisdiction. Large agencies employ large staffs with a range of specialties, whereas in a small town the scientist examining evidence in the lab might be the same person who went to the crime scene and collected it and who also will testify about it later in court.
A 2009 report by the National Academy of Sciences (NAS) called Strengthening Forensic Science in the United States found that forensic laboratories in the U.S. employ anywhere from two to 280 full-time professionals, with 34 being the average.
Stafford explains that in most jurisdictions, there is no counterpart to her forensic consultant role, which required varied expertise. "Most people have one forensic discipline," she says. "If you worked in a laboratory you might be a fingerprint specialist or maybe a chemist or you'd be a document examiner, and you really wouldn't know a lot about all of the other disciplines."
Stafford was able to gain her breadth of knowledge because she had acquired training in each specialty over years of working for the Naval Criminal Investigative Service. NCIS is an expansive agency responsible for investigating criminal activity on naval bases, since ships may be at sea and bases do not fall under the law enforcement jurisdictions of the cities, counties, or states in which they are located.
Education Is Key
Stafford says that anyone considering going to school to get into the forensic science field should first decide whether the goal is to work in a laboratory or out in the field at actual crime scenes. "There are two different tracks at National. There's the investigative track and there's the more scientific track that's called the criminalistic track," she says. "People on the scientific track take classes like DNA, toxicology, and forensic anthropology. A lot of people on the investigative track want to work in CSI, in the field, and they take investigative classes."
Stafford says that education is an important differentiating factor for job candidates. "There's a lot of competition for these CSI and laboratory jobs now. So the more education you have, the better."
Prospective students considering the criminalistic track within National University's master's in forensic science program are required to have an undergraduate degree in science or permission from the academic advisor. Stafford reports that many of the students in her classes have previously studied biology. "In my last trace evidence class, all my students had scientific degrees, many in biological sciences, and it really helped them to have that science under their belt."
On the other side of the coin, Stafford says a lot of students on the investigative track have criminal justice degrees. A criminal justice degree's overview of law enforcement, courts, corrections, and criminal psychology is particularly relevant in preparing students for crime scene investigation training, although National's master's in forensic science is open to students with other bachelor's degrees.
Certification Gives an Additional Edge
The past few decades have seen a boom in awareness of crime scene investigation, in part because of the popularity of TV crime shows. This awareness of the field has sparked popular interest in pursuing these careers, resulting in more competition for available jobs. The last decade or so has also seen a national effort, beginning with the publication of the NAS report, to increase standards of excellence in crime scene investigatory practices nationwide.
Professional certification in specific forensic science disciplines provides a competitive advantage in the job market and addresses the increased scrutiny on forensic fields.
"Individual certification is really important and is given by outside boards," says Stafford. "You need to have suitably trained professionals working in the laboratory and you can't deviate from that standard. You have to have people who are spot-on, intelligent, diligent, honest, and ethical working in laboratories."
Certification is not only helpful in landing a good job, but it is also an important assurance that the job will be done right. "What you're doing is going to be scrutinized in court," Stafford emphasizes.
Stafford obtained her certification as a fingerprint examiner from the International Association of Identification (IAI). "The tests are tough and they're tough for a reason," she says. "It wouldn't mean anything if everyone had certification." She elaborates that some professionals already working in the field might receive promotions by becoming certified, but professionals entering the field would be wise to obtain certification up front, if possible. "In this day and age, you're expected to be individually certified," Stafford says.
The IAI offers certification not only in fingerprint analysis but also in general crime scene investigation, bloodstain analysis, footwear analysis, and forensic video, photography, and art. In addition to the IAI, numerous professional organizations provide certifications in various crime scene investigation disciplines. These include but are not limited to the International Crime Scene Investigators Association (ICSIA), the American Board of Criminalistics (ABC), the American Board of Medicolegal Death Investigators (ABMDI), the American Board of Toxicology (ABFT), the American Board of Forensic Document Examiners (ABFDE), the American Board of Forensic Odontology (ABFO), and the American Board of Forensic Anthropology (ABFA).
The CSI Effect
Not only has popular television programming amplified the intrigue of forensic science and led to larger numbers of professionals seeking crime scene investigation training, but it has also increased public expectations of those professionals. "It's called the CSI Effect," says Stafford, "and it's basically that juries think there's always going to be tons of forensic evidence when they sit down." This leads some jurors to be distrustful of evidence that isn't as clear-cut as it is on the show.
According to the NAS report, viewers of the TV show CSI "expect the presentation of forensic evidence in every case, and they expect it to be conclusive." In some cases, the report continues, this expectation has resulted in juries "refusing to convict because they believed that other evidence was available and not adequately examined."
It's no surprise that real life isn't as simple as TV. Take fingerprints, for example. In real life, they're the oldest form of forensic evidence, dating back to the mid-1800s. But they're also the most mythologized, with countless examples of a TV show character eyeing two fingerprints on a computer monitor and exclaiming, "We have a match!" and the crime is instantly solved.
Stafford's 29 years of experience have grounded her perspective firmly in reality. "You don't get fingerprints on everything. They're easily destroyed and they're fragile. Identifiable latent prints are a gift when we get them."
But even though popular culture has built a myth around forensic science and placed unrealistic expectations on its professionals, it is nevertheless a science that is vital to society and a career path that is rewarding and exciting. Below are some of the roles someone with crime scene investigation training and education can fill. Different specialties can go by different job titles, depending on the agency, so keep this in mind when researching job opportunities where you live or plan to live.
Crime Scene Investigation Specialties
Disciplines that involve the scientific analysis of crime scene evidence require a strong grounding in the natural sciences, especially biology, chemistry, and anatomy. National's Master of Forensic Sciences with a focus in criminalistics includes coursework in pathology, fingerprint analysis, trace evidence, toxicology, and forensic serology and DNA. Students more interested in the investigative track must learn how to identify the value of physical evidence, apply proper packaging procedures, and accurately document the chain of custody. In addition, these professionals must have a strong grounding in forensic psychology, law, and criminal procedures.
Some specialists may work completely in the lab and will often keep regular working hours. Specialists who perform much of their work at crime scenes are often needed on weekends and during the night since crimes can occur at any time.
A partial list of the many forensic specialties includes the following.
Crime scene supervisors determine what elements at a crime scene are valuable as evidence and ensure that these are properly documented, collected, packaged, and transported to the lab for analysis.
Bloodstain pattern analysts photograph, recreate, and simulate blood patterns at crime scenes to gain details of how crimes were committed. These professionals need a background in biology and anatomy because they need to understand how blood behaves inside the body to know how it behaves leaving it.
Ballistics experts need a strong background in physics and they study firearms, explosives, and ammunition, along with related materials such as casings, to determine details about trajectories and distances of weapons fired at a crime scene.
Trace evidence examiners analyze tiny samples of materials left at crime scenes or on victims; these may include fibers, hairs, or arson accelerants.
Fingerprint analysts find fingerprints at crime scenes by applying specialized techniques to make them visible and transfer them to the lab. The recovered fingerprints, called latent fingerprints, are then compared with the known fingerprints of suspects, or run through an identification program if there are no suspects.
Footwear and tire track specialists make impressions of marks at crime scenes using specialized materials, and then compare those impressions with known footwear or tires.
Forensic DNA analysts generate DNA profiles from bodily fluids and tissues from crime scenes to compare with databases and with suspects' DNA profiles.
Forensic toxicologists detect and identify chemicals in crime victims' bodies and in tissues collected at crime scenes.
Forensic anthropologists examine bones to identify bodies and to aid in the determination of time and manner of death.
Forensic odontologists, informally known as forensic dentists, identify dental remains as well as bite marks associated with crimes.
Forensic entomologists help establish details such as time and geographical location of deaths by examining insects that colonize deceased bodies.
Crime scene photographers document crime scenes exactly as they are found and create accurate images of such details as bloodstains, footprints, location of victims and items, and ammunition casings and markings.
Forensic artists are similar to photographers but they use drawing to recreate probable scenarios and to sketch suspects based on descriptions.
Education Pays Off
According to the Bureau of Labor Statistics (BLS), the national median wage for a forensic science technician is $58,230, with an overall range of about $35,000 to $97,000, depending on geographic region, agency type, and experience level. The top paying region is the San Francisco Bay Area, with a median wage of $101,180. California employs the highest number of forensic science professionals, with the highest concentration in the Los Angeles area.
The BLS says forensic science fields are growing at a rate of 17%, which is much faster than average, but also cautions that overall, it is still a small field with relatively few job openings. This, combined with increasing interest in the occupation, makes criminal investigator jobs highly competitive. The BLS recommends getting a master's degree in forensic science to compete for the best job opportunities.
Crime Scene Investigation Training Is Never Finished
Because forensic tools and techniques are always evolving and improving, continuing education is essential for anyone working as a crime scene investigator or other forensic science specialists. Conferences with classes and workshops are offered across the country. These include the ICSIA's annual conference, the IAI's annual conference, and the International Conference on Forensic Research and Technology.
Many agencies offer their employees periodic crime scene investigation training opportunities. For Vivian Stafford, training within the NCIS was essential to her career advancement. "Federal government employees are provided with the funds necessary for training. Forensic consultants are trained so they can later provide training within the agency. I received valuable training in many disciples of forensics."
Let National University Be Your Partner in Crime Scene Investigation Training
National University is one of only a handful of online colleges in San Diego offering coursework in forensic science and the only one offering a master's degree in forensic science. Its innovative month-long class format allows students to immerse themselves in one subject at a time. Both the Master of Forensic Sciences and the Graduate Certificate in Forensic and Crime Scene Investigations are available as online degrees so that working professionals can fit them into their lives on their own schedules. The degrees offer a firm foothold from which to step into a career in crime scene investigation as well as an opportunity for those currently working within the field to further their knowledge and advance in their careers.
The forensic science and criminal investigation training offered by the master's program, either in person or as an online degree, gives graduates a substantial edge in the increasingly competitive but vastly rewarding field of solving crimes.
The graduate certificate in forensic and crime scene investigations is available as an in-person or an online program and provides a comprehensive overview of the forensic science and investigatory fields. Courses taken in the graduate certificate program can also be transferred to the master's program.
For more information about the Graduate Certificate in Forensic and Crime Scene Investigations or to request information about any of our forensic science educational programs, please visit our science and math degrees program page.