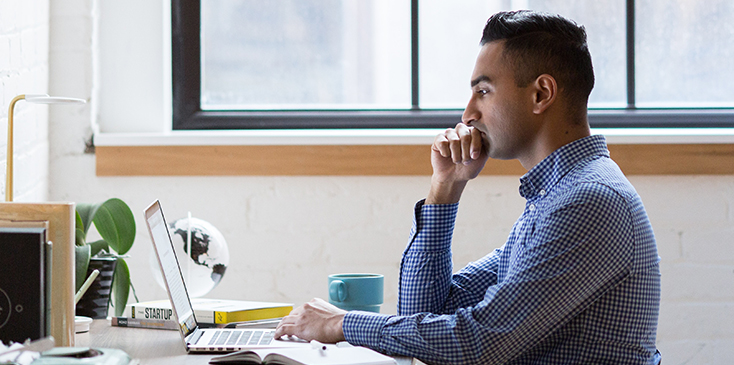 Perhaps you are at a crossroads in your life when you have come to realize that to take your career to the next level you need a Master of Business Administration (MBA) degree. But you are wondering how you can you fit a commitment to a graduate degree into your life — when you're already working full-time, perhaps supporting a family, paying bills, and trying to carve time out for yourself? Pursuing an online MBA through National University may be the answer, as it was for Natasha Davis ('09).
Inspiration to Pursue a New Career
Natasha was motivated to pursue advanced education by her son. A second-grader at the time, he asked Natasha if she was doing what she wanted to do when she grew up. Natasha recalls, "Although I had a good career as a hairdresser at the time, it wasn't what I wanted to do long term. Hairdressing was the result of life changes and choices and it was a good quick career to support a child."
Within a week of having her son ask her the question, Natasha began to figure out how to finish her undergraduate education, which she had started and stopped a couple of times already, and determine the correct path to pursue for a graduate degree. "I knew I wanted to be some type of business attorney, so graduate school was a given," she says. "I needed to finish an undergrad degree and while in the process of figuring out all the steps I needed to take to get that done, I spoke with a lot of business attorneys and found out most of them had MBAs in addition to their law degrees. That discovery put me on the MBA path."
Discovering National University's Online Degrees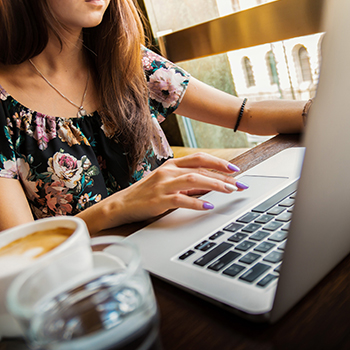 Natasha was living in Coronado, California when she began to plot her journey from hairdresser to attorney. There is a large military presence in the Coronado area, and with National University being veteran-founded and supportive of the U.S. military, NU was on Natasha's radar due to its high reputation in the community. She had a friend and a relative, each servicemembers, recommend National University; one was pursuing an online bachelor's degree, the other an online master's degree at the time.
Natasha enrolled in National University's online Bachelor of Arts program and focused on social sciences and psychology. She graduated in 2004 with her BA in Global Studies. She then started her online Master's of Business Administration with a focus on marketing and leadership but found she had a bit too much on her plate and needed to step back. Fortunately for Natasha, she was in exactly the right place to be able to do just that without jeopardizing her educational goals.
Online Programs Offer Flexibility; You Bring Your Own Motivation
The online MBA program at National University is acknowledged as offering a well-rounded education that enhances real-world business knowledge and helps students on their individual path to success. But for students like Natasha, the program goes one huge step further. The online format gave Natasha the flexibility to fit classes and coursework into her already busy schedule, take breaks as needed, and finish at her pace.
On-campus programs require you to commute to a local campus and sit in a classroom on a set schedule; if something happens that forces you to miss a class, you could miss out on notes, have to make up an exam, or just get behind in assignments. National's online program enables you to 'attend' class from wherever it is convenient for you and all coursework, notes, and projects are posted online where you can access the recordings or documents at any time.
As Natasha notes, attending in-person classes was not an option for her. She says, "My lifestyle of being a single mom with a full-time job didn't give me the ability to manage a course schedule more flexible than an online one."
Self-motivation and time management skills are key to succeeding with an online program. When you are focused on the goal of moving your career ahead, knowing you don't have a commute and that you can communicate with the instructor or your classmates with a few keystrokes or clicks of a mouse at any time enables you to schedule the time more easily into your day.
Natasha found time to be the critical component of online learning. She says, "It was mostly the time commitment and reallocating my priorities. I mean, I had the time, it was just re-prioritizing where I was going to spend it. All the time I used to spend running and hanging out with friends was now buried in a book. I always had my books with me so if there was a moment, I was getting my reading done. I would tuck my son into bed and then I would do all the online expectations, such as interacting with the other students and submitting assignments."
Small Class Sizes at National University
Natasha enjoyed the small classes, averaging about a dozen people. She says, "I think the smaller the class, the better, because of the ability to interact with and get to know people. Online interactions are obviously different than in person." It's common that not everyone can post every assignment, contribute to a group project, or get feedback to other students on time, every time. She says, "If you have a fewer number of people, you can coordinate certain things easier. And with group projects, the smaller the group, the more effective it is."
Natasha recalls her courses being a month long and alternating, so that she'd start one class and then two weeks later start another class. The scheduling changed as she moved through the online program, but it was still manageable. She says, "With all the education I have, the MBA was the hardest program." She had several math courses and found other areas of the program quite challenging, too. She says, "I was so proud whenever I finished a class!"
When asked about a favorite course, she quickly recalled business accounting. She says, "The professor was in Australia, so he was overseas and had to be up in the middle of the night to do the course. He was a fantastic teacher; very good at explaining things and giving us extra time when we needed it. He knew I was struggling, so he gave me additional attention to make sure I succeeded. Years later, he even gave me a recommendation."
Online Education Is Similar to Today's Working Environment
So much of our daily business interaction is done through technology – video conferencing, texting, emailing – that transitioning to an online classroom environment isn't as hard as you might believe. With technology always changing and becoming easier to use and more streamlined in its capabilities, you can maximize what you know already while also learning about up-and-coming communication options.
Back when Natasha's son asked her that pivotal question, she purposely bought a computer to start school and her educational journey – truly starting from scratch with online education technology. She says, "It was still on dial-up, so it was a little difficult, but in general it was great. By the time I finished all my education, over several years, the technology wasn't difficult at all."
Taking a Break and Returning to Online Classes
Natasha had to take a hiatus from the MBA program due to other educational commitments. She says, "I started my MBA before law school and thought I could do both degrees at the same time, but law school was punishing, so I had to focus on that. After I got my JD, I went back to the MBA."
As with anything, taking a break for any reason and then re-entering the flowing stream will have an impact on momentum. For one thing, you'll be starting over in building relationships since you will no longer be in the same courses with the same students.
Online education encompasses communicating with classmates and instructors on a regular basis, so although you are not on site, in person, you're still able to build friendships and relationships that can carry forward into your career, or for purely personal reasons. After all, you have similar interests and goals while working through your online coursework and many of your classmates share some of the same life challenges that you do. This can lead to forming strong bonds that carry on well past your education.
Natasha says, "When you take a break, you don't go through with the same students – it's really important to realize that. You develop friendships with the people you interact with online. When I came back to the online MBA at National University, most of the people I had been with had already graduated, so I had to jump into it with a new group of people."
But building new bonds did not prove to be a challenge for Natasha. "The interesting thing that has transpired since my online education and even near the end of it," says Natasha, "was the interaction I had with my other classmates even though I never met them, necessarily, in person. Making friends over the internet was impressive to me, as I'm not a social-media-type person, so I don't have internet friends other than by way of school."
Finishing Up Her Education
Natasha compares the experience of taking her last final class to her son fulfilling the requirements to become an Eagle Scout in the Boy Scout program. She says, "The process of becoming an Eagle Scout is basically combining all the different levels and types of work he did to achieve badges and complete projects and activities into one final large endeavor that requires as much work as everything that came before but within a much shorter amount of time. I compare the final class for my MBA to that, but it wasn't as intensive as the Eagle Scout requirements. The final class is pulling together bits and pieces from every prior class into a comprehensive presentation showing everything that I learned. It was a lot of work, but a nice way of tying the bow on everything I'd done."
She may have been busier than ever at that point since she was juggling a law practice along with single mom responsibilities as she moved back into and finished the MBA program. "It's funny how you can do it," she says. "I look back and don't know how I did it, but fail was not a word I understood. I just made that commitment and it happened, thank goodness."
Natasha achieved her Juris Doctorate (JD) in business law in 2007; and finished her MBA at National University in 2009. With the MBA helping her move her legal practice into new areas, she took advantage of her online education momentum and of dedicating time to education to pursue and attain a Master of Laws (LL.M.) in Tax Law/Taxation by 2013.
Career Paths with an MBA
An MBA can open many career paths and create opportunities for pursuing leadership positions in just about any industry since you'll have the skills needed to manage organizations in ever-changing environments. Beyond a career in management, with an MBA you can be on your way to opportunities in marketing, finance, economics, accounting, to name just a few. Potential employers can include government agencies; consulting firms; public, private, and nonprofit organizations; financial institutions; health care agencies; retail companies, and more.
For the entrepreneurial, an MBA can give you a great foundation for becoming your own boss, equipping you with the skills and knowledge you'll need in basic business disciplines, decision-making, and creative problem-solving, not to mention the extra skills in the particular focus area you choose.
According to the Bureau of Labor Statistics Occupational Outlook Handbook (BLS), workers employed in management with advanced degrees see some of the highest wages. Chief executive positions see a median pay nationally of about $104,700 per year and an annual mean wage of about $222,950 in California.
Computer and information systems managers have a median pay of about $139,220 per year nationally and an annual mean wage of about $174,790 in California.
The median salary for financial managers is about $125,080 per year nationally and an annual mean wage of about $154,310 in California.
The BLS puts job growth from 2016 to 2026 for chief executives at 8 percent (average), computer and information systems managers at 12 percent (faster than average), and jobs for financial managers at 19 percent (much faster than average).
Versatility with an MBA
Natasha used her online MBA to help her specialize as a business attorney. She says, "The MBA gives me a different perspective, insight, and ability to talk to clients, than attorneys who don't have their MBA. And even though it was my intention to become a business attorney, it transformed into a business and tax attorney focus because most business attorneys need tax help."
She goes on to explain how attorneys sometimes need to bring in experts to talk to them (or other attorneys during litigation), to clients, or to a jury, and that there are varying levels and types of expertise needed at different times. She says, "I have the experience and education to be able to understand tax topics, so that reduces the need to find experts in certain areas; this can save time and sometimes can save a client some money."
Natasha had her own law firm focused on business, tax, and estate planning for about a decade. She recently moved to a full-time position as a wealth planner with City National Bank. This new position draws on all her prior experience and education.
She says, "It's an interesting title since all the people I work with are either tax or estate attorneys and at any other bank, a wealth planner may be called a financial planner. Financial planning is only a snippet of what I do. This position deals with all aspects of high net worth clients. Whether it's their business, charitable giving, or individual succession planning, I gather a very broad perspective of the client to include the individual, their family, their business, and what it is they want to achieve. I look at all the legal intricacies for the big picture, then I collaborate with my partners to develop a plan of succession; and a plan of preserving, growing, and transferring wealth."
Natasha has discovered that most of her partners have a similar background to herself – that their journeys included law school, a type of specialization, as well as an MBA. She says, "I think the MBA gives us a unique experience in how we collaborate. It brings a lot to the table."
Recommending National University's Online MBA
Natasha recommends National University to others, including her own son. She says, "My son is in his 20s now and in college. He just took a new position where he might be traveling, so I talked to him about National as an alternative." Her son was with her throughout her journey from hairdresser years ago to wealth planner today. She says, "I'm definitely happy with how life has turned out. I don't have any regrets, and I'm so thankful to have had National University as an option."
Are You Ready to Get on the Path to Business Leadership?
It might be time for you to ask yourself, "Am I doing what I want to do?" Looking into an online MBA might be a good place to start off your thinking, or to begin your educational journey. If you are ready, National University offers year-round enrollment, so there's no need to wait to get started. New four-week courses start at the beginning of every month – you can proceed at your own pace and finish as quickly as you want. Financial aid and scholarship opportunities are also available.
For more information, or to speak with a faculty member about enrolling in the online MBA program, please visit the National University Master of Business Administration (MBA) program page.