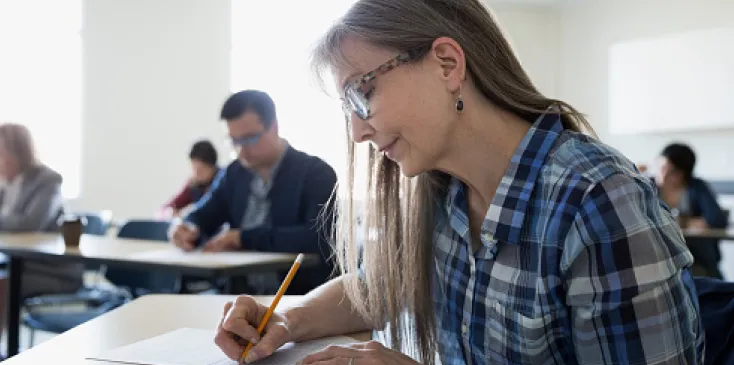 Whether you've always wanted to be a writer or you're just getting your feet wet in the literary world, a creative writing program can give you the skills and structure you need to bring a project to life. Here are four things to consider as you explore your creative writing degree options. 
Decide on a Format: Residency, Low-Residency, or 100% Online MFA Program
Full-time, on campus graduate programs are often referred to as "residential" (even if you don't live on campus). These programs vary in structure: some have classes during the day, while others focus on evening classes. Attending an MFA program on the ground would entail choosing a school within commuting distance or relocating.
Low-residency programs, you could say, are a hybrid format. You'll take your creative writing classes online and write independently through most of the year, and then attend an intensive campus residency, usually for a week to 10 days. Residencies typically offer a mix of classes, readings, workshopping, and events with your peers. Low-residency programs certainly offer more flexibility than full-time, on-campus programs. And they also allow you to attend a school that might be farther away, geographically. However, the challenge of traveling for week-long residencies — both in expense and time — often rules out the idea of a low-residency MFA program for many prospective students.
A third option is a no-residency program. National University was the first in the nation to offer a 100% online MFA. This creative writing degree program, launched in 2005, was designed to better fit the lives of working adults who also happen to be aspiring writers. This convenience is likely why more students are earning writing degrees online than ever before.
Make Sure the Creative Writing Degree Program Offers Your Genre
Traditionally, graduate creative writing programs have offered poetry and literary fiction; creative nonfiction also has since grown in popularity. Many programs also might offer a concentration in playwriting and screenwriting. These five have become somewhat of the standard options in MFA programs but, of course, offerings vary from school to school.
When it comes to fiction, though, it's a pretty broad category. As noted above, many traditional programs focus on "literary fiction." Writers who are drawn to write for a more commercial audience — typically referred to as genre-fiction — may want to find a program that's open to a wide range of genres such as science fiction, young adults, or romance.
National University is proud to be a young adult and genre-friendly creative writing program. No matter what your novel idea or area of interest you can get the support you need to complete a book-length thesis here.
Like many wordsmiths, you might write in a few different areas. But you probably have one you'd like to focus on in graduate school. Make sure you find a program that fits that basic need. National University's online creative writing degree program offers MFA concentrations in:
Poetry.
Fiction.
Literary nonfiction.
Screenwriting.
Research the Faculty
Once you begin on your thesis project — your book-length work, screenplay, or poetry collection, for example — you'll be assigned an MFA thesis advisor. Even before that, you'll take classes with and receive guidance from several faculty members. Before you decide on a specific creative writing degree program, take a look at its affiliated faculty members. Are they published authors, working writers, or established in the publishing field? Does one or more faculty members have expertise or interest in similar areas as you? And, beyond credentials, what is it like working with these faculty members? Be sure to ask questions as a page of bios might not tell you everything you need to know.
Research the Alumni
What about student success? Look at what MFA creative writing alumni of your schools of interest are doing after graduation. You could do a little research on their publishing credits in literary journals, book deals, teaching appointments, full-time jobs in publishing, and other outcomes. As you explore alumni accomplishments, keep in mind that everyone enters a creative writing degree program with different goals: Some pursue an MFA to land a teaching position or prime themselves for success in publishing, while others look to a creative writing degree for personal fulfillment. The most important thing for you will be finding a program that matches your ideal version of success.
After you choose a program that fits your needs, your next step is to prepare for your writing journey. Our blog post, "The Write Tips: How to Succeed in an Online MFA Program" might be useful.
Let's rehash how to choose the best online creative writing degree (or campus-based) program for you:
Choose a format: residency, low-residency, or online
Choose a genre: fiction, creative nonfiction, poetry, playwriting, screenwriting, or a sub-genre of one of these
Research the faculty: is there someone you'd like to work with?
Research the alumni: what are they doing, and are they happy doing it?
If a 100% online MFA sounds like an ideal way to hone your creative writing skills and complete a manuscript, consider National University's Master of Fine Arts in Creative Writing degree program.