Congratulations Graduates!
National University invites you, your family and friends, to celebrate your remarkable accomplishment at 1:00 pm on Sunday, May 19, 2019 at the San Jose Convention Center.
Please carefully review the information on this site for all of the important details necessary to ensure your special day goes as smoothly as possible. Questions should be directed to graduation@nu.edu. It is our sincere desire to provide a memorable event that showcases your outstanding achievement.
Important student information and deadlines
Deadlines
Regalia: Caps & Gowns are required for all non-military students and must be ordered.
https://www.jostens.com/apps/store/customer/1006588/National-University-Northern-California/
Military students may elect to wear their dress uniform in lieu of regalia.
4/1/2019
An application for graduation is required in order to participate in the commencement ceremony.If you fail to apply by the deadline, your name will NOT be in the Commencement Program or be able to be displayed on the large screen but it will still be announced and recognized.
https://login.nu.edu/
4/30/2019
Legal name changes should be submitted to the Registrar's Office by:
https://login.nu.edu/
5/6/2019
Tickets are required for all guests over the age of 2. Reserve a maximum of 5 tickets for your guests by:
https://nu.marchingorder.com/
5/13/2019
Additional Student Information
Hall 3 doors will open at 11:30am.
Remember, tickets are required for all guests. Guests under the age of 2 who sit on the lap of an adult do not require a ticket.
Graduates must bring their regalia (Graduate students: cap, gown, tassel and hood; Undergraduate students: cap, gown and stole).
Graduates should check-in, with identification, in Room 232 (adjacent to Hall 3) by 12:15 pm. You will be guided to the official line-up by School/College and Degree to prepare for the processional.
Graduates will be given a Stage Card that has your official, legal name from the University records.

You may handwrite on the card how you want your name announced from stage.

Honors Cords — Undergraduates with a GPA of 3.5 or higher or Graduate students with a GPA of 3.85 or higher are eligible to wear a silver cord that can be picked up at Graduate Check In.
All graduates will have designated seating assigned by each School/College. Graduates are required to sit in their assigned School/College areas, grouped by Degree level, to facilitate an orderly processional across the stage.
Your official diploma will be mailed to you approximately six weeks from your conferral date.
Graduate Accommodation Requirements
Any graduate who requires special access accommodations for the Commencement event should contact Student Accessibility Services at SAS@nu.edu by Monday, April 8, 2019 to provide timely notice for processing of their requests.
Guest Accommodation Recommendations
Please arrange accessibility accommodations prior to Commencement day, as equipment is not available onsite at the San Jose Convention Center. Please see vendor recommendations below:
For accessibility questions related to the San Jose Convention Center only, contact Patricia Denyer at pdenyer@sanjose.org.
For ceremony specific questions only, contact commencement@nu.edu.
Convention Center Information
https://www.sanjose.org/convention-center
Academic Regalia & Vendor Information
Important Traffic Note
San Jose Parks, Recreation, and Neighborhood Services is hosting the Viva CallSJ event on Sunday, May 19, 2019 from 10:00 am – 3:00 pm. Please allow plenty of time to travel to the Commencement Ceremony due to traffic and/or road or freeway exit closures. Market Street will be closed and will affect travel to the San Jose Convention Center. Below is a general description of all road closures:
STREET CLOSURES Sunday, May 19, 2019
HWY 101 (Northbound)– Story Road Off-Ramp closed, 7:00 AM to 5:00 PM
HWY 101 (Southbound)– Story Road Off-Ramp closed, 7:00 AM to 5:00 PM
St John St – Closed between 3rd St and Market St
Market St – Closed between St John St and San Fernando St
Market St (Southbound) – Closed between San Fernando St and San Carlos St
Market St – Closed between San Carlos St and Reed St
1st St – Closed between William St and Hollywood Ave
Willow St – Closed between Lelong St and Almaden Ave
Graham Ave – Closed between Almaden Ave and Sherman St
Goodyear St – Closed between Mastic St and 1st St
Keyes St – Closed between 1st St and Senter Rd
Story Rd – Closed between Senter Rd and King Rd
Please note the following street intersections do allow vehicles to cross during the event:
St. John St and Third St
St. John St and First St
Santa Clara St and Market
San Carlos St and Market
Keyes St and Second St
Keyes St and Third St
Keyes St and Tenth St
Keyes St and Eleventh St
Story Rd and Lucretia Ave
Story Rd and McLaughlin Ave
For more information please visit:
http://www.vivacallesj.org/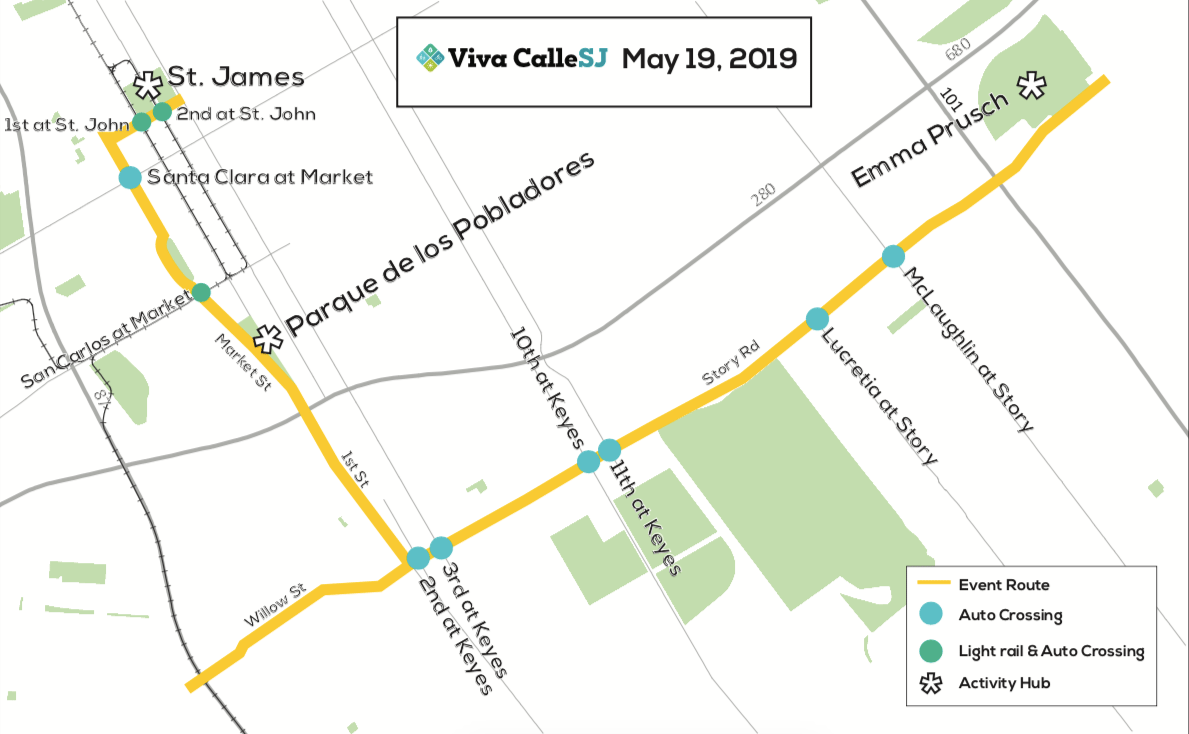 If the San Jose Convention Center parking structure is full, please see the links below for additional parking options:
Guest Information
May 19, 2019, 1:00 pm
San Jose Convention Center (you may enter on Almaden Blvd. or Market Street)
Parking is available in the parking structure ($20 maximum), or there is nearby street parking:
Timeline:

11:30 am — Hall 3 Doors Open
12:45 pm — All guests should be seated in Hall 3
1:00 pm — Processional and Ceremony
3:00 pm (approximate time) — Recessional

There is no assigned seating for guests, though there will be designated seating for those with disabilities.
Restrictions for the main ceremony

Balloons and noisemakers are prohibited
No outside food & beverages