Graduate Certificate in US Education in a Global Context
Graduate Certificate in US Education in a Global Context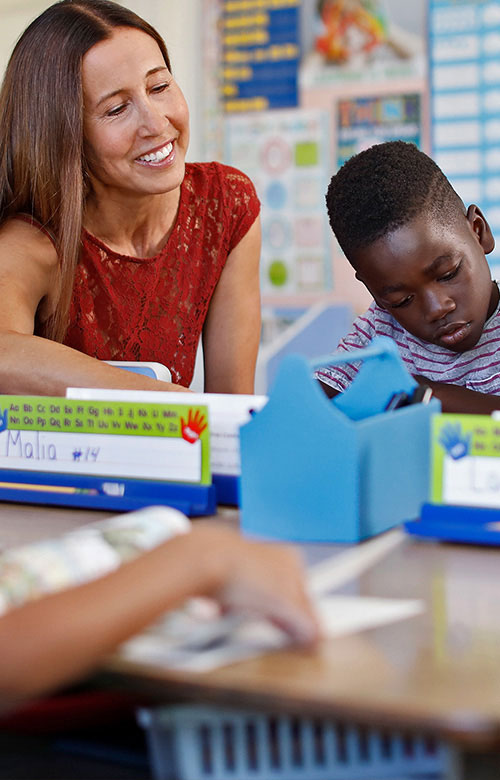 QUICK FACTS
Become a part of NU's global alumni community.
The Graduate Certificate in U.S. Education program includes four-week classes.
National University is San Diego's largest private nonprofit university.
Expand your teaching skills on a global scale with a Graduate Certificate in U.S. Education in a Global Context. This certificate program is designed for K-12 teachers, especially those who teach in the social sciences, foreign and second languages, language arts, math, and science. With a focus on global education, content offered in this global education graduate certificate program will provide practicing educators with advanced views on U.S. school practices based on analyses of international educational systems. Students will gain knowledge of issues affecting education, including socio-economics, culture, technology, as well as innovative approaches in teaching and learning.
In addition, students will increase skills in implementing effective approaches and strategies that address the needs of contemporary school environments and diverse student populations. Educational administrators, policymakers, and international students would also benefit from participation in this program.
Program Learning Outcomes
Analyze the interdependence among socio-economic, political, geographic, and technological factors at both national and global levels, and appraise their impact on education and educational systems.
Analyze the ways in which cultural, religious, and linguistic factors affect a country's choice of educational systems and educational priorities.
Evaluate various international educational theories and practices using research and personal experiences in order to make improvements to current school environments.
Synthesize new knowledge of innovative international educational systems, educational theories and practices, and develop practical recommendations for improving teaching and learning in U.S. schools.
Design effective organizational, technological, or instructional applications to address challenges in the U.S. professional educational environment.
Click here for program specific course information.
Meet Our Faculty
Why Choose National University?
We're proud to be a veteran-founded, San Diego-based nonprofit. Since 1971, our mission has been to provide accessible, achievable higher education to adult learners. Today, we educate students from across the U.S. and around the globe, with over 150,000 alumni worldwide.
Four-Week Classes
Focus on one subject at a time — one month at a time — and finish your degree faster.
100+ Degree Programs
Choose from associate, bachelor's, and master's degrees, plus credentials and certificates.
On Campus or Online
Study when and where it's convenient for you with evening, weekend, and 100% online classes.
Year-Round Enrollment
Apply or transfer any time. Classes start monthly, and applications are accepted year round.
20+ Campus Locations
Attend class onsite at one of over 20 campus locations across California or in Nevada.
Military Friendly
As a Yellow Ribbon school, we offer tuition discounts to servicemembers and dependents.
Sanford College of Education
"Our goal is to deliver high quality educator preparation programs that feature social-emotional learning and evolve inspiring professionals who have positive impact in PK-12 school settings."
Sanford College of Education