Dr. Mohammed Nadeem
Dr. Nadeem is a Fulbright Scholar, a Distinguished Professor of Marketing and an expert in executive education programs. Professor Nadeem is intellectually curious about managerially relevant problems with rigorous training in marketing thrives in the classroom.
Professor Nadeem believes in an entrepreneurial mindset & preparing leaders to contribute lasting value to all types of organizations, in all sectors & wherever there are opportunities to make a positive difference for business and society. Dr. Nadeem is an experienced leader who is passionate about the intersection of technology & civic engagement. He is interested in Marketing/Sales for growing a high-performing team that is helping to build, launches & scale products.
Dr. Nadeem brings not only the academic distinction but also his training, expertise in Consumer Behavior and Online Reviews & commitment that demonstrates a passion for leadership, and community involvement. Dr. Nadeem's research has won several awards including the President's Distinguished Teaching Award, Distinguished Scholarship Award, prestigious Professoriate award & several Best Research Paper Awards. Dr.Nadeem holds Ph.D. (Business) from UIU, Cincinnati, Ohio & PDP (Marketing) from Harvard University, Cambridge, MA & a Professional Coursework from Stanford University. He is a US Citizen & lives with his family in Santa Clara, CA.
Ph.D. Thesis External Evaluator/Examiner:
1. Visvesvaraya Technological University, India [http://vtu.ac.in/]
2. Bharathiar University, India [http://www.b-u.ac.in/]
3. Mangalore University, India [https://mangaloreuniversity.ac.in/]
On Google Scholar & ResearchGate:
• http://scholar.google.com/citations?user=VPxbkVQAAAAJ&hl=en
• https://www.researchgate.net/profile/Mohammed_Nadeem6
Awards & Grants
• 2015 Award: Presidents Annual Distinguished Teaching Award, National University.
• 2014 Award: Shield of Honor for Scholarly Contribution & Case Study Workshop Award, International Research Conference (IRC), Dubai, United Arab Emirates.
• 2014 Award: Ten Years of Service Award – National University.
• 2013 Grant: Fulbright Scholar (Specialist) – Department of State – Washington DC.
• 2012 Award: Best Paper Award – International Conference on Business Intelligence, Analytics and Knowledge Management (BIAKM-2012) • Indian Business School, Hyderabad, India.
• 2009 Award: President's Professoriate Award • National University.
• 2007 Award: Annual Distinguished Scholar of the Year Award – Research Council, National University.
Thesis Report Examiner:
• Ph.D. Thesis – External Evaluator, Visvesvaraya Technological University (VTU), India – 2016 – Present.
Seminar(s) Expert:
• Case Method • Teaching & Writing Workshops.
Online Learning Management System:
• Blackboard, eCollege, iLinc, WebCT, and LEARN (Moodle).
Keynote Speech
• Nadeem, M. (2018, February). Understanding Digital Value. Speech presented at the National Research Conference, Digital Innovation, Meeting the Business Challenges, Digecon 2018, Symbiosis Institute of Business Management, Hyderabad, India. DOI 10.13140/RG.2.2.31165.15842. https://www.researchgate.net/publication/323377535_Understanding_Digital_Value
Selected Journal Publications
. Nadeem, M., Mehta, K (2018), "UBERIZATION" OF CUSTOMER NEEDS WITH DATA ANALYTICS: HOW MARKETING STRATEGY "LIFTS" PRODUCTS INNOVATION?. British Journal of Marketing Studies, 6, (6) 40-58. http://www.eajournals.org/wp-content/uploads/Uberization-of-Customer-Needs-With-Data-Analytics.pdf
• Nadeem, M. (2017). Bitcoin•s •Pygmalion Effect•: Social Entrepreneurs are a bit-curious in marketing a special kind of property! International Journal of Academic Research in Business and Social Sciences, 7, (1), 809-820.
https://www.researchgate.net/publication/322330148_Bitcoin's_Pygmalion_Effect_Social_Entrepreneurs_are_a_Bit_Curious_in_Marketing_a_Special_Kind_of_Property
• Nadeem, M., Woszczyna, K. S. (2016). Multi-level Approach to the •Social Marketing• Context for Innovation: Impact on Organizational Relationships, International Journal of Marketing Studies, 8(2), 24-37. http://www.ccsenet.org/journal/index.php/ijms/article/view/57792
• Nadeem, M. (2015). Employee•s (Happy) Branding Corporates `Social• Reputation: Can You Put a Price on That? International Journal of Marketing Studies, 7 (6), 116-129. http://www.ccsenet.org/journal/index.php/ijms/article/view/53926/29638
• Nadeem, M. (2015). Customer Loyalty at Any Cost: Why Is SM Poorly Integrated with Marketing Strategy? International Journal of Academic Research in Business and Social Sciences, 59(2), 78-97. http://hrmars.com/hrmars_papers/Customer_Loyalty_At_Any_Cost_Why_Is_Social_Media_Poorly_Integrated_With_Marketing_Strategy.pdf
• Nadeem, M. (2015). Chief Marketing •Analytics or Digital• Officer [CMO]: Is the •Big Data• Alone Adequate for Firm•s Customer Retention & Return on Investment? British Journal of Marketing Studies, 3(8), 17-33. http://www.eajournals.org/wp-content/uploads/Chief-Marketing—-Analytics-or-Digital—-Officer-CMO.pdf
• Nadeem, M. (2013). Emerging Markets: Maximize Shareholder Value or Corporate Sustainability? International Journal of Humanities and Social Science, 3, (5), 91-107. https://www.researchgate.net/publication/269039307_Emerging_Markets_Maximize_Shareholder_Value_or_Corporate_Sustainability
• Nadeem, M. (2012). Returning Customer: Was That a Planned Purchase? Skyline Business Journal, 7, (1), 11-17. https://www.researchgate.net/publication/269693343_Returning_Customer_Was_that_a_planned_purchase
• Nadeem, M., (2012). Social Customer Relationship Management (SCRM): How connecting social analytics to business analytics enhances customer care and loyalty? International Journal of Business and Social Science, 3, (21). https://www.researchgate.net/publication/269039312_Social_Customer_Relationship_Management_SCRM_How_connecting_social_analytics_to_business_analytics_enhances_customer_care_and_loyalty
• Nadeem, M. (2009). Purchasing Equals Happiness Equals Giving: How do you plan to spend your weekend? The Journal of American Academy of Business, Cambridge, Vol. 15, No. 1, September 2009. https://www.researchgate.net/publication/269106025_Purchasing_Equals_Happiness_Equals_Giving_How_Do_you_Plan_to_Spend_Your_Weekend
• Nadeem, M. (2008). Influence of Public Policy on Governance: Is there a Role for Shareholders as Stakeholders. The Journal of Global Business Issues, Special Edition. Spring 2008. p. 35. https://www.researchgate.net/publication/269105852_Influence_of_Public_Policy_on_Governance_Is_there_a_Role_for_Shareholders_as_Stakeholders
• Nadeem, M. (2007). Customer-Choice in Globalize e-Marketing: Why Crafting and Executing Ethics Matters for Trusted Online Transactions. Journal of Academy of Taiwan Business Management Review, Vol. 3, No. 2. https://www.researchgate.net/publication/269106759_Customer-Choice_in_Globalize_E-Marketing_Why_crafting_and_executing_ethics_matters_for_%27trusted%27_online_transactions
• Nadeem, M. (2007). Post-Purchase Dissonance: The Wisdom of the `Repeat• Purchases. Journal of Global Business Issues, Vol. 1, Issue 2. (Highly cited article by consumer behavior marketing scholars. [cited in 2009 textbook by Pearson Publishing: Consumer Behavior 10e by Schiffman/Kanuk]. https://www.researchgate.net/publication/269096050_Post-Purchase_Dissonance_The_Wisdom_of_the_%27Repeat%27_Purchases
• Nadeem, M. (2007). Emergence of Customer-Centric Branding: From Boardroom Leadership to Self-Broadcasting. The Journal of American Academy of Business, Cambridge, Vol. 12, No.1. https://www.researchgate.net/publication/269097279_Emergence_of_Customer-Centric_Branding_From_Boardroom_Leadership_to_Self-Broadcasting
• Nadeem, M. (2006). How Leadership Results in Return on Customer, and Customer Lifetime Value. The Business Review, Cambridge, Vol. 6, No.1. https://www.researchgate.net/publication/269105886_How_E-Business_Leadership_Results_in_Customer_Satisfaction_and_Customer_Lifetime_Value
• Nadeem, M. (2006). Maximizing Return on Investment in a Global Market: Who is adding value by connecting people (customers), technology, and processes. Journal of Academy of Taiwan Business Management Review, Vol. 1, No. 1. https://www.researchgate.net/publication/240749899_Maximizing_Return_on_Investment_ROI_in_Global_Market_Chief_Knowledge_Officer_CKO_Adding_Value_by_Connecting_People_Technology_and_Processes
Presentations
| Type | Date | Title | Audience Function | Location |
| --- | --- | --- | --- | --- |
| Conference | 2014-03-01 | Case Method Worshop | Qassim University | Saudi Arabia |
| Seminar | 2013-12-01 | Marketing Strategy Seminar – "High Performance Telecom" | | Saudi Arabia |
| Conference | 2013-11-01 | US Fulbright Specialist, Business Administration (Marketing) | College of Business Administration, Jazan University | Saudi Arabia |
| Paper | 2013-08-01 | Do stakeholders play a role in disciplining firms in emerging markets? | | Hyderabad, India |
| Paper | 2013-02-01 | Face Time: Teaching with Social Media in the Marketing Classroom | | Riyadh, Saudi Arabia |
| Paper | 2012-04-01 | Social Customer Relationship Management (SCRM): How connecting social analytics to business analytics enhances customer care and loyalty? | | Hyderabad, India |
| Paper | 2012-04-01 | Returning Customer: Was that a planned purchase? | Skyline University College | Sharjah, UAE |
| Paper | 2009-01-02 | Managing Brand Relationships: Should Board Rooms Listen to Consumer Choices? | | Hyderabad, India |
| Paper | 2008-04-01 | Influence of Public Policy on Governance: Is there a Role for Shareholders as Stakeholders? | | Honolulu, HI |
| Paper | 2007-04-01 | The Impact of E-Business on Branding: A Customization and Personalization Perspective. | | Nacogdoches, Texas |
| Paper | 2005-09-01 | Maximizing ROI in a Global Market: Chief Knowledge Officer (CKO) adding value by connecting People, Processes, and Technology | | Dubai, United Arab Emirates |
| Paper | 2005-01-01 | Brand Halal: Foods for US—Is Co-Branding a way to go? | | Dubai, United Arab Emirates |
Publications
| Type | Date | Author Type | Title | Publication Name | Author List | Publisher | Volume / Issue / Page |
| --- | --- | --- | --- | --- | --- | --- | --- |
| Article – Peer Reviewed | | Author | UBERIZATION OF CUSTOMER NEEDS WITH DATA ANALYTICS: HOW MARKETING STRATEGY LIFTS PRODUCTS INNOVATION? | British Journal of Marketing Studies | Mohammed Nadeem (Ph.D) 1; And Kamlesh Mehta, D.B.A. 2; | European Centre for Research Training and Dev (UK) | 6(6) 40-58 |
| Article – Peer Reviewed | | Author | Bitcoin's "Pygmalion Effect": Social Entrepreneurs are a bit-curious in marketing a special kind of property! | International Journal of Academic Research in Business and Social Sciences | Mohammed Nadeem, Ph.D. | International Journal of Academic Research in Busi | 7(1) 809-820 |
| Article – Peer Reviewed | 2016-10-31 | Co-Author | Multi-level Approach to the "Social Marketing" Context for Innovation: Impact on Organizational Relationships | International Journal of Marketing Studies | Nadeem, M., Woszczyna, K. S. | International Journal of Marketing Studies | 8(2) 24-37 |
| Article – Peer Reviewed | | Author | Employee's (Happy) Branding Corporates `Social Reputation: Can You Put a Price on That? | International Journal of Marketing Studies | Mohammed Nadeem, Ph.D. | International Journal of Marketing Studies | 7(6) 116-129 |
| Article – Peer Reviewed | | Author | Customer Loyalty at Any Cost: Why Is SM Poorly Integrated with Marketing Strategy? | International Journal of Academic Research in Business and Social Sciences | Mohamme Nadeem, Ph.D. | International Journal of Academic Research in Busi | 59(2) 78-97 |
| Article – Peer Reviewed | | Author | Chief Marketing "Analytics or Digital" Officer [CMO]: Is the "Big Data" Alone Adequate for Firm's Customer Retention & Return on Investment? | British Journal of Marketing Studies | Mohammed Nadeem, Ph.D. | British Journal of Marketing Studies | 3(8) 17-33 |
| Article – Peer Reviewed | | Author | Customer Loyalty At Any Cost: Why Is Social Media Poorly Integrated With Marketing Strategy? | International Journal of Academic Research in Business and Social Sciences | Mohammed Nadeem, Ph.D. | HRMARS | 5(2) 78-97 |
| Article – Peer Reviewed | | Author | Emerging Markets: Maximize Shareholder Value or Corporate Sustainability? | | | | 3(5) 91-107 |
| Article – Peer Reviewed | 2009-06-01 | Author | Purchasing Equals Happiness Equals Giving: How do you plan to spend your weekend? | | Mohammed Nadeem, Ph.D. | | 15(1) |
| Article – Peer Reviewed | | Author | Emergence of Customer-Centric Branding: From Boardroom Leadership to Self-Broadcasting | | Mohammed Nadeem, Ph.D. | | 44-49 |
| Article – Peer Reviewed | | Author | Customer-Choice in Globalize e-Marketing: Why Crafting and Executing Ethics Matters for Trusted Online Transactions | | | | 113-121 |
| Article – Peer Reviewed | | | Post-Purchase Dissonance: The Wisdom of the Repeat Purchases | | | | 183-193 |
| Article – Peer Reviewed | | Author | Emergence of Customer-Centric Branding: From Boardroom Leadership to Self-Broadcasting | | | | 44-50 |
| Article – Peer Reviewed | | Author | How E-Business Leadership Results in Customer Satisfaction, and Customer Lifetime Value | | | | 218-224 |
| Article – Peer Reviewed | | Author | Leadership in Customer Retention Resulting in Competitive Advantage in the E-Business Market | | | | 68-76 |
| Article – Peer Reviewed | | Author | Knowledge Management and Customer Leadership: Revolutionizing E-Business Marketing Excellence | | | | 80 |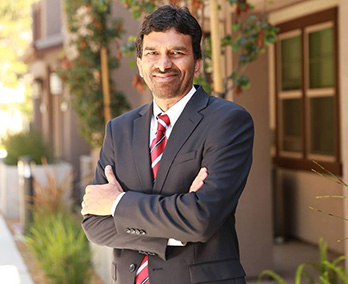 Info
Dr. Mohammed Nadeem
School of Business and Management
Marketing and Management
Education
The Union Institute and Univ - PHD - eBusiness Management