Certificate in Consciousness
& Transformative Studies

Certificate in Consciousness
& Transformative Studies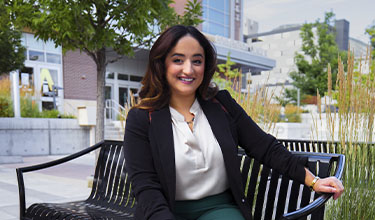 Program Overview
If you're seeking deeper meaning and fulfillment in your personal life or work, National University's Certificate in Consciousness and Transformative Studies might just set you on a path to personal discovery and professional fulfillment. Consciousness Studies is an interdisciplinary field of study that combines psychology, religion/spirituality, philosophy and the new sciences. Transformative Studies is a leading-edge approach to learning that emphasizes personal application of knowledge, thereby catalyzing and accelerating personal transformation.
Derived from NU's Master's in Consciousness Studies, the first such accredited program in the U.S., this certificate has been created in response to a growing demand for continuing education that can be completed in conjunction with today's fast-paced lifestyles and demanding workplace environments.
Our certificate provides you with an option for a shorter, more focused program that can be completed in one year of half-time study. It allows you to gain graduate-level knowledge in the interdisciplinary field of consciousness studies. This deep dive into consciousness and exploration of the human condition is applicable to all domains of life.
Coursework integrates wisdom and practices associated with emotional and social intelligence, paradigms of consciousness, human development and the evolution of consciousness; non-ordinary states of consciousness, body awareness, cultural evolution, living systems, and neuroscience and mindfulness. This interdisciplinary curriculum aims to actualize human potential in service of the greater global good.
For more information, contact Program Chair Karen Jaenke, PhD: [email protected].
---
Course Info
Quarter Units: 20
Courses: 9
Estimate time to complete: 12 months of half-time study
---
Program Learning Outcomes
Upon successful completion of this program, students will be able to:
Explain and apply a developmental view of consciousness and human evolution to oneself, others, and systems
Demonstrate intrapersonal and interpersonal intelligence, wisdom, and accountability, using psychological and spiritual principles and practices
Explain and apply systems theory principles at the individual, community, organizational, and planetary levels
Apply communication skills, diversity perspectives, information literacy, and professional development skills in service of consciousness growth and systems change
Apply critical, creative, and multi-perspectival thinking, inquiry, and meaning-making skills in service of consciousness growth and systems change.