Master of Business Administration (MBA)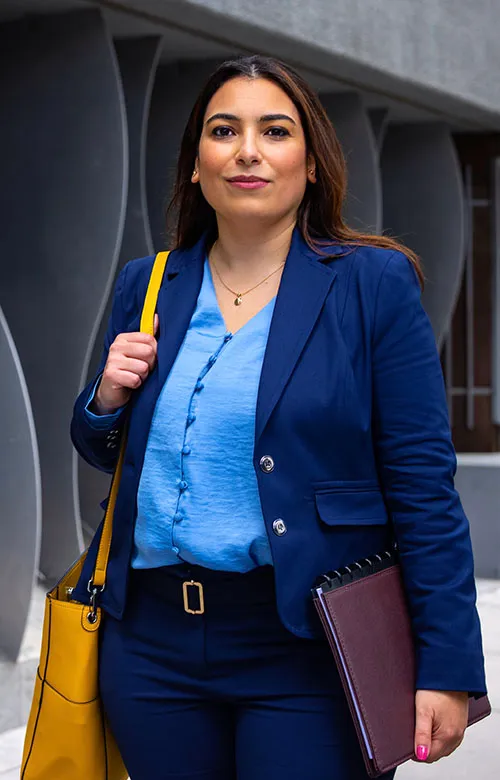 QUICK FACTS
Become a part of NU's global alumni community.
The MBA program includes four-week classes.
National University is San Diego's largest private nonprofit university.
Get on the path to business leadership with an MBA from National University. In this program, which can be taken 100% online, you'll gain the knowledge and skills you need to successfully manage organizations in the ever-changing business environment. You will learn relevant management skills in both domestic and global business settings, effective team building, quantitative and qualitative decision-making, and creative problem-solving skills that you can immediately apply in your professional life.
You may specialize in one of several areas to hone your skills to your career goals. Specializations available include Bank Management, Financial Management, Human Resource Management, International Business, Marketing, Organizational Leadership, and Supply Chain Management.
Program Learning Outcomes
Evaluate the systems and processes used throughout an organization, including the planning, decision-making, group dynamics, innovation, production, supply chain, operations, technologies, marketing and distribution, and management.
Demonstrate leadership ability and management skills within an environment of change to meet the objectives of the stakeholders of the organization.
Evaluate the forces in the global business environment, including social responsibility, sustainability, ethics, and the risk and opportunities associated with operating within a multicultural business environment.
Apply economic models, accounting principles, statistical techniques, and financial theories, analysis, and reporting in business decision-making.
Design alternatives to solve business problems utilizing quantitative analysis, critical thinking, and sound ethical decision making.
Formulate strategies and policies utilizing environmental and resources assessment, and integrating various functions to achieve the mission and objectives of the organization.
Program Highlights
Program can be completed in as few as 12 months
Choose one of seven specializations and design the program based on your career goals
Take one course in a one-month format or three courses in a three-month format
Upon enrollment, students are assigned a faculty mentor for support
Tutoring is available for most courses
Program includes small classes and opportunities to work closely with faculty
Click here for program specific course information.
Program Requirements
(12-14 courses; 54-63 quarter units)
Foundation Courses
(2 courses; 9 quarter units)
The following two foundation courses may be waived if students have taken the appropriate accounting, finance, and mathematics courses as a part of an undergraduate degree in business at a regionally accredited university or if a score of 80 percent or above is achieved on a challenge exam. Each course is four weeks long.
ACC 600* Financial Accounting for MBAs
MNS 601** Statistics for Business
*Students who have completed an undergraduate business degree that includes ACC 201, ACC 202, and FIN 310 are waived of the ACC 600 requirement.
**Students who have completed an undergraduate business degree that includes MNS 205, MTH 210, MTH 215, or MTH 220 and MNS 407 are waived of the MNS 601 requirement.
Core Competency Courses
(7 courses; 31.5 quarter units)
MKT 602 Marketing Management
IBU 606 Global Business
MGT 603 Business Operations Management
MGT 608 Info & Supply Chain Systems
ACC 604 Managerial Accounting
ECO 607 Eco. for Managerial Decisions

Recommended: Prior completion of MNS 601

FIN 609A Seminar in Financial Management

Prerequisite: FIN 310, or ACC 600
General Electives
(4 courses; 18 quarter units)
Students may select any four graduate courses offered by the School of Business and Management, including BUS 691 – Internship Project. As an alternative, students may enroll in an Area of Specialization (see below).
MBA Specialization
Requirements for Specialization
(4 courses; 18 quarter units)
In lieu of general electives, students can choose an Area of Specialization. In order to graduate with a specialization, students must complete all courses specified in the desired specialization, in addition to all core competency courses, and the capstone course, MGT 685C.
Capstone
(1 course; 4.5 quarter units)
Prerequisites: All seven(7) core competency courses must be completed before taking the capstone course.
MGT 685C Business Strategy and Policy
Prerequisite: ACC 604, FIN 609A, MGT 608, MGT 603, ECO 607, MKT 602, IBU 606
Specialization in Bank Management
(4 courses; 18 quarter units)
Students must select four (4) of the six (6) courses:
FIN 674 Managing Financial Institution
FIN 635 International Finance
FIN 652 Real Estate Finance
FIN 671 Credit Management
FIN 678 Regulation of Banks
FIN 679 Risk & Capital Mgmnt in Banks
Specialization in Financial Management
(4 courses; 18 quarter units)
FIN 610 Topics in Financial Management
FIN 631 Security Analysis & Portfolio
FIN 635 International Finance
FIN 674 Managing Financial Institution
Specialization in Human Resource Management
(4 courses; 18 quarter units)
HRM 630 Legal, Ethical & Safety Issues
HRM 637 Workforce Plan Dev & Outsource
ODV 606 Seminar in Training & Develop
HRM 667 Compensation & Benefits
Specialization in International Business
(4 courses; 18 quarter units)
Student should choose four (4) courses from the following:
IBU 637 Comparative Int'l Management
IBU 641 Topics in Int'l Business
IBU 643 Global Strategy
IBU 645 Int'l Entrepreneurship Project
IBU 540 International Experience
Specialization in Marketing
(4 courses; 18 quarter units)
MKT 620 Consumer Behavior
MKT 631 Global Marketing
MKT 634 Market Research
MKT 660 Strategic Marketing Simulation

Prerequisite: MKT 620, MKT 631, and MKT 634, MKT 602
Specialization in Organizational Leadership
(4 courses; 18 quarter units)
LED 602 Developing Groups and Teams
LED 603 Leadership in the 21st Century
LED 604 Leading Change and Adaptation
LED 605 Conflict and Power Dynamics
Specialization in Supply Chain Management
(4 courses; 18 quarter units)
SCM 610 Supply Chain Collaboration
SCM 620 Strategic Supply Management
SCM 630 Supply Chain Planning
SCM 640 Distribution Management
Meet Our Faculty