Master of Public Health (MPH)

Master of Public Health (MPH)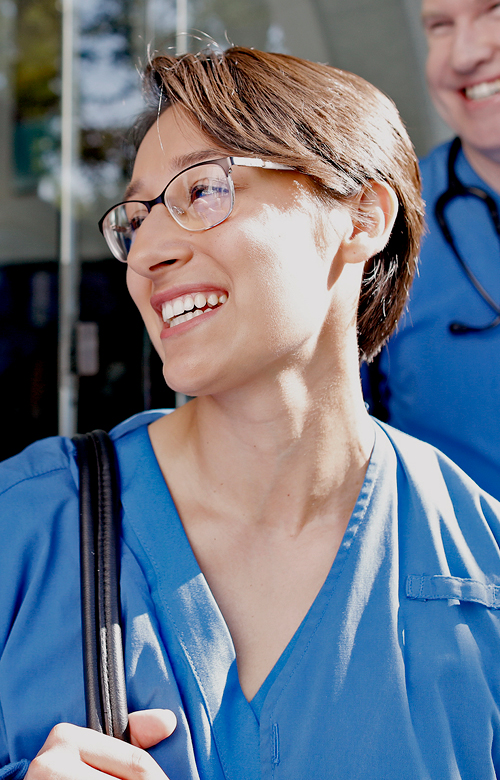 Lead the Way to Improving the Health of Your Community
National University's Master of Public Health (MPH) program prepares you for leadership positions in health promotion and disease prevention, community mental health, or public health care administration.
This program is offered online and can be completed in as few as 18 months. You will choose from three specializations depending on your area of focus, which include: Health Promotion, Community Mental Health, and Healthcare Administration. In the online MPH degree program, you will learn essential, effective ways to share your knowledge of preventive medicine and establish public health initiatives that make a measurable impact on community and global health. You will learn from diverse and doctoral-trained faculty and have access to internship and networking opportunities designed to prepare you for career success.
The National University Master of Public Health program is accredited by the Council on Education for Public Health. In June 2021, the CEPH Council found the NU MPH program compliant in all 35 of 35 criteria and granted a seven-year term of accreditation until July 1, 2028.
Watch our video to see Dr. Tyler Smith explain how the MPH program prepares NU students to make a difference in hospitals and other healthcare organizations.
Program Learning Outcomes
As a graduate of National University's Master of Public Health program, you will learn the following skill sets:
Analyze and interpret health data
Describe the distribution and determinants of disease, disabilities, and death in human populations
Evaluate the environmental factors that affect the health of a community
Analyze the planning, organization, administration, and policies of healthcare organizations
Apply the concepts and methods of social justice and social and behavioral sciences relevant to the identification and solution of public health problems
Introducing the Opportunity Scholarship
In honor of our students, and in celebration of our 50th anniversary, National University is investing $30 million in new student scholarships. To learn more about the Opportunity Scholarship, how you can apply, and how much you can save, inquire today.

Dr. Tyler Smith
Program Director, Public Health
"A student that comes to our program wants to make a difference in health and healthcare."
Marisol Delgado, MPH 2022
"The National University MPH program has given me the opportunity to grow professionally and academically by providing a flexible learning experience."
Ryan Zieno, MPH 2020
"The MPH program at National University provided me exactly what I was looking for – an opportunity to acquire the knowledge and skills I needed as I developed a lens to look through as I navigated my career. The lens of public health and the good of others remains a focal point in every business or social problem. Whether it's my full-time job, part-time work, or volunteerism – National University has helped me build the kind of person I need to be to tackle the issues around us."
Contact Us
Take the first step by starting your application online today.
To speak to an enrollment advisor about this program, please email [email protected].
FAQs
Why Choose National University?
We're a veteran-founded, San Diego-based nonprofit. Since 1971, our mission has been to provide accessible, achievable higher education to adult learners. Today, we educate students from across the U.S. and around the globe, with over 185,000 alumni worldwide.
Program Disclosure
Successful completion and attainment of National University degrees do not lead to automatic or immediate licensure, employment, or certification in any state/country. The University cannot guarantee that any professional organization or business will accept a graduate's application to sit for any certification, licensure, or related exam for the purpose of professional certification.
Program availability varies by state. Many disciplines, professions, and jobs require disclosure of an individual's criminal history, and a variety of states require background checks to apply to, or be eligible for, certain certificates, registrations, and licenses. Existence of a criminal history may also subject an individual to denial of an initial application for a certificate, registration, or license and/or result in the revocation or suspension of an existing certificate, registration, or license. Requirements can vary by state, occupation, and/or licensing authority.
NU graduates will be subject to additional requirements in a program, certification/licensure, employment, and state-by-state basis that can include one or more of the following items: internships, practicum experience, additional coursework, exams, tests, drug testing, earning an additional degree, and/or other training/education requirements.
All prospective students are advised to review employment, certification, and/or licensure requirements in their state, and to contact the certification/licensing body of the state and/or country where they intend to obtain certification/licensure to verify that these courses/programs qualify in that state/country, prior to enrolling. Prospective students are also advised to regularly review the state's/country's policies and procedures relating to certification/licensure, as those policies are subject to change.
*Positions may require additional experience, training, and other factors beyond successfully completing this degree program. Depending on where you reside, many positions may also require state licensure, and it is the responsibility of the student to ensure that all licensure requirements are met. We encourage you to also review program-specific requirements. Any data provided on this page is for informational purposes only and does not guarantee that completion of any degree program will achieve the underlying occupation or commensurate salary.