Join our team as the Dean of College of Professional Studies
National University, a private nonprofit leader among adult learners, seeks a new Dean of the College of Professional Studies, which includes programs in engineering, business, health and human services, and professional studies. The Dean's primary responsibilities will be to promote NU's mission "to deliver an exceptional student experience by providing superior programs and services that are relevant and result in meaningful learning."
About National University
Since 1971, National University has been dedicated to meeting the needs of hard-working adults by providing accessible, affordable, achievable higher education opportunities. Founded by retired U.S. Navy Capt. David Chigos, we now educate students across the U.S. and around the globe as the largest private nonprofit university in San Diego.
NU offers over 75 programs and flexible four-week courses designed to help students reach their goals while balancing busy lives. A pioneer in online education, NU has offered online classes for over 20 years, as well as classes on campuses in California and on military bases.
Since its founding, the National University community has grown to over 25,000 students and 200,000 alumni worldwide, many of whom serve in helping industries such as business, education, health care, cybersecurity, and law and criminal justice. NU is a top educator of the U.S. military, providing tuition discounts to active duty servicemembers and their dependents. As the top educator of educators in California, NU has recommended more candidates for California teaching credentials than any other university in the state.
National University is the flagship institution of the National University System, which was established in 2001 to meet the emerging demands for education in the 21st century. In addition to National University, the affiliates of the National University System are Northcentral University; City University of Seattle; National University Virtual High School, part of our Division of Pre-College Programs; and Sanford Education Programs at National University, designed to develop nonprofit professionals and educators, so they can lead inspirational programs worldwide.
2023 Strategic Vision
NU 2023, our strategic plan, includes five interrelated priorities:
Increase access to adult learners nationwide by offering a variety of programs asynchronously online
Reduce student costs and continue to do so until our most deserving students receive an education with no out-of-pocket costs
Improve student success
Build an infrastructure to support innovative instruction
Create a culture that attracts and retains top talent, including transparent communication and inclusion
NU 2023 emphasizes the priority to invest in retention and completion initiatives so that each student will realize his or her personal goals and contribute to the University's vision to "make positive contributions to the transformation of society." NU's approach to assuring student success is defined by precision education as an operational strategy, including assessment-led, adaptive instruction, holistic student support, and competency-based credentialing.
Through years of fiscal responsibility, the Board of Trustees built a substantial financial reserve. The Board of Trustees and the Chancellor have authorized an aggressive strategy and support to build on NU's success. The Dean will continue to develop partnerships with the community and provide responsible financial management.
Diversity and Inclusion
Diversity at National University encompasses the whole of the human experience and includes race, gender, ethnicity, physical ability, nationality, age, religion, sexual orientation, economic status, education, experiences, and veteran status. These and other socially and historically important attributes reflect the complexity of our increasingly diverse student body and communities.
In recognition that our society and our institution have become more diverse, National University has re-invigorated the President's Diversity, Equity, and Inclusion Council (DEIC). The DEIC functions as an advisory council and recommending body to the Office of the President, and council members serve as liaisons to divisions, offices, and units across the intuition. Council members are responsible for assessing, developing, overseeing, and monitoring University-wide efforts to achieve NU's commitment to diversity and access as core institutional and educational values.
Learn more about the Diversion, Equity and Inclusion Council.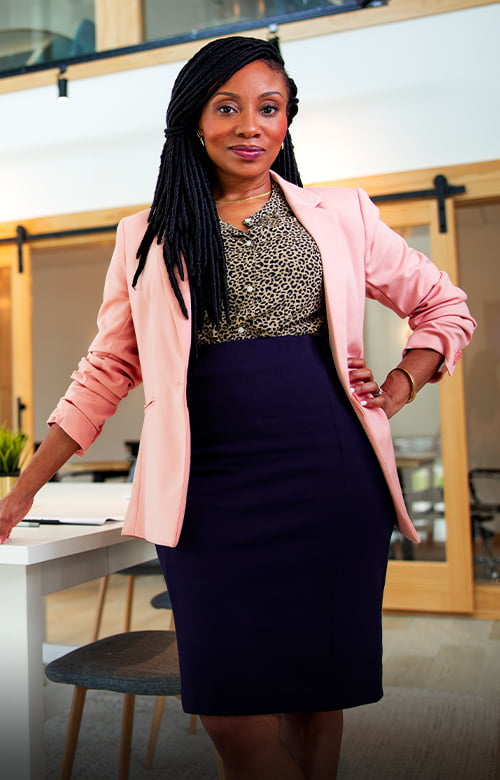 College of Professional Studies
The College of Professional Studies is comprised of the following departments: health sciences, leadership and human resources management, marketing and management, nursing, professional studies, engineering and computing, community health, and accounting, finance, and economics. With 91 full-time faculty and 830 adjunct faculty, programs are designed to provide workforce-relevant education to adult learners seeking to enter or advance in their chosen field. The college currently has over 11,000 students.
Each department is led by a chair, and each of the 45 programs has a program lead. Program offerings include associate, bachelor's, and master's degrees. Business degree offerings range from an Associate of Science in Business to a BS in Finance Management. Engineering and computing programs include bachelor's and master's degrees in computer science, cybersecurity, and more. For a complete list of programs, please click here
Why Consider a Career at NU?
Under the National University System, National University is committed to maintaining a high-quality, diverse workforce representative of the populations it serves. As a network of nonprofit educational institutions, the System employs more than 4,100 faculty and staff and serves over 45,000 students. NUS is dedicated to creating a supportive academic and work environment that allows for students, faculty, and staff to develop their interests and talents, while experiencing an inclusive environment and sense of community.
NUS offers a comprehensive benefits package, competitive salaries, and an opportunity to work in an innovative environment. The System is an equal opportunity employer and prohibits discrimination or harassment based on race, color, religion, religious creed, national origin, ancestry, citizenship, physical or mental disability, medical condition, genetic information, marital status, sex, gender, gender identity, gender expression, age, sexual orientation, veteran and/or military status, family care status, domestic violence victim status, political affiliation, and any other status protected by federal, state, or local law.
About the Role
Lead the development and implementation of a strategic plan
As a visible and engaged leader, the Dean will collaborate with stakeholders to drive the strategic plan of the College that aligns with NU 2023. The Dean must use clear communication and a shared approach to building a strategic plan and implementing it.
Retain and develop faculty and staff
Part of the strategic plan will involve the creation of a culture of cohesion and inclusion. By creating an engaged, dynamic, and forward-thinking environment, the Dean will help attract excellent and diverse faculty to the College. As part of recruiting and retaining strong faculty, the Dean will foster mentoring and training for all College members, particularly junior faculty. Above all, the Dean will pursue a culture of professionalism, modeling dependable and robust leadership.
Drive student success in a diverse environment
The College of Professional Studies has a heterogeneous student population emerging from an open access model. The Dean needs to create an infrastructure to understand students' needs and build an ecosystem to address those needs. National University has endowment resources to invest in opportunity and fast-track scholarships to support students from disadvantaged backgrounds. In addition to the existing support, the Dean should continue developing programs, content, research, and experiential opportunities that enable students to be ready for employment.
Increase external industry partnerships and fundraising
The Dean will be an external advocate of the College of Professional Studies. As a school representative, the Dean will be a leading voice in professional studies nationally and internationally. The College has a vibrant advisory board, who serves as a source of needs of the community. The Dean will create a fundraising plan and communicate the idea to all constituencies. Increased visibility within the community will not only help the College to reach its fundraising goals but also help further define and implement the College's strategic direction.
---
Requirements
The ideal candidate should demonstrate evidence of the following:
Fifteen years of relevant academic and administrative experience in executive positions in higher education, preferably in multi-disciplinary units or equivalent combination of education and experience
An earned doctorate or another terminal degree
A demonstrated capacity for leadership of a multi-disciplinary unit
A capacity of leading and supporting a diverse faculty and staff by facilitating a collegial culture
Evidence of a strong commitment to growth
A commitment to technology to enhance student learning
A demonstrated commitment to innovations in supporting student success
A proven record in building partnerships with alumni and the community
Experience in the design and continuous implementation of the strategic planning process
Experience and commitment to building a comprehensive program of advancement activities
Ability to work effectively with a diverse campus community and commitment to support and expand inclusive excellence
A command of significant business, health, professional, and technological issues to help build educational solutions
---
Apply
Each applicant must provide a cover letter, a curriculum vitae, and three references. The cover letter should address the requirements for the job: lead the development and implementation of the strategic plan, retain and develop faculty and staff, drive student success in a diverse and diverse environment, and increase external industry partnerships and fundraising.National University embraces the philosophy that diversity is fundamental to the success of our students, our employees, and our community. NU's commitment to diversity informs our efforts in recruitment, hiring, and retention.
National University System's Human Resources will conduct the search. The search committee will review nominations and applications until the position is filled. However, to ensure full consideration, applicants are encouraged to submit materials by February 15, 2021. Nominations and inquiries should be directed to NU's search consultant, Mr. Chuck O'Boyle of C. V. O'Boyle, Jr., LLC,.