The 2020 Vision for the National University System (NUS) is, "to be an educational system whose graduates are transformed and positively contribute to society." Transforming our students means reimaging education and empowering our shared community of universities. One of the ways we aim to fulfill this vision is by investing in the cultivation of innovation to remain nimble to industry demands and the latest developments that impact students.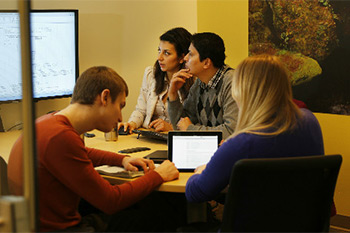 Last fall, I discussed the Innovation Grant initiative, which is a program that funds bold new plans developed by faculty and staff. Furthermore, this investment enables teams to collaborate across the System to create exciting new programs, services and academic pathways aimed at fostering student success. Recently, all of the teams reconvened for a mid-year rally to share the progress of each of the Innovation Grant projects. The plans cover a variety of topics, including a graduate boot camp for incoming graduate students at CityU, standardized patient simulations for the nursing program at National University and the opening of the Holistic Research Center at JFK University. There are some projects that are already operating System wide, such as the Online Teaching Professional Development plan.
Professional development is a key priority of the National University System. We recognize the importance of programs that can enhance professional knowledge, competence, skill and effectiveness. The Online Teaching Professional Development team is collaborating with the Center for Innovation and Learning at National University to host a series of faculty webinars that are open to all faculty across the System. This webinar series introduces strategies that faculty can implement in their courses to enhance the student experience and delivery of our academic programming, which is at the forefront of the mission of our university community. However, as we focus on serving our faculty and staff, we are continuously dedicated to providing excellent service to our students and alumni. This spring, there are a variety of events, including several career fairs, taking place across the System to support students and alumni in defining their unique potential for success and fostering lifelong professional and career development skills.
I'd like to thank our faculty and staff for their continuous dedication and passion for building an exceptional student experience and providing wonderful opportunities for students and alumni.