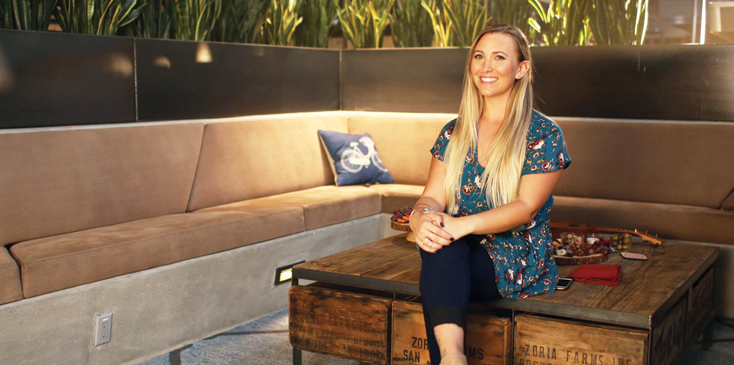 Many adults who have considered going for an online Master's of Business Administration don't believe they have the time to fit the program into their busy lives. It might be because they have a family they don't want to take time away from, or because they worry that the time it will take to complete the program could be time spent earning income. As Jeremy Davis discovered, pursuing an online MBA offers a solution that can increase income and career opportunities without sacrificing time with family.
When Jeremy enrolled at National University, he had just gotten married and he and his wife were planning on starting a family. Many adults who are deciding whether or not to go back to school face a similar situation to Jeremy's. "It felt like a big career change at the time, I wondered how I would support my family," he says.
Jeremy was working as a restaurant manager and enrolled in a traditional MBA program when he decided to switch to an online MBA at National University. He knew that as a restaurant manager he was getting good "boots-on-the-ground" experience but he wanted to move out of his current field and thought that getting an advanced degree might help. He found that the traditional MBA program he was enrolled in was limiting his options.
"I got interested in education part way through my MBA but I knew was going to have to do my teacher credentialing at the same time and that a traditional program wouldn't allow me the flexibility to do that." At National, Jeremy found a program that gave him the time and flexibility he needed to get his online degree with an emphasis in organizational leadership — while still getting credentialed as a teacher and earning money.
Today, Jeremy is Chief Technology Officer of a school district in southern California where he uses the skills he acquired at National every day. He says that it affects everything he does in his job. "Whether I'm negotiating contracts, balancing budgets, or going through financial transactions, the MBA has been incredibly useful."
Adults Face a Unique Set of Challenges When They Go Back to School
Lots of adults considering pursuing an advanced degree wonder if the time commitment and financial considerations will be too much to manage. One thing that's important to consider if you're considering an online degree is that the consequences of going back to school when you're an adult are greater than they were when you were in your early twenties: Bad grades can result in missed job opportunities. Time spent in the classroom can mean time not spent earning money.
But, as Jeremy found, there are programs designed for adults that offer all the benefits of a high-quality MBA education, while recognizing that adults need financial stability and time for family responsibilities. According to Forbes, one of the reasons online MBAs are growing in popularity so fast is because they provide the flexibility for adult learners to continue learning without having to quit their job. The right program lets adult students do their classwork from anywhere — their desk, a hotel room, their kids' basketball game — as long as they have an internet connection.
In Jeremy's case, his search for the right program started with something adults everywhere deal with every day: traffic.  "Traffic is a big consideration where I live, trying to drive somewhere really limits your options. You either go to school right by your house, or you wind up driving somewhere and spending hours in the car. The National University online MBA was high quality and I could do it right there at my desk at home."
Jeremy also faced the challenge of entering the program during the recession. "Both my wife and I were brand new teachers and we were being laid off every year. For three and a half years we got pink slips at the end of every school year and then got rehired again in the fall." During this time, Jeremy left and re-entered the program at National so he could keep up with the demands of the recovering economy, and was still able to get his degree while also getting his teaching credential.
National University's program gave Jeremy the flexibility he needed to get the degree that would help him change careers. With classes offered both online and in person, the program has students from all fifty states and sixty-five countries around the globe.
A Program Designed for the Adult Learner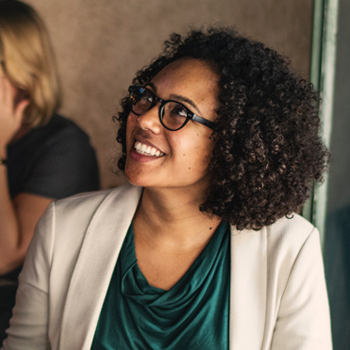 One of the frequent concerns adults considering an online MBA program have is whether or not they will get the same level and quality of interaction with professors and other students as they would in a traditional, campus-based MBA program. In Jeremy's case, while his interactions were online, that didn't detract from the quality of them. "The classes were taught by smart instructors and I had great opportunities for collaboration with other students," he says.
For Jeremy, the format of National University's program fit his lifestyle like a glove. He quickly left the traditional MBA program he was enrolled in and with the time he gained by the online format at National, he was able to complete his teaching credential and start working in a classroom while getting his MBA.
This may be one of the reasons the popularity of online degrees is skyrocketing. According to US News & World Report, adults entering and re-entering the workplace today are increasingly likely to have gotten some portion of their degree online. Between 2012 and 2016, the number of students getting their education strictly on a physical campus dropped by 1 million, or 6.4 percent. Based on data from more than 4,700 colleges and universities, more than 6.3 million students in the U.S took at least one online course in the fall of 2016, a 5.6 percent increase from the previous year.
As Jeremy's story illustrates, you don't have to miss out on the dynamism of the classroom experience when you choose an online program. One class in particular that he found rewarding was a class on business negotiation. He remembers debating a team of other students without knowing what material the other team had been given. "It was very challenging," he says. "We were graded on how well we had convinced the professor and other class members of our position, and we didn't know what the other team had to rebut us."
Overall, Jeremy found his online classes to be engaging and relevant, taught from up-to-date syllabi by teachers who had deep knowledge of the subject matter. "Because of the online format," he adds. "I was able to complete my class requirements either at work or at home, without adding any time to my commute."
Flexibility is the paramount concern (alongside tuition costs) for adults considering going back to school. Will you be able to take the classes you need at a time that fits into your busy schedule? Will you still have time for your family? Will you be able to earn a living while pursuing your degree? In addition to the flexibility and quality of the education offered at National University, students find there are other distinctive benefits:
The MBA program is designed to prepare you to lead and manage businesses worldwide through a curriculum of core competencies that is just as rigorous as a traditional on-campus MBA program. Students are equipped with the knowledge and skills they need to succeed in a constantly evolving marketplace.
National University makes it a priority to make each student feel welcome and supported. Once you are in the program, you will be assigned an advisor to help with any questions or concerns you might have and offer advice on which classes to choose.
An online MBA at National University can be completed on your schedule, meaning that students can work around whatever arises in their personal or professional lives to complete their degree. For example, if you have a child or switch jobs or move to a new state, you can take time off from your studies until you have the time and energy to focus on them again.
In Jeremy's case, while there were some classes where he had to be online at a certain time in order to collaborate with other students, the majority of the classes he took allowed him to learn on his own schedule.
What Opportunities Will My Degree Open Up for Me?
Jeremy Davis laughs when he answers this question. "Getting an MBA is like getting an advanced degree in human behavior," he says, before going on to explain that whether you're negotiating a transaction, reading peer-reviewed articles to support a claim, or managing a team, the MBA is incredibly useful in any number of fields you might consider as career options.
"The classes were always relevant," he says. "The literature and articles that the professors assigned us to read were always relevant to current events in the business world, it wasn't recycled material."
Let's take a closer look at what adult students can learn from an online MBA.
Life inside a global business
Students learn how to create value in the organizations they join. They learn how to honestly evaluate an organization from the ground up, to see its strengths and weaknesses, to see how its group dynamics function and how innovation, production, and a global supply chain work together. They learn about new technologies and how they are shaping innovation, and how to apply their understandings to the field they choose.
Leadership and Decision-making skills
Students learn how to lead and make tough decisions in a rapidly evolving, global job marketplace. They learn about forces affecting economies in other countries and here at home and how those forces affect the organizations they will work for. They learn about social responsibility and ethics, including risk evaluation and sustainability — critical to becoming a leader in today's internationally-driven job market.
Analytics and Assessment capabilities
Students learn deep analytics skills so they will be able to evaluate spreadsheets and reports affecting the organization they join. They will acquire the skills necessary to report findings objectively, look at various possible outcomes, and drive decision-making across teams. Additionally, they will learn effective communication and presentation skills so they can get their ideas across and convince others of their position. They will gain the ability to think critically and problem solve the most complex issues facing businesses today.
Choosing a Field of Specialty
Choosing an area to specialize in is a critical part of pursuing your MBA and finding employment in the future. Here are a few of the areas that students decide to specialize in along with some of the specific jobs those fields of study could open up:
Financial Management. Students specializing in financial management will be at the heart of one of the most exciting and dynamic areas of any global organization they join. Financial management specialists learn about policies that govern the financial health and well-being of organizations as well as how to reduce the risk of foreign exchange exposure, how to evaluate investment opportunities, and how to deal with modern financial issues affecting organizations worldwide. Many global CFOs, CEOs, and CTOs come from backgrounds in financial management.
Human Resources. People make up every great enterprise on the planet, so what could be more critical to the health and dynamism of a company than managing its human capital? Students choosing to specialize in human resources learn how to effectively recruit, train, and manage individuals with a wide range of skills. They become fluent in the rules and regulations governing competition, advancement, and productivity of workers. A few roles that students specializing in Human Resources can pursue include: Human Resources Manager, Recruiter, and Employment Specialist.
Marketing. With media influencing everything and every place in our modern lives, the way organizations create and implement a message across multiple channels has never been more challenging or critical. Students who specialize in marketing learn how it affects everything that businesses do including how the business is perceived by the public and how this perception affects the bottom line. They acquire the skills necessary to manage messaging in consumer and industrial driven markets, including the service industry, technology, and government. Individuals with a background in marketing have gone on to lead agencies, PR Firms, and media companies worldwide.
International Business.  Students specializing in International Business acquire skills to operate effectively in a global arena, learning about economic and legal issues affecting markets in other countries, trends and issues affecting foreign governments, and products and services that are popular in other countries and cultures. This specialization sets students up for jobs in a variety of roles in their organization including Policy Analyst, Management Consultant, and Global Economist.
Mobile Marketing and Social Media. What could be more exciting than learning how trends and advancements in digital technologies such as mobile and social media affect business? Students learn how to create digital content and manage campaigns across multi-channel projects and ideas. By studying learn to identify what disrupts and what has lasting potential when it comes to marketing strategy. Students in this area of specialization go on to become marketing managers, social media strategists, media planners and buyers among many other roles.
Organizational Leadership. Students specializing in organizational leadership will learn to become effective agents of change in any enterprise they work for. They learn methods for managing teams and individuals in ways that bring out the best in them. Individuals seeking this specialty often pursue opportunities in nonprofit as well as for-profit businesses.
National University offers all of these fields of specialized study as part of their MBA program in addition to others. To learn more, visit our MBA program page.
So, Is an Online MBA Right for You?
Now that we've covered the specifics that go into getting your degree, let's circle back to the two considerations that are still foremost on the minds of most adults deciding whether or not to pursue an advanced degree online: flexibility and affordability.
As we saw from Jeremy's experience, online MBA programs don't have to be restrictive or expensive and can be just as rigorous as traditional MBA programs. The National University curriculum has as much to challenge adult students who are learning online as a traditional MBA does. And when you take into account that most adults who come back for an advanced degree are balancing the pressures of raising and supporting a family with schoolwork, perhaps the online format actually has more to offer.
Many potential adult learners are also concerned about tuition costs and are weighing them against future earnings they hope their MBA will provide. "I definitely saved money by getting my degree online from National," Jeremy says. "If I had to do it over, I would have done the whole thing there instead of the first year in a traditional program."
For more information about the National University on-campus or online MBA program, please visit the program page on our website.